Ryder Truck Rental Review By Experts
Ryder Truck Rental is a very popular company in the United States. This company has over 80 years of experience in the vehicle management industry. This company, according to their website, enjoys providing service for commercial purposes rather than renting moving trucks out for individual relocation, which happens to be a one-time business; you might get the impression that you got overlooked if you are looking to hire Ryder for your relocation.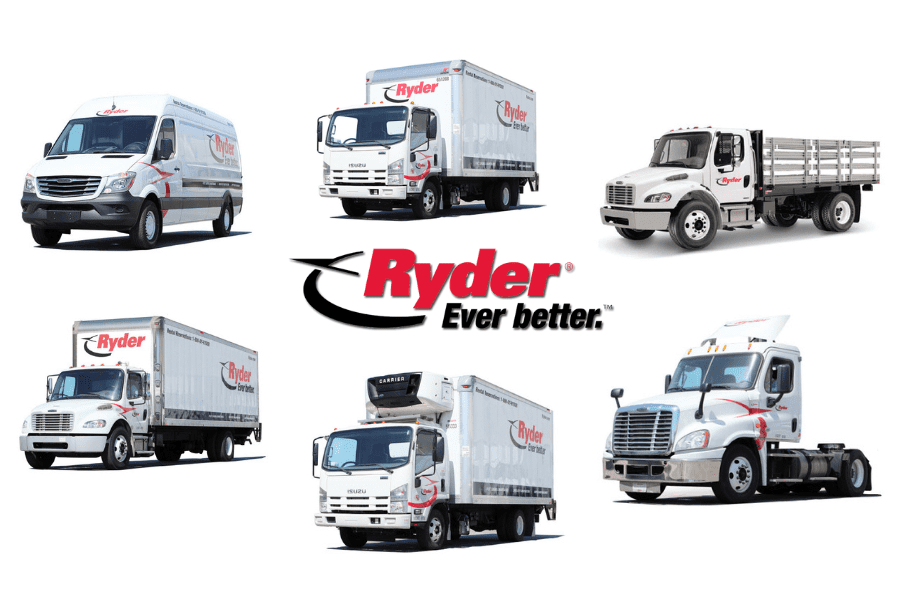 Compared to other moving companies, Ryder rents two big trucks which are 16 feet and 26 feet long respectively.
This means that your options are streamlined with Ryder. Moving with Ryder means that you are embarking on a round-trip (returning the moving truck to the same location you rent it) even though they have over 500 locations. You can contact U-Haul, in case you need more truck rental options.
However, you may take your eye away from the round-trip effects if you consider the ease that comes with making a reservation. Ryder's stake trucks are the best for transporting objects that are resistant to weather, such as landscaping materials.
So far, Ryder is the only company that has been reviewed to provide a refrigerated truck for rent. By just placing a call to a local Ryder's office or by filling out a form on their website, you can make a reservation for a moving truck.
Acquire all the necessary information you desire to assist you in making a decision as to whether Ryder truck rental is the perfect fit for your relocation.
The cost of relocation, reviews, and customer ratings are made available by many customers of on Moving Feedback so as to help you in comparing different truck rental companies.
This post will look deeply into Ryder Truck Rental service deliveries to help you decide if they are the best for you.
The list of the oldest and biggest transportation companies in North America will not be completed without mentioning Ryder System Inc. (Ryder).
Starting as a concrete delivery company by James Ryder in the year 1993, the company uses just one truck at that time in Miami, Florida.
Because of the quick development in the commercial trucking sector in the United States, Ryder grew very fast as rail transport was being replaced.
James Ryder began to adjust the main focus of the company to leasing from distribution in the year 1940 when it had already had more than 50 trucks.
In the United States today, the company is one of the most popular companies, and its business is based on three main categories:
Fleet management or leasing
Transportation or distribution
Contract carriage
When it comes to moving truck lease, rental, and sales business, Ryder is one of the companies that are said to be leading the market in the United States.
Ryder is also one of the leading companies in the United States trucking industry and a huge part of the United States economy established in Miami, Florida in the year 1933, with over 33,000 staff.
The company has all it takes to establish a successful trucking business having $5Billion of revenue yearly and over 40,000 vehicles available for rent in their fleet.
Talking about transporting objects that are resistant to weather, like landscaping materials, Ryder is only reliable company offering this service currently.
By just placing a call to a local Ryder's office or by filling out a form on their website, you can make a reservation for a moving truck.
You can as well talk tone of their customer support officer through live chat on their website whenever you have anything to ask about their rates or policies.
Kindly know that Ryder charged for two complete days even if you pick up a moving truck on a Thursday afternoon and return it to their office the next day which is Friday.
Ryder truck rental remains an expensive option when it comes to their policy of the individual daily rate.
Types of Ryder Trucks
You can check details of how Ryder provides vehicles to rent for commercial purposes on their website. Refrigerated trailers, flatbed trailers, tandem-axle tractors, stake trucks, refrigerated city vans, and dry trailers are all examples of the commercial rental options provided by Ryder.
There are three major options available for a household move and they are further classified as follows:
1. Sprinter Van Rental
This light-duty commercial moving truck provides all the necessary features and capabilities that you may require in a rental truck even though you may call it a panel van, high-roof cargo van, or a sprinter van.
It also has enough space for cargo, comfortable seats, pass-through containment systems, and doesn't consume the above-required fuel.  Rent this type of truck from Ryder when you require an extra space of a unique truck.
Cargo Capacity
547 cubic ft. of cargo space
14 ft. cargo area
6-cylinder turbo diesel
4 ft. interior height
8,550 lb. GVW
3,005 lb. capacity
About 25 MPG fuel efficiency
Features
Stable electronic control
Pass-through containment system
2. Box Truck Rental
This type of truck is ideal for urban regions. You will get to know how easy moving through the streets in the city can be, as the small cab-over feature allows for a sharp turning that provides enhanced handling and parking with ease.
Both efficiencies in fuel consumption and enough space for your belongings are available when you rent a box truck from Ryder.
Cargo Capacity
16 ft. dry van body
960 cubic ft. of cargo space
About 6,000 lb. capacity
Increased power: saves fuel, lower emissions
Turbo-charged diesel
With lift gates: 2,000 lb. capacity
Features
Walk ramp or Hydraulic liftgate
Power steering, tilt steering wheel
Flat floor, slat interior with E-Track
Automatic transmission
Low cab-over to enable maneuvering
3. Refrigerated Box Truck Rental
You will be able to transport refrigerated goods across a well-populated area easily when you rent this particular truck type. It has a low cab-over design, as its features enable sharp turning radius for enhanced handling and parking with ease as part of its features even though it is strictly available to commercial customers.
Required item capacity, reduced fuel consumption, and emissions are all made available when you rent a refrigerated Box Truck.
Cargo Capacity
16 ft. refrigerated body
7,000 lb. capacity
Fuel efficiency and reduced emissions
Maximized power
With lift gates: 2,000 lb. capacity
17,950 GVW
Features
Power steering, tilt steering wheel
Automatic transmission
Insulated interiors, doors
Refrigeration: Electric standby or automatic start-stop
Hydraulic lift gates
Low cab-over to enable maneuvering
4. Straight Truck Rental
This light and medium-duty truck from Ryder is one of the many unique and perfect trucks offered to customers. Features like automatic transmission, capable of being loaded easily, cab-over design and power steering are part of the many features most drivers enjoy from this commercial moving truck.
It also has protection features for cargo, which allows for secure loading and successful delivery. Your business gets improved when you rent this straight truck.
Cargo Capacity
26 ft.
1,600 cubic ft. of cargo space
26,000 GVW; 8,000 lb. capacity
33,000 GVW; 15,000 lb. capacity
Cummins B6.7 or Detroit DD5
60" x 80" wedge platform, 3,000 lb. capacity
Features
Dock height with hydraulic lift gates or ramps
Side door, 14 ft. walk ramp
Standard power up-and-down
Body enhanced for forklift loading
Automatic transmission, power steering
Dock height with hydraulic lift gates or ramps
E-Track, flat floor, slat interiors
Automatic transmission, power steering
5. Stake Truck Rental
This medium-duty flatbed moving truck has stakes that can be removed and also hydraulic lift gates that makes loading and unloading very easy. Commercial drivers very much appreciate these features. Ryder strictly offers this truck for rent to only business customers.
Cargo Capacity
16 – 24 ft.
Cummins B6.7 or Detroit DD5
33,000 GVW; 14,500 lb. capacity
26,000 GVW; 7,600 lb. capacity
Features
Automatic transmission, power steering
Air-conditioned, radio with CD
Removable stakes, hydraulic lift gates
6. Single Axle Semi Truck Rental
This particular heavy-duty truck is strictly available to business customers, and it is the best use in both cities and local deliveries. It has a conventional tractor that is designed primarily for both comfort and its operation which your driver will so much appreciate.
Capacity
Electronic: enhanced power, efficiency in fuel consumption
65,000 GCW
Features
Well-appointed cab interiors
Walk ramp or Hydraulic liftgate
Power steering and air conditioning
Air-suspension driver seat
Motorized mirrors'
Making a Comparison of Rental Truck Sizes and Features from Ryder
| | | | | |
| --- | --- | --- | --- | --- |
| Sizes | 10-15-foot parcel van | 16-foot cab-over truck | 17-24-foot box truck | 26-foot box truck |
| Internal space (cu. ft.) | 810 | 960 | 1,500 | 1,800 |
| Maximum weight (lbs.) | 5,000 | 7,500 | 10,000 | 10,000 |
| Price | $19.95 – $29.95 | $39 | $89.95 | $89.95 |
| Suitable for | One to two or more + rooms | Three to four  rooms | Five or more rooms | Five or more rooms |
What is the cost of renting a Ryder Truck?
Rates are given with consideration on the size of the truck and the duration of usage of the truck. The rate, however, is quoted on a daily and weekly basis.
The quote doesn't include fuel, taxes, and liability coverage, so do well to budget for them all. Renting of moving trucks is the most suitable and affordable option for do-it-yourself movers.
Among the truck rental companies available, Ryder belongs to the group that offers quality services at an affordable price range. The changes that occur between the price given on the website and the email is, however, not good.
Fuel price and other things that might arise must all be included whenever you are planning a budget for truck rental. You might unavoidably keep the moving truck much longer than expected.
The price given at first is just a rough estimate. It is important to prepare for unexpected cost as events may ask for it. However, companies like Ryder truck rental should not affect your purse more than it should.
Below are the additional costs of renting Ryder trucks:
1. Mileage:
Consumers are also being charged per mile by Ryder, and the charge differs considering factors like relocation type and distance of the move. Some stores charge just 99 cents for each mile while others charge 79 cents for each mile during the week.
The charge could go up to $1.29 during weekends. You can, however, budget for 50 miles between point A (pick up point) and point B (drop off point), making it possible to add extra mile charge or about $29.50 for vans and $44.50 for moving truck.
2. Gas:
The cost and the distance traveled by the moving truck are the two deciding factors for the amount of gas that will be required for your move.
Ryder's policy states that the rented trucks must be returned to the same location in the same condition (gas level) it was picked up.
To determine the quantity of gas for your move, you have to take fuel economy features into consideration. For instance, while a 16-ft moving truck consumes one gallon per 15 miles; a 26 feet truck consumes the same per 15 miles.
The exact cost of gas will be determined only after the moving distance has been calculated.
3. Damage protection:
A page states that damages caused to the moving truck constitute most insurance policies. There is a pre-checked box for damage protection which is valued at $11 for damages caused to moving trucks on their online reservation.
The other option once the damage protection box is selected is for immediate reimbursement to Ryder any damage caused to the moving trucks.
It is important to check your personal insurance coverage to be sure if there is an insurance policy on your relocation already.
4. Environmental fee:
This fee may look small but will definitely look big to you when it comes as a surprise during your move. An environmental fee of $1 is being charged by Ryder on their truck rental customers.
5. Insurance:
The prices for liability and full coverage of Ryder insurance policies are typical $15 and $29 respectively. These policies are, however, not compulsory because your car insurance may also cover your truck.
This is the exact reason why your personal insurance should be checked before you go for another one to avoid doubling.
What is Ryder Insurance Package?
You will be asked to choose insurance immediately after you receive an estimate for the cost of the moving truck. There are two options available for physical damage to truck and liability coverage on the truck to choose from.
$25.58 is the maximum (premium) option for physical damage per day and offers protection for moving a truck against loss or any damages to the truck amounting to about $500 deductible.
The basic or minimum option per day is $23.49 and offers protection amounting to about $1,000 deductible. Both basic and premium options are also available in liability insurance.
The maximum (premium) liability insurance coverage is $36.53 daily and offers protection that includes auto liability insurance not more than $1,000,000 as you operate the moving truck.
The minimum (Basic) liability coverage costs $31.31 daily, and the limit offered is the same as the one required by state law, as you operate the vehicle no matter what type it is. Ryder, however, recommends purchasing insurance for you.
What Types of Move does Ryder offer?
Every move has its own differences and can never be similar to any other moves. Defining each move with distance is the perfect way to differentiate them from one another.
In order to offer its clients a sweet relocation experience, Ryder also makes use of distance to structure moves. You and the company get to understand the best way to take care of the relocation by determining the type of relocation each customer requires. Ryder categorizes relocations as follows:
Local Move
A local relocation is a perfect match for Ryder's truck rental options. The distance of Newark from Ridgefield and Fort Lee in New Jersey is Workable.
It will cost an estimated amount of $269.80 to rent a straight moving truck for pick up on Friday and Drop off on Monday at exactly 9 a.m.
Long-distance Move
It is a very big deal to rent a truck from Ryder for your relocation from New Jersey to Florida. The only stumbling block is not returning the moving truck to Newark where you rent it after dropping all your belongings off in Florida.
There is, however, a need for you to know that you will be charged additional costs for any move that requires you not to return the rental truck.
The amount of stress you will go through driving the truck back on such a long-distance from one state to another is another thing to consider.
With a truck rental company such as Ryder, a long-distance relocation is basically not advisable. For someone relocating to a faraway place, what it takes to return the moving truck to the same location is ridiculous.
It simply means someone moving from New Jersey to Florida, that person would have to drive the truck to Florida and unload, then drive it back to New Jersey to return it.
But if you have a deal to convene other stuff from your destination back to your old location, it is a great deal. However, most of the times, it doesn't happen like that.
What Kind of Gas Mileage to Expect when Renting a Ryder Truck?
When planning a relocation, fuel economy is one of the things to factor in. Note that the estimates for gas mileage below are for an empty truck and the fuel economy may reduce when loaded.
The Sprinter Van can get up to 25 MPG
The Box Truck averages 8-12 MPG
The Straight Truck averages 8-12 MPG
What is the Capacity of the Ryder Truck Rentals?
This information will help you to decide which type of Ryder truck to hire for your move. Some are for a single apartment, while some go carry up to eight rooms.
Below are the three categories of Ryder Truck and their capacity:
Sprinter Van – 1 to 2 rooms
Box Truck – 3 to 4 rooms
Straight Truck – 5 to 8 rooms
Kindly note that the estimated capabilities stated above are subjected to change based on the quantity of the household possessions.
Deciding on the truck that perfectly fits into your move could be difficult as you may select a smaller size and run out of space or select a bigger one and end up making payment for spaces you didn't use.
Is a Deposit Required?
A credit card deposit is required most of the time for a household relocation and this is the case with most truck rental services.
What are the Pros and Cons of Renting a Ryder Truck?
Ryder truck rental remains popular and a reliable choice among its loyal clients even though it is a little bit unpopular to some other moving truck rental companies. Ryder makes different types and sizes of trailers, trucks, vans, and tractors available to customers throughout the nation.
However, just like every other company in the industry, Ryder has both pros and cons as applicable to each customer. Let's look at the pros and cons of hiring Ryder:
Pros
Ryder could be the best truck rental choice if budget is the main key: The price of renting a truck is affordable generally, and Ryder also offers the same price range within what is being offered by its competitors. If you are planning to drive yourself, then it is worth looking into. If you have a laid down plan for fuel costs, require a smaller truck size than the one being used in this write-up, and also stand by a particular plan, then truck rental can be more than affordable.
Busy people enjoy the easy reservation and cancellation processes: You are only required to fill out your basic information and select the vehicle you would like for your move on a form. You are to decide on the size of the truck that is perfect for your relocation compared to the conventional relocation companies; however, the ease that comes with making a reservation makes up for the stress.
Concise truck option for easy decision: The choices made available to customers are not too many to be confusing, unlike some other relocation companies. This enables consumers to determine on time which of the options will be perfect enough for your relocation.
Easier: You have to find a place in your busy schedule to plan relocation as it is also a chore. Many consumers appreciate the seamless reservation process by Ryder which takes just some minutes and little efforts to complete.
You will be totally independent: You get to be totally independent in your relocation with truck rentals. The loading of the truck is your cross to bear unless you hire experts to help with the loading of the truck. You can do other important things while you go through the process at your own pace. This comes with a great benefit for those who are willing to drive the truck.
Cons
The price difference between the one provided on the website and the one sent through email is annoying: The estimated price with insurance on the website is sometimes different from what is online. Placing $600 as the price for the truck rental is still fair enough. But you cannot be so sure you are over the previous step as something might add up in the next step. This whole thing will make you smell fraud, which leads to a great turn off.
This company won't take you as a priority: You will get the impression that Ryder Truck rental only favors commercial customers from the minute you first get to their compound. You have to go through each truck rental options by yourself. This gets somehow to understand how beneficial each option would be for you as you get to understand them better. There are absolutely no tools whatsoever that will assist you in deciding on the size of the truck to choose. Only business customers get to understand the language and contents used on the website.
Long-distance moves are impractical: With a truck rental company such as Ryder, a long-distance relocation is basically not cost-effective. For someone relocating to a faraway place, what it takes to return the moving truck back to the same location is ridiculous. It simply means someone moving from New Jersey to Florida would have to drive the truck to Florida and unload, then drive it back to New Jersey to return it.
Some people got scared and intimidated while driving the huge truck: You are absolutely driving the moving truck once you rent it. Depending on the type of person you are, driving a rental truck could turn sideways for you. Some people prefer driving a small truck, while some may prefer driving a big truck.
What are the Things to consider before Renting a Ryder Truck?
Below are some basic keys to note before making a reservation for a Ryder truck:
No one-way rentals: Ryder only offers round-trip rentals service even though they have up to 500 locations nationwide. Not minding of the distance, the moving truck must be returned to where it was picked up.
A CDL isn't necessary: A commercial driver's license (CDL) is not required for a household relocation using truck rental, although it does when you rent and drive a commercial truck rental. Ryder requires a valid driver's license before you are allowed to rent a truck for a household relocation.
Additional cost for multiple drivers: Make sure you talk to the local agent if you have planned to have two or more drivers for your move. This is very much allowed but may attract additional fees for each of the drivers as this principle differs from one location to another.
Rental rates are charged per day: Moving trucks from Ryder are charged on a daily basis – meaning that you can use the truck up till 8 a.m. the next day if picked up by 8 a.m. the previous day. If, however, the truck is returned after the 24-hour mark, you will be charged for a whole day again.
How to File a Claim with Ryder?
You would probably be wondering how to file a claim with Ryder if anything should go wrong. Just as the process is with an auto claim, filing a claim with Ryder is similar.
There are some procedures you need to follow to have a genuine claim. Information regarding an accident with a vehicle that involves a person or damage to third party property should be shared to file your case.
Parts of these required procedures or information are:
File a police report (if applicable)
Make a request for immediate medical attention (if needed)
Take the necessary photos and other necessary documentation.
Your claim will be more valid if you are able to get more documentation to support it. Reporting the incident to Ryder is the next step to take, and you do this by filing your claim.
You can do this via the online claim portal from Ryder, and a representative of the company will call you afterward to offer you guidance on the steps.
Kindly note that just like other truck rental companies, it is an insurance company that takes care of Ryder's liability coverage; and it will be treated with all fairness but also cannot blame Ryder directly for any delay that might occur to your request.
Where can I rent Ryder Truck?
Ryder only provides moving truck rental services locally even though it is among the few numbers of truck rental companies across the country, including Canada. Rental trucks are to be returned to the exact location.
Regardless of where and when you need a rental truck, Ryder will make it available to you irrespective of how you make a reservation.
Their commercial rental guarantee accompanies the benefits available when you choose from their many tractors, trucks, vans, and trailers.
The company has about 37,000 new-model trucks, vans, trailers, and trucks in more than 500 locations all over North America.
Making sure you are being transported as fast, safe, and cheap as possible are their primary objectives, as the company has over 80 years of experience in the business.
There is no queue to join, no need to locate any local office. There's also no need to get disturbed about the availability of the moving truck you need. All that is required is the number of moving truck, service, time, and location you need.
Who should rent Ryder Rental Truck?
An individual who doesn't want anything to do with the drama linked with the conventional relocation companies will enjoy Ryder. The individual, however, should be prepared to drive one of those large moving trucks.
Not that it is that scary, but not everyone can just get behind those big wheels of a big truck. But for do-it-yourself movers, this option is really a great and affordable option.
The relocation, however, must be a local one. This option is not a comfortable, convenient, or practical option to be considered by those relocating far away.
Frequently Asked Questions About Ryder Truck Rental
What kinds of moving truck rentals are available?
Moving truck rental companies always have different models of the truck to choose from. Moving truck rentals come in different sizes, such as a van or up to a 26-ft. truck. The number of rooms in your house and the number of goods in each room will determine the size of the rental truck you are going to need.
Can I pick up a moving rental truck in one state and drop it in another?
Yes. Usually, moving truck rental companies have service centers in or around almost every major city, so you can easily return your Ryder moving truck rental to the nearest one to your new home.
How do you determine the rental quotes?
The content of your rental quote includes the distance you are traveling, the type of moving truck you are renting, and the duration of your rental. Fuel costs, toll charges, additional insurance, moving accessories, and other related expenses are not included.
How far before the move should I reserve a moving truck rental?
Normally, you should contact your truck rental company or go online and make reservations for the moving truck you need once you know your moving date. You stand a better chance at getting the right size of the moving truck you need when you make an early reservation. Waiting for the moving day before you book a moving truck is not a good idea.
What happens if the moving truck develops a fault?
Make sure you always have the emergency number of your rental company when using their truck in case of any breakdown. Each rental company has its own policy regarding this, so be sure to ask your rental agent before you start the moving truck, so you know what steps to take in the event that the moving truck malfunction while in transit. Ryder will assign a representative to you to relate with throughout the transaction.
Is a credit card required for truck rental?
This will be determined by your rental company. Some allow personal checks or cash, but a credit card is not a standard option. You don't have to provide a credit card or deposit during the initial reservation with Ryder.
What happens if I need to cancel my reservation?
Canceling your reservation order is very simple, and is one of the nice features of Ryder Moving Truck. We do not require upfront until you pick up the moving truck, which implies that you don't have to provide a credit card or deposit during the initial reservation, and thus, there is no need to worry about paying any fee for cancellation. You can also cancel your order with Ryder at any time until your reserved date.
What do I get if I return the moving truck early?
No refund is granted on using the moving truck for a 1-way move and early return. However, the rental will be charged for just the days he has rental on local round-trip relocations, so a refund will usually be given for the remaining days.
What is the minimum age for moving truck rentals?
The majority of truck rental companies including Ryder have a minimum of 18 years, while others have higher age requirements, so you should ask your rental agent.
What is the cost of a Ryder moving truck rental?
Ryder moving trucks are very affordable when compared to their competitors. A sprinter van at Ryder rental truck costs $35 daily, a box truck costs $39 daily, and a straight truck costs $89.95 daily, although your location may determine your own price.
However, note that these are flat rates and do not include variable expenses like taxes of fuel cost. You may also want to consider premium services such as physical damage policy and liability insurance.
Will I be charged additional fees for returning the rental moving truck on time?
There won't be any additional charge if the moving truck and the fuel are in the same condition as when you picked it up from the lot.
However, using the attached dolly or moving blankets may incur extra costs for you or if you exceed the expected mileage listed in your rental agreement. These charges are also determined by your rental contract.
Does Ryder rental require a deposit?
A deposit is needed for every non-billing customers. A credit card deposit will be required by Ryder before you can secure your rental truck. Come along with a valid credit card when you pick up your moving truck.
The deposit will be authorized by Ryder on your credit card, but we will not charge you until the completion of your rental transaction.
They also accept Discover, Visa, American Express, and MasterCard for convenience's sake.
Is insurance required for my Ryder moving truck rental?
Proof of rental insurance is required by Ryder to ensure the safety of your rental truck during pick up. If you don't have valid insurance or the coverage of your insurance is enough, Ruder will require you to purchase coverage. With Ryder Protection Advantage, you get both physical damage and liability coverage.
You get protected through these affordable coverage options from the financial risk of truck damage or liability claims in the event of an accident.
Get more information about pricing and coverage options from your Ryder agent. This will be shown on your account profile if you are a billing customer and have your coverage on file.
What kind of identification is required for rental at Ryder rental?
Make sure two forms of identification such as your driver's license with photo Identification (as well as appropriate authorizations for the moving truck you will be driving) and any other form of identification such as credit card or other ID issued by the government are available with you when you are set for moving truck rental.
You can come to Ryder with Canadian, Mexican, or United States Drivers' licenses. A credit card deposit will be required by Ruder at the counter during pick up if you are not a billing customer.
We also accept Discover, Visa, American Express, and MasterCard for convenience's sake. A CDL will also be required from a commercial client renting a truck with a gross vehicle weight of above 24,200 lbs. or 11,000 kg.
How can I ensure I am not overpaying for a Ryder truck rental?
There are two ways to ensure you are paying the appropriate amount for your truck rental. The first step is to rent a truck that corresponds to your needs.
For instance, you should not rent the largest refrigerated truck if a smaller, non-refrigerated model would suit your needs as well.
The second step is to shorten the time that you are renting the truck, as Ryder charges for each 24-hour interval. Ensure you have packed up your possessions and you are only spending the rental time driving the truck to your home, loading it up, driving it to the destination, and then unloading your possessions.
It is better to refill the fuel tank on the truck before returning it?
Yes, we always recommend that you fill-up the Ryder truck with fuel before you submit it to the destination. When you leave a truck with a near-empty fuel tank, you are at the mercy of the company regarding the cost of refueling.
You may find yourself overcharged, as compared to the cost of filling up the gas tank before returning the truck.
Is it safe to transport a full refrigerator inside a moving truck?
If you are renting a refrigerated truck, it gives you the opportunity to transport food and other goods that require a specific temperature. However, it does not necessarily mean that you should transport a full refrigerator inside that truck.
A full fridge can pose an issue, as it may leak water through the freezer section if it is taken off its power source for a few hours. We recommend inquiring with a professional about the best way to transport the model of fridge you own.
Does Ryder permit more than one person to drive the rented truck?
Like most truck rental companies, Ryder requires that individuals register the names of additional people who may be driving the truck during the rental period.
Ryder may ask you for the identification documents and driver's license for those individuals, even if you are paying for the truck.
It is not a good idea to allow a separate individual to drive the truck, even for a few minutes, as being stopped on the highway or getting into an accident could land you in legal trouble with the rental company.
There may even be an additional cost for each driver you add onto the list.
I may not be able to load and unload the truck on my own. Can I pay someone to help me?
Yes, you are free to hire as many people as necessary to help with your move, if you cannot get any friends or family to assist with the process.
The individuals you hire depend on the scope of your move. If you are moving in the local area, you can find local handymen and moving labor for affordable hourly rates.
Those who are moving from one state to another, and driving the moving truck themselves, may have to hire separate moving labor assistance at the start and end point of the move.
Conclusion
Ryder Truck Rental has been around for some time now, and the company continues to meet up with the trend of moving trucks. Generally, Ryder is a great option for everyone that needs a truck for a do-it-yourself move. Especially, if you want to move specialized items locally, Ryder is your very best. This post has reviewed this company and discussed all you need to know about the company. Stay tuned for more informative posts on this page!