Top 9 Cheapest Ways to Move Cross Country
There's no doubt about it, a long-distance move is expensive. According to HomeAdvisor, the cost of hiring a full-service moving company to help you move across states is between $4,000 to $10,000. This figure is mainly dependent on your home size, shipment weight, and total distance covered.
Luckily, there are certain ways to cut down on costs when moving cross-country. In this article, we will take a look at a couple of ways to move your belongings across the country—without breaking the bank.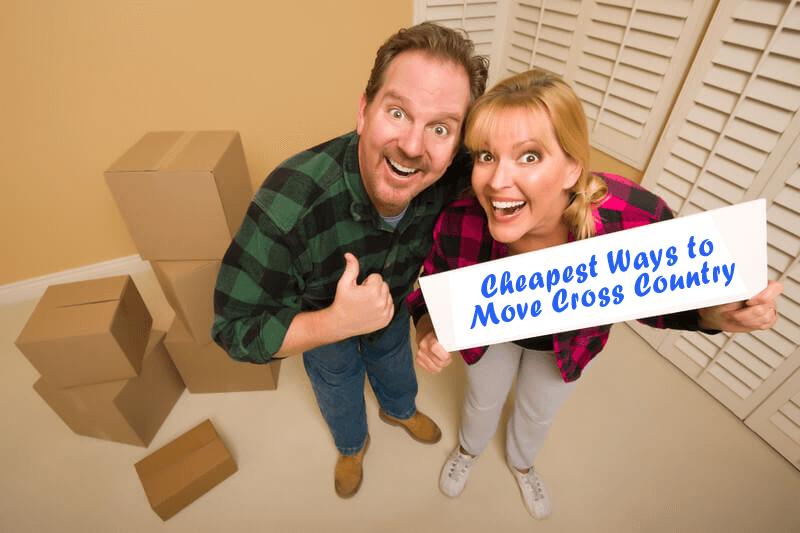 1. Pack Everything Yourself
Packing up your belongings is stressful, which is why it is left to movers to handle. But if you take care of it, you're guaranteed to cut down on your moving costs by at least 5%.
Professional moving companies will collect as much as $1,000 to pack up a 3-bedroom apartment, how much they charge will depend on the time taken and a number of workers required to get everything packed and ready. You can easily save money by packing ahead of time, at least 2-3 weeks before your expected move date.
Get help from family and friends to take care of tasks that do not require professional handling. In addition, make sure to pack correctly to avoid your belongings getting damaged while in transit.
Sourcing for free moving boxes and supplies is a great way to cut down on cross-country moving costs, some moving companies providing supplies will do so at prices higher than the market value.
Most packing supplies are available for free online or in nearby stores, so start searching and accumulating them at least 3 weeks before your expected move date.
Common places to get free supplies and boxes include grocery stores, online sites like Craigslist, or people who just recently moved.
Read our post on where to find free moving boxes.
Hosting a garage sale before moving to your new apartment has its advantages, the most important being that it leaves us with fewer items to transport on moving day—which in turn lowers moving costs.
This is because long-distance movers charge based on the quantity, and weight of things you will have to move. Less stuff equals lower rates—not to mention, you can make money from what you put up for sale.
Remember, it is more about getting rid of your items so you can cut down on the cost of moving than about profiting from the sales.
Renting a moving truck for a DIY move is an option open to anyone willing to drive across state borders to save costs. It could be as much as 80% cheaper compared to hiring professional movers.
Truck rental expenses typically include a set rate, the cost of diesel or gas and as well as buying an additional insurance package asides from that of the company must also be put into consideration.
Although moving companies provide generally the same services, they charge different rates and will not give you the same estimate for a cross-country move. To get the best possible experience and price, contact at least three moving companies and request for moving estimates with the aim of choosing the best.
When comparing quotes don't just go for the cheapest, ensure to run a check on the reputation of the moving company. Some movers have been known to present cheap moving estimates just to get your business.
Check out our article on finding the best cross-country movers.
Long-distance movers base prices on the volume of items you will be moving, and chances are you have a couple of things lying around that you could do without.
Decluttering is a useful way to cut down on moving costs while also creating space for new things. It also has the added advantage of making the moving process more convenient, as you will spend significantly less time packing and unpacking when you're ready to settle in.
In addition to its monetary advantages, decluttering is also a great way to reduce stress and anxiety.
7. Move During Off-peak Season
Some days are extra busy for the moving industry, this period is known as peak moving season. If your moving date falls during this period, be prepared to pay extra—this increase in price is a result of the high demand for moving services.
Try as much as possible to avoid peak moving periods to save you cash on renting moving equipment such as freight trailers, trucks, moving containers, and even movers if you choose to use a professional moving company.
Some of the days to avoid are months between Labor Day and Memorial Day, weekends, the first week of the month, and as well as the last week of the month. Preferable days for cheap cross-country moving are weekdays, and from October to April.
8. Consider Consolidated Shipping
Consolidated shipping is a method of moving long distances where the moving company/consolidator combines the belongings from various customers that are less than a container load into one full container shipment.
This is a great way to move across the country cheaply if you are traveling light. Make sure you ask around and check shipping prices ad they fluctuate all through the year.
Don't be afraid to inquire about discounts. Moving companies will offer discounts if asked, but may not want to make this public knowledge. Moving companies offer a variety of special deals and discounts, some of which include:
Senior discounts
Students discounts
Military discounts
Membership discounts
Off-season discounts
Double-check to see if you meet the conditions or requirements set by the companies offering the discounts.
Frequently Asked Questions
Can a moving company change the final price of the move compared to its initial price quote?
There are two types of quotes that moving companies provide their customers. A non-binding quote will change, while a binding quote should not differ from the final bill.
The first quote you receive when you inquire about an upcoming move is non-binding. It is a general estimate based on the size of your home and the distance between your current and destination zip codes.
When the moving company comes to your home or apartment, assesses your possessions, and speaks with you about the specifics of the move, you receive a binding quote. The final price should be identical to that figure, aside from taxes.
Is it worthwhile to spending money on insurance coverage while moving cross-country?
Moving companies provide basic coverage as a standard insurance package when moving. However, this does not provide much monetary compensation in the event of loss or damage to said item.
Basic protection provides compensation of $0.60 to $0.80 per pound for items that were damaged or lost while in transit. For instance, if you have a 40-pound piece of furniture valued at $100 and it gets damaged, the moving company will only pay $18 to $24 as compensation.
Such a figure would not help you replace the damaged or lost item. This is why you should go for full-value protection or enlist the services of a third-party moving insurance company when undergoing a long-distance move.
When should I begin contacting cross-country moving companies for free moving estimates?
Make sure you inform the cross-country moving company ahead of time—especially if you are moving during summer. Six weeks from the actual move date is enough time for estimators to prepare and arrive at your house to make an estimate.
It is also a good idea to add even more time to make a decision, in the event that you are obligated by your employer to submit moving estimates for corporate relocation. Try to decide which mover you will use at least four weeks from your actual moving date.
Am I expected to tip my movers after a cross-country move?
Whether you tip your movers after a cross-country move is a personal decision. But if you decide to, you should tip anywhere between $5 to $8 per hour, per person.
The amount you tip should be a little higher if you live in a city or state with a higher cost of living. Tipping is also dependent on the performance of the movers, and you may want to reward a higher level of effort with a slightly higher tip.
How long do cross-country moves take?
The delivery window for a cross-country move is typically within 2-5 days. Though it might be a little longer because of your move distance, the size of your shipment, the weather, traffic issues, and also if you chose the consolidated shipment option.
Wrapping Up
You can save moving costs by following any of the tips discussed above. You also save a bit of money by properly planning your move early enough. Do you have any questions? Drop your comment below!