Allied Van Lines Reviews By Experts 2023
Bottom Line: Allied Van Lines has the entire services you need to move conveniently. Since it offers a la carte options, it is also a perfect fit for DIYers who need just additional moving help. Allied Van Lines is a company that performs almost any type of move, whether it is across town, across the country, overseas, or corporate relocation. With 85 years of experience in the moving business, Allied is the oldest van line in the country.
Allied Van Lines assists their customers each step of the move. Together with hauling your items, they offer a packing service, short-term storage (local, national, and international), a Personal Moving Assistant, packing and unpacking services throughout the entire phase of your move as well as other add-on services to simplify our moving plan to your unique needs. Allied determined to be an affordable relocation company and they are meeting the demand.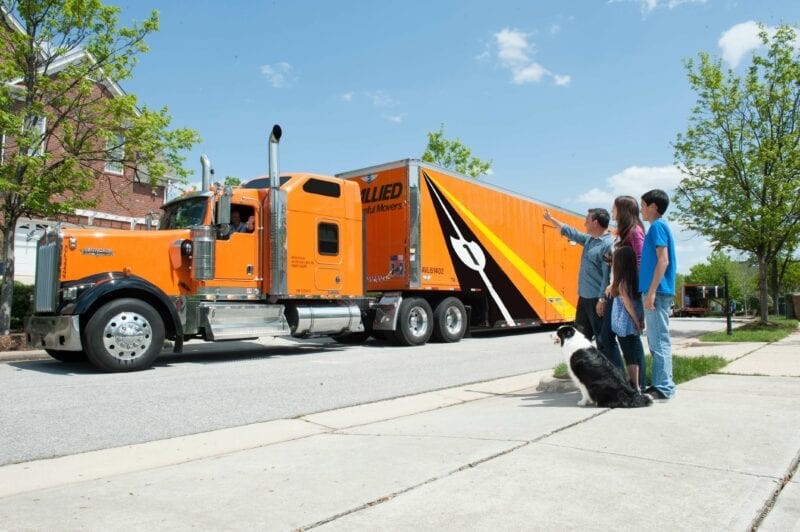 You may be worried about the cost of hiring a moving company, but think of the time and stress you save when you hire a professional, together with the security of moving your household safely from one place to another.
You can also see where Allied stands on our list of the best movers and packers. To describe the kind of moving company Allied Van Lines is, we will discuss some of the unique services and advantages that Allied provides to its customers. Be prepared to relocate to make things better.
What are the Services Offered by Allied Van Lines?
Allied Van Lines offers a complete range of moving services that can be advantageous to anyone. From people that are planning to perform a DIY move to people who are seeking a hands-off relocation experience.
Check below to read more on Allied Van Lines:
1. Packing and Unpacking
Allied Van Lines makes use of qualified specialists to pack and unpack your belongings safely. Customers can also go for DIY Packing of Allied. This service allows customers to pack all their items and the company will offer packing supplies, like boxes and tape.
2. Fragile Pack Only
If you have certain items that need special care, but you want to take care of most of the packing yourself, Allied's delicate packing service may be a huge option. This service enables Allied movers to safely pack any fragile, breakable, or items of extraordinary value.
Allied also offers a full-valuation coverage known as Extra Care Protection (ECP) and free basic liability coverage, for an extra fee. With ECP, Allied Van Lines covers the cost of replacing or repairing any household belongings that are damaged, lost, or destroyed on the move.
3. Packing Supplies
Allied Van Lines offers different moving and packing supplies to assist you to get ready for your move. Some of the moving supplies provided by Allied include:     
Small boxes (1.5 cubic feet)
Medium boxes (3 cubic feet)
Large boxes (4.5 cubic feet)
Mattress boxes
Mirror boxes
Custom crates
Dish-pack boxes
Wardrobe boxes
Packing tape
Bubble wrap
Wrapping paper
Allied Van Lines also offers the option to get moving supplies to customers in kits. The company will partner with you to know how your supply kit should be personalized for your move.
Apart from Allied Van Lines, see other Top Places To Find Moving Supplies
4. Loading and Unloading
With this service, Allied movers ensure your items and furniture are loaded and protected properly in a moving vehicle. The movers make use of a combination of bubble wrap, specialty boxes, plastic wrap, moving blankets, dollies, the tie does,wns, and ramps to protect furniture items from shifting during the move. Allied Van Lines will also look into your inventory as moving companies unload your items to ensure each item is accounted for.
5. Car Shipping Services
Allied's vehicle moving services is one of its best services. Allied uses its trucks and movers for auto shipping, unlike acting as a broker for the service. Since the company personally provides this service, customers can save a lot of money if they combine this service with their moving package – this will save them from having to look for a car shipping company to assist them to move their vehicle.  Allied can ship these vehicles:
Cars
Trucks
SUVs
Boats
Yachts
Luxury cars
Exotic cars
Classic/antique cars
Snowmobiles
Jet skis
Motorcycles
Recreational vehicles (RVs)
6. Storage Services
Allied Van Lines offers temporary storage to help store items away in case, not all your belongings will fit immediately in your new space. The agent said they charge a minimum of 1,000, so if you need to store just one furniture piece, the cost is not worth it. For small storage needs like this, he recommended checking a nearby best cheap self-storage company that would cost about $30 per month.
Allied is well-equipped to store larger amounts of belongings though, so if you need to store a minimum of 1,000 pounds of furniture, ask your moving agent for unique pricing information.
6. Corporate Moves
If your office or company is moving, Allied Van Lines can make a custom corporate moving plan that is doctored to your company and the particular move.
Complete Allied Van Lines moving services and packages at a glance
| | | |
| --- | --- | --- |
| Service | Cost Included | Cost Extra |
| Loading/unloading | YES | NO |
| Online tracking | YES | NO |
| Basic liability coverage | YES | NO |
| Packing/unpacking | NO | YES |
| Moving supplies | NO | YES |
| Fragile-only packing | NO | YES |
| Custom crating | NO | YES |
| Auto / boat transportation | NO | YES |
| Appliance disconnection / reconnection | NO | YES |
| Furniture assembly/disassembly | NO | YES |
| Shuttle service | NO | YES |
| Storage | NO | YES |
| Full valuation coverage | NO | YES |
Pros
Offers temporary and long-term storage options
Offers GPS tracking on every
Offers vehicle moving with the company's business trucks
Cons
Its moving services can be above the prices of competitor
Customer reviews discussed how hard it is to reach the claim department and the claims process can be tough
What is the cost of Allied Van Lines?
Moving costs of Allied vary based on each case. Your costs will base significantly on the services you choose, the size, as well as the distance of your move, the time of year, your location, and many other factors. If you are getting ready for a small, local move and don't plan to use any extra services from Allied, you can plan on paying at least nearly $550. Medium-sized households that would need some partial packing help and moving a fair distance should prepare to spend little thousands of dollars.
If you plan to move long-distance with a larger home and would need the entire services of Allied, your costs can get to several thousand dollars. For the most part, your costs will be within these scenarios – we only want to provide you a general insight into what you might prepare to spend when moving with Allied Van Lines. The best way to obtain an accurate picture of your unique moving costs is to obtain an in-home estimate.
Determining the Cost of Moving with Allied Van Lines
Immediately your items are all packed and your household appliances all disconnected, you can now load the moving truck and get ready for your new home. Allied determines your moving estimate on the weight and volume of your household belongings, the distance between your old and new locations, as well as the duration of loading and unloading the moving truck. It was also gathered that they charge a minimum of 4 hours, including 1 hour of travel time.
Not all full-service moving companies charge for drive time for close, local moves, so consider that while making your decision if you only plan to move 10 to 15 minutes down the road. Allied Van Line's estimate for a moving cost was $675, with an overall estimated weight of 3,045 pounds and volume estimated at 435 cubic feet. This also included 3 professional movers, 1 van, as well as 5 hours of labor (1 hour of travel time inclusive).
Our team breaks down the costs to clearly understand where your money was heading:
The base rate for 2 movers and a van cost $99 per hour
Each extra mover is $36 per hour
Travel time is charged at a similar rate
Your estimate, for instance, listed $135 per hour for transportation and travel time depending on requiring three movers. If your move took much longer than the estimated 5 hours, knowing the hourly rate would so much assist you to anticipate the additional cost.
Allied Van Lines Insurance Package
Allied Van Lines gives Basic Liability Protection on its entire moves, free of charge. This basic coverage will be sufficient for those who are only moving basic furniture items or people who need to relocate on a budget. But it only covers your belongings at just $0.60 per pound.
What is the $0.60 per pound?
Consider it this way: your 50-pound box of random electronics cables will cost you $30 if it's damaged or lost. That is cool, you might think until you discovered that your beautiful new 25-pound flat-screen TV will attract a replacement value of $15. If you need highly robust coverage, then you will want to check the Extra Care Protection plan from Allied Van Lines. This full coverage will completely repair or replace (any costs less any belongings that are lost, damaged, or destroyed) while you are moving.
Allied Van Lines Insurance Options
Basic Liability Coverage
Extra Care Protection (ECP)
Added with all relocation packages
Total coverage on lost or damaged items
Customers are not charged
Most comprehensive coverage in the business
Covers damage on the move
Same value replacement for damaged sets of goods
Low maximum benefit
Recommended for expensive belongings
$.60 per pound, per item
What are the Things you can expect from a Move with Allied Van Lines?
Moving is not a friendly process, but Allied has so much to offer to handle some of the popular stress points. Whether it's assisting you with planning your move, packing your belongings, loading the moving truck, or ensuring your household goods will get to your new address in one piece, Allied Van Lines can take good care of every step of the move.
Below are what to expect to schedule a move with Allied:
Researching local Allied agents:
You need to know that Allied Van Lines is in partnership with local movers also referred to as agents to help facilitate the completion of your move. Many of the agents will provide a lot of services advertise by Allied online, but some may not be able to offer specialty services and may have to bring in third parties to handle it.
The quality of customer service you receive will be different from one agent to another, so make sure you go through local reviews for the Allied agent you are assigned to for more understanding of what to expect.
Fixing your appointment with Allied Moving:
After performing your online research, the next step in finding out if a moving company is a perfect fit for you to arrange an in-home estimate. They will perform an on-site estimate before they will give you a quote for your move. Allied Van Lines simplifies this process by allowing you to fix your estimate online or reach them via phone call.
According to a previous customer – I had a quick and stress-free scheduling experience. I filled the online Allied form mid-afternoon, and I got a call from the local Allied agent the next morning to arrange an appointment for my in-home estimate. If you are searching for a convenient way to start the moving process or you are planning to arrange several in-home estimates to make a comparison of various full-service cheap moving companies the online scheduling is your best option.
You may not receive company feedback from their local agent, but it takes just a little time and effort upfront. Contacting Allied to arrange your appointment is also a good option, but you will end up spending more time on the phone, and it might still require you to wait for your local agent to call you back after submission of your information.
Your in-home estimate:
While your in-home estimate is ongoing, a personal moving assistant will talk a walk through your household with you to visually check your items and take inventory of items that need to be moved to your new residence. The overall weight of your goods takes a major part of your moving estimate, so they will possibly ask if you plan to sell anything before the day of your move or if there is any item stored away from the house that you would like to add to your estimate – maybe your neighbor is still in possession of your weed whacker they borrowed since several months ago.
The in-home estimate is usually the biggest difference between full-service movers, and most experiences with Allied Van Lines were so much helpful and informative.
Obtaining your quote:
Allied Van Lines was once one of the strictest companies around when talking about receiving a quote. The company would only perform in-home estimates. Trust us, we made effort to make them provide us a quote via the phone more than once. But things have changed. You can now order your groceries with a phone app, you can monitor your heart rate with a watch, and, yes, you can obtain an "InstaQuote" from Allied Van Lines. Similar to almost everything Allied Van Lines does, these InstaQuotes are so comprehensive.
Immediately you enter some basic information into the online quote tool, such as your origin, destination, and size of the home, you quickly receive three numbers. These three numbers revealed an array of the amount your move might cost based on whether you've received a low, average, or more-than-average quantity of shipment for a home of your size.
Below is a fast breakdown of an InstaQuote received from Allied.
Sample quote information from Allied Van Lines
| | |
| --- | --- |
| Sample Quote Categories | Details |
| Distance of move | 978 miles (Chicago to Dallas) |
| Date of move | May-19 |
| Move size | 4-bedroom house |
| Estimate range | $7,500–$9,400 |
Surely, an in-home estimate is the best way to receive an accurate moving quote.
Online tracking:
We've checked some companies that claim to offer 'live tracking' for all of their shipments, but we discovered that they only mean you can call a customer service representative who is not certain to pick up to inform you where your shipment is.
With Allied Van Line, your belongings can be tracked online at any time from any location (provided you have an internet connection). The online system of Allied gives load dates, the current location of shipment, as well as the delivery date.
Allied Van Lines Customer Service
One of the greatest benefits of hiring Allied Van Lines for a move is their customer service. When Allied is your moving partner, a personal moving assistant will be the one you contact for the whole process.
Having just one point of contact makes it easy to communicate since that one person clearly understands your moving package, your family, as well as your needs. Being able to go straight to the subject matter without explaining who you are every time you call the company you, a huge amount of time and contributes to ensuring you have a great relocation experience.
Allied Van Lines Moving Experience
A lot of customer reviews online mentioned that the company helped families have the best experience from their moves unlike other moving companies they've worked with. Customers mentioned that the company is usually professional from the time of quoting to the time the last package is unloaded and the communication with Allied is the best.
However, there are few criticisms about Allied Van Lines from customers, usually about late pickups or a move taking much more time than expected. Allied is rated A+ with the BBB and is also accredited with the Better Business Bureau.
Is Allied Van Lines a Good Moving Company for you?
Allied offers a combination of experience and innovation to long-distance residential moves. Allied offers a wide, properly defined move that is perfect for those who are moving across the country and want the best services. But Allied is not the cheapest moving company out there for short-distance moves, and it doesn't have the benefits (such as free storage) offered by other companies.
In summary
Services: Allied is a big company, offering all sorts of moving services, from custom crating to auto shipment.
Quotes: Allied Van Lines has improved its quote game a lot. Allied now offers InstaQuote so you can obtain a rough cost estimate immediately. But in-home estimates are, however, the most accurate quotes till now.
Moving: Allied surely performs all the moving for you. You can just rest your back and watch your items move to your long-distance home with the online tracking tool from Allied.
Storage: Allied can schedule storage for you, but it will come at a cost. You can save on storage by arranging for it separately.
The best way to determine if Allied Van Lines is the perfect moving company for you is to obtain a quote. If you've worked with Allied before, good or bad, leave a comment in the section below.