Top13 Places to Find Free Moving Boxes
Moving may be viewed as an expensive exercise if you lack the required planning and information about how to make it as affordable as possible. During your moving budget, you can reduce the cost of moving in some areas; so you can get enough cash to cater for other necessities.
Moving boxes are essential items that can even be seen as the basis of a successful packing. If you can successfully pack your belongings in different boxes and labeled them, the job is half-done. Many people spend a substantial amount of money on moving boxes, not knowing that they can save costs on them.
You shouldn't make the same mistake people are making because most moving boxes are useless and constitute a nuisance immediately after your moving, as many pays to dispose of them in their apartments.
This article has got ideas of various places to get free packing boxes to save you the cost of moving. But before we jump into discussing those places, it is essential to know what moving boxes are, and the importance of using them for your move.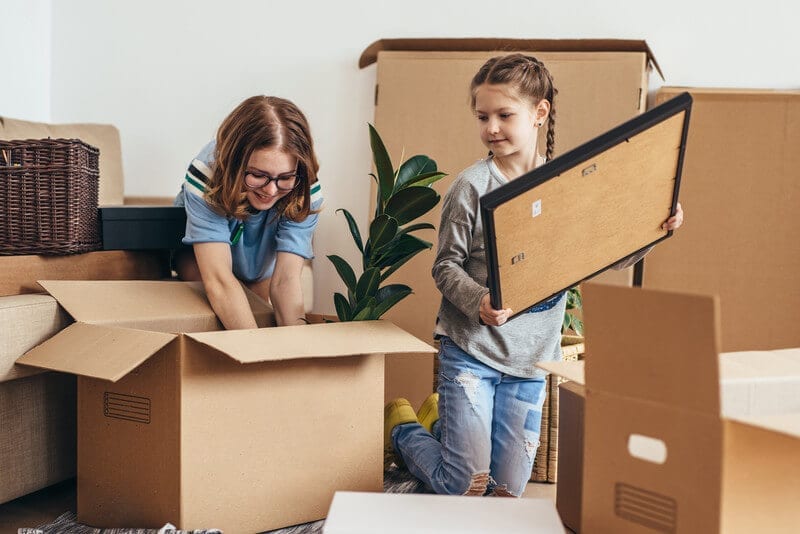 What are Moving Boxes?
Moving boxes can be described as simple constructed objects folded to accommodate and protect belongings for a successful relocation.
They are expected to be durable enough to carry and offer needed protection for your belongings. Moving boxes should be able to handle the weight and withstand handling around the truck.
The primary purpose of moving boxes is to prevent your belongings from damage during moving. There are many boxes available around you that you can use as packing boxes; hence, you may not need to spend on procuring moving boxes for your move.
By sourcing for free moving boxes, you are not only saving money for yourself but also contributing to the environment by recycling boxes instead of adding to the burden of the environment. So, the question now is "where can you find free moving boxes?" This will be handled next.
Top Ideal Places to Find Free Moving Boxes
You can save money by getting moving boxes from various places around you. Many of these places are even looking for a way to get rid of those boxes.
You don't need to spend a dime on moving boxes except the cost to convey them to your apartment. Below are the various places you can get moving boxes:
1. Bookstores
Bookstores are some of the places to find free moving boxes. This is because books are packed in different sizes and shapes and shipped with boxes to the stores one or two times in a week.
These boxes are usually strong and durable to withstand the weight of books; likewise, they will offer the same support to your belongings.
You only need to ask around for big bookstores in your area or city, politely approach them and you would discover that they will be glad to released those boxes to you for your move.
2. Grocery Stores
These are other sure places to get free packing boxes for your move. The moment you make up your mind to move, start asking your local grocery stores their available boxes or their next shipment date.
For instance, apple and banana boxes are solid and excellent to pack some belongings which require air-breathe.
Ensure you keep to the date of their shipments as confirmed by them because you never can tell if other people had requested for the same item.
3. Office Supply Store
If you are looking sturdy boxes to pack your loads, office supply store is a place to get them for free. Office supplies are often packed and shipped with strong and solid boxes to safeguard the equipment from damage that may occur during haulage.
Look out for nearby office supply stores in your location and visit them for available free boxes for your move. Boxes from office supply stores are perfect for packing a variety of household items, and they are already with lids; you only need to tape the lids.
Always ask for copier/printer paper boxes, and you would discover how durable they are.
4. Pharmacy or Chemist
Pharmacy is another home of opportunity for getting free moving boxes. They are usually equipped with unused boxes used to ship their goods to them. You need to make inquiry and track their shipment day like that of grocery stores.
The boxes are of different sizes, and you can stack them to let it enter each other in a view to pack more to your advantage at a go.
The good news is that these boxes are readily available in their stores, waiting to be disposed of. Showing up to pack them will make them happy.
5. Liquor Stores
Liquor drinks are mostly shipped with sturdy but small open boxes. They can be used to pack some essential items but with provision of covers.
Liquor boxes are sturdy and durable to withstand rough handling during packing and movement in the truck. Reach out to any liquor stores in your location and politely request for their unused boxes.
6. Bars and Restaurants
Bars and restaurants are other places to get free moving boxes. They are known for stocking large quantity of liquor, canned goods, toiletries, glass bottles, and other household consumables that are regularly delivered to them for business and those items usually come with boxes.
Most of these boxes can be used to pack your toiletries, plants, children toys, and much more.
Other Places to Get Free Moving Boxes
You can as well get free moving boxes from:
Home improvement stores
Toy stores
Craigslist/Freecycle
Recycling centers
Uhaul Box exchange
Local schools
Office buildings and other warehousing offices are involved in shipping.
The following table displays the Top Ideal Places to Find Free Moving Boxes:
| No. | Where to Find Free Moving Boxes |
| --- | --- |
| 1. | Bookstores |
| 2. | Grocery Stores |
| 3. | Office Supply Store |
| 4. | Pharmacy or Chemist |
| 5. | Liquor Stores |
| 6. | Bars and Restaurants |
| 7. | Home improvement stores |
| 8. | Toy stores |
| 9. | Craigslist/Freecycle |
| 10. | Recycling centers |
| 11. | Uhaul Box exchange |
| 12. | Local schools |
| 13. | Office buildings and other warehousing offices are involved in shipping. |
Moving Box Calculator
Generally, many people are unsure of how many boxes they would use for their move. The number of boxes you will use large depends on the size of your apartment, how expert you are in packing stuff, and as well as the volume of stuff equipped in each room.
Do you book three boxes for each room or more? You never can tell the actual number unless you did it before.
It is worthy of mentioning that it is advisable to have enough than a shortage, because it may be late for you to get them when you needed them most.
However, the box guide below is suggested by an expert to help you have an accurate budget for your moving box.
Boxes you need for Studio
| Studio | 1 Person | 2 Person |
| --- | --- | --- |
| Medium Boxes | 15 | 15 |
| Large Boxes | 11 | 13 |
| X-Large Boxes | 5 | 7 |
| Picture Boxes | 3 | 3 |
| Wardrobe Boxes | 2 | 4 |
Boxes you need for 1 bedroom apartment
| 1 bedroom | 1 Person | 2 Person | 3 Person |
| --- | --- | --- | --- |
| Medium Boxes | 20 | 20 | 20 |
| Large Boxes | 14 | 16 | 18 |
| X-Large Boxes | 6 | 8 | 10 |
| Picture Boxes | 4 | 4 | 4 |
| Wardrobe Boxes | 2 | 4 | 6 |
Boxes you need for 2 bedroom apartment
| 2 bedroom | 1 Person | 2 Person | 3 Person | 4 Person | 5 Person |
| --- | --- | --- | --- | --- | --- |
| Medium Boxes | 30 | 30 | 30 | 30 | 30 |
| Large Boxes | 20 | 22 | 24 | 26 | 28 |
| X-Large Boxes | 8 | 10 | 12 | 14 | 16 |
| Picture Boxes | 6 | 6 | 6 | 6 | 6 |
| Wardrobe Boxes | 2 | 4 | 6 | 8 | 10 |
Boxes you need for 3 bedroom apartment
| 3 bedroom | 1 Person | 2 Person | 3 Person | 4 Person | 5 Person | 6+ Person |
| --- | --- | --- | --- | --- | --- | --- |
| Medium Boxes | 45 | 45 | 45 | 45 | 45 | 45-60 |
| Large Boxes | 29 | 31 | 33 | 35 | 37 | 39-60 |
| X-Large Boxes | 11 | 13 | 15 | 17 | 19 | 21-35 |
| Picture Boxes | 9 | 9 | 9 | 9 | 9 | 9-20 |
| Wardrobe Boxes | 2 | 4 | 6 | 8 | 10 | 12-20 |
Boxes you need for 4 bedroom apartment
| 4 bedroom | 1 Person | 2 Person | 3 Person | 4 Person | 5 Person | 6+ Person |
| --- | --- | --- | --- | --- | --- | --- |
| Medium Boxes | 60 | 60 | 60 | 60 | 60 | 60-80 |
| Large Boxes | 38 | 40 | 42 | 44 | 46 | 48-70 |
| X-Large Boxes | 14 | 16 | 18 | 20 | 22 | 24-35 |
| Picture Boxes | 12 | 12 | 12 | 12 | 12 | 12-30 |
| Wardrobe Boxes | 2 | 4 | 6 | 8 | 10 | 12-30 |
Boxes you need for 5 bedroom apartment
| 5 bedrooms | 1 Person | 2 Persons | 3 Persons | 4 Persons | 5 Persons | 6+ Persons |
| --- | --- | --- | --- | --- | --- | --- |
| Medium Boxes | 75 | 75 | 75 | 75 | 75 | 75-90 |
| Large Boxes | 47 | 49 | 51 | 53 | 55 | 57-80 |
| X-Large Boxes | 17 | 19 | 21 | 23 | 25 | 27-45 |
| Picture Boxes | 15 | 15 | 15 | 15 | 15 | 15-40 |
| Wardrobe Boxes | 2 | 4 | 6 | 8 | 10 | 12-40 |
Boxes you need for 6+ bedroom apartment
| 6 bedrooms | 1 Person | 2 Persons | 3 Persons | 4 Persons | 5 Persons | 6+ Persons |
| --- | --- | --- | --- | --- | --- | --- |
| Medium Boxes | 100 | 100 | 100 | 100 | 100 | 100-120 |
| Large Boxes | 62 | 64 | 66 | 68 | 70 | 70-90 |
| X-Large Boxes | 22 | 24 | 26 | 28 | 30 | 30-55 |
| Picture Boxes | 20 | 20 | 20 | 20 | 20 | 20-50 |
| Wardrobe Boxes | 2 | 4 | 6 | 8 | 10 | 12-50 |
Note: This is just a guide and not an accurate estimate. Your case may be either lesser or higher than the number suggested above. So, be guided appropriately.
Different Types of Moving Boxes and their Purpose
Moving boxes come in different shapes and sizes based on the purpose you want to use each of them for. Some boxes have enough weight to support the items during transportation and handling. The items you want to pack will determine the quality and size of the box to choose or source for.
While packing seems to be one of the stressful moving activities, using the right boxes for each of your household items can make the work easier for you. If you cannot get them free from stores and supermarkets, you can purchase them to be on the safer side.
When you see your rooms full of pieces of furniture, loose knick-knacks, and other items hanging around, you are usually disturbed about how to pack those items and move them into the new home. This one alone can make moving tiring and challenging.
Moving Feedback understands that boxing up your items shouldn't have to be worrisome if the right moving boxes are used to pack your kinds of stuff according to their sizes. To make the job easier for you, check the different types of moving boxes and their purposes.
1. Small Boxes
If you want to pack many small household items safely, this type of box will be found useful during moving. It is between 1.5 – 3.1 cubic feet, which is approximately between 16 x 12½ x 12½ – 18 x 18 x 16 inches in size. The benefit of small boxes during moving is that they are usually light in weight and can support items up to 60 pounds.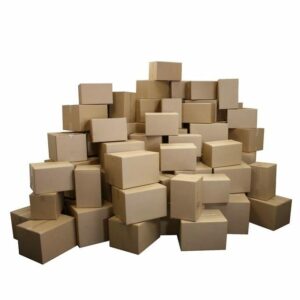 However, it is advisable to keep a packing weight of 1.5 cubic feet to about 50 pounds and that of 3.0 cubic foot and above to about 65 pounds. Based on the sizes of the boxes between 1.5 – 3.1 cubic feet, small moving boxes are a better option for household items like:
Books
Children toys
DVDs
Tools
Small electronics
Kitchenware
Pots and pans
Lamps
Fragile Small appliances
Dishes
Linens
Shades
Cords
Video games, and much more

2. Medium Boxes
Medium-moving boxes can support heavier items than small boxes. Their sizes are between 4.0 – 5.0 cubic feet which are an average of approximately 18 x 18 x 24 inches. Medium boxes can safely accommodate up to 65 pounds of different types of household items especially oddly shaped or mid-weight items.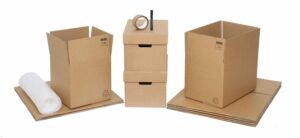 However, it is essential not to over-pack them for more rigidity and safety of the items. Some of the items you can pack in these moving boxes include:
Electronics
Larger kitchen appliances
Larger or specially shaped pots and pans
Larger lamps
Computers and accessories
Clothing and other pieces of stuff that can enter them
3. Large Boxes
Large moving boxes are used for a variety of purposes during moving exercise. They are equipped with the required size and weight to accommodate different types of household items. It is advisable to get more of this size for your move.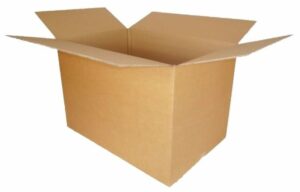 Their sizes are between 6.0 to 6.1 cubic feet which are approximately 22 x 22 x 21 ½ inches and 24 x 18 x 24 inches.
That is enough size to contain much stuff. They can support up to 70 pounds, but it is safe not to overstuff them with weighted items; keep it lesser than recommended packing weight – say 65 pounds.
Pack items that cannot enter medium boxes or heavier items into these moving boxes and you are good to go. These items include:
Pillows
Larger blankets
Toys
Sofa cushions
Towels
Larger lamps
Garage items
Collapsible items, and much more
Special Purpose Moving Boxes
Apart from the above regular moving boxes, there are still some other special-purpose moving boxes that are usually used in packing some specialized household items. These boxes include the following:
1. Dish Pack
Dish packs are special cartons used to pack mostly kitchen items. Though they usually come with your items but most times, they are nowhere to be found during moving; hence, you need to source for some to pack your dishes and other items.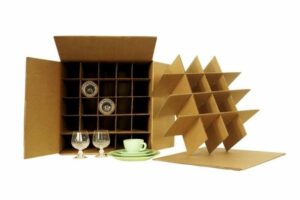 You have to caution yourself on how you pack them to avoid over-packing your dish packs – as dish weight can drop the box and shatter the items therein. Typically, you would need a few of these boxes to carry lots of your kitchen stuff such as:
Bowls/Plates
Keepsakes
Porcelain items
Glasses
Wine/liquor bottles
Cups
2. Mirror and Picture Boxes
Most mirror and picture boxes are used during moving and can be telescoped to get a longer fit for the items you want to pack. These are not only used to pack mirrors and pictures but other household items that are fragile.

However, when you are joining two boxes together, ensure you fasten the two boxes together with strong filament tape to keep them joined in a view to handle the extra weight of items as required.
Also, it is recommended to use bubble wrap for all framed items. Mirror and picture cartons are used to pack the following:
Mirrors
Artworks
Framed pictures
Paintings
3. Hanging Wardrobe Boxes
These are specialized boxes that have different sizes ranging from small to medium and large. They usually include a metal shaped bar that resembles a wardrobe. This type of box is a perfect match for hanging closet items that are difficult to pack flat.
While they are heavy and can as well take up a lot of space, their usefulness cannot be overemphasized. Hanging wardrobe boxes are used by movers to move:
Delicate wind chimes
Chandelier
These items are better moved hanging compared to flat. It is advisable to add them to your list of moving boxes you are considering for your move.
4. Mattress Boxes
If you want to move your mattress without altering its shape or you want to protect them from being punctured during moving, consider using mattress boxes to move them.
However, most movers do move mattresses in a cheaper way by wrapping them in plastic bags.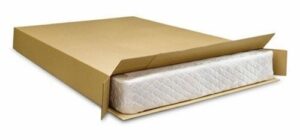 Mattress boxes will protect your bedding from foreign elements during storage or transportation. The box comes in various sizes ranging from cribs to twin and king size to accommodate any mattress you want to move.
It is worthy of note that mattress boxes are specially designed and they are of different sizes based on the various sizes of mattresses available in the market.
5. Packing Boxes For Moving House
Packing moving boxes for your move requires special skills if you want to maximize the available spaces in the boxes. While there is a way to pack moving boxes correctly, using the right boxes for packing the right items is critical for your move and prevents your valuable items from being broken, damaged, or loss during moving.
Using dedicated packing boxes for every aspect of packing, especially to pack breakable and heavy items is non-negotiable. There are some rudiments of packing moving boxes you must learn to make your next move easier and more affordable.
If you can be able to pack professionally, you tend to save more cost on your move. Start by analyzing all you need in terms of moving supplies such as moving boxes, bubbles, tapes, and much more.
We will be sharing useful tips as regards packing and making use of moving boxes judiciously.  To start with, let's briefly highlight the packing supplies you would need for your move.
Packing Supplies You Need
Moving can turn into a nightmare or more stressful when you are at the heart of packing and suddenly realize that you are short of moving boxes and some other moving supplies, as there are other items to be packed.
This is always the case when you fail to analyze the volume of your items before sourcing for your moving and packing supplies.
If you can start your planning earlier enough, you will not only prevent running out of moving supplies at the eleventh hour but also reduce the cost expended on these supplies.
Packing supplies are categorized into two – moving or packing boxes and moving or packing supplies.
Below is a list of moving or packing boxes you will need for your move:
Small Boxes: To pack small items such as books, kid toys, cords, DVDs, fragile small appliances, lamps, etc.
Medium Boxes: To pack small items including medium, large electronics, lamps, kitchen appliances, pot & pan, and much more, medium size boxes is the best match.
Large Boxes: To pack small items not limited to pillows, sofa cushions, large lamps, blankets, garage items, and some collapsible items.
Dish Pack: It is a special-purpose box used to pack plates, wine/liquor bottles, glass cups, keepsakes, and porcelain items.
Wardrobe Boxes: It is a special-purpose box used to pack delicate wind chimes and chandeliers.
Mattress Boxes: It is a special-purpose box (though optional) used to move mattresses to prevent them from external materials.
Heavy-Duty Boxes: It is a special-purpose box meant to move heavy-duty items. They are usually strong to support the item's weight.
Also, you will also need other moving supplies including:
Packing tape
Stretch wrap used for furniture
Old newspapers
Labels
Marker

How To Pack Moving Boxes For House Move
If you want to pack for your move and want to ensure you are packing in a safe way, there are some useful tips you need to achieve the purpose.
Packing your boxes properly will not only save you time but also save you from the unnecessary stress of looking for items during unpacking.
Boxes not properly packed or not taped, or weak due to excess load may fail and require re-packing or replacement at the eleventh hour of moving. If there is no replacement, you should know what this means.
Below are essential tips for packing moving boxing for home moving:
1. Avoid rush packing
Early packing is the key to proper packing. If you take your time to pack your items into respective moving boxes, you will meticulously pack them and utilize the available space in the boxes.
However, this is not the case when you are rushing to pack. Packing 6 – 8 weeks to your actual moving day is recommended – though this depends on the size of the home.
2. Start with rooms with fewer items and pack a room at a time
Staring your packing from the very least room will not only prepare your mind for the work but also, the room can serve as a storeroom for filled-up moving boxes. It is also advisable to pack one at a time so you can see the volume of work remaining for you.
3. Be conscious of the allowable weight for each box
Don't overstuff your moving boxes. Each box has its allowable weight to support it. Exceeding this weight poses your items with an avoidable risk of falling and damaging during moving. It is advisable to pack heavy items in small boxes and light ones in large boxes.
4. Fill empty gaps
If there are empty spaces in the boxes after packing all your items in them, ensure you fill the spaces with packing papers, old newspaper, or clothes to secure the items during haulage.
5. Seal up the boxes
After packing each box and filling the empty gaps, ensure you seal up the covers with packing tapes to secure the items further.
6. Label your boxes
Labeling the boxes helps you to identify the contents in each box easily. Write the description of the contents contained in each box with different colors of markers to differentiate the boxes for each room or person. Kids can easily help you with this task.
7. Put lighter boxes on the top
When the boxes are being loaded into the moving truck, make sure lighter boxes are put on top while heavier ones are put at the bottom to prevent them from pressing each other. However, it is essential that you fill the one at the bottom to the brim and properly seal with a lid to prevent failure. Ensure you tape both top and bottom of all moving boxes to offer more support to the boxes.
8. Pack fragile items with care
When you are packing fragile items, ensure you use enough bubble wrap or packing or old newspapers to protect the items during loading and unloading. Also, make sure you label the boxes as "Fragile." The key point is – ensure the items are well-padded.
9. Pack essential items in separate
Sure, you would need some essential items on a moving day at your new place. Home arrangement after moving can take time; hence, it is advisable to pack some most used items separately in some boxes and label them accordingly.
Some items such as toilet paper, soap, toiletries, bottled water, changing clothes, snacks, which cannot be quickly unpacked at your new home, should be packed in a box.

Frequently Asked Questions
If I pack items myself, are movers responsible if items are damaged, broken, or lost?
The short answer is yes – movers are still responsible for items even if you have packed them on your own. Movers are subject to tariff provisions, which allow them to repack boxes that they feel have not been packed properly.
If you improperly pack a box, the movers do not repack it, and an item breaks or is lost, your movers are responsible for the damage or lost item. Movers are also responsible for damage that occurs during transit for any reason unless the sole cause is due to things out of their control, such as acts of God or homeowners omitting information.
How can I save money on packing supplies?
There are several methods you can use to save money on packing supplies when you are getting prepared for your moving day. Some of the things you can do to reduce your moving expenses include using smaller boxes to lessen the need for cushions or bubble wrap and using suitcases and other bags you already have on-hand.
You can also reduce the amount of boxes you need by decluttering your home, donating items, and gifting items to friends and family members.
Will movers load all of my pre-packed boxes on my moving date?
As long as movers deem that the boxes you have packed are safe for transport, your items will be loaded onto the truck with no problems. Movers may need to assess what is in boxes to ensure that hazardous items and other prohibited cargo is not packed, such as propane tanks.
When packing items, be sure to label them based on their contents and keep fragile items separate. You should also let movers know what boxes are not to be put on the truck, keeping them separate from the items being loaded or storing them in a safe spot.
How should I arrange boxes if I need to put them in storage?
When placing boxes in storage, it is a necessity that they be labelled and stacked appropriately so that you know where everything is and can find and access your items easily. Create aisles by stacking boxes on top of one another, being careful of weight distribution and boxes holding fragile items.
Heavier items, such as books, should be placed towards the bottom of the stack to prevent them from pushing onto other items you are storing. You can also use this method when loading items onto a moving van.
Can I use my dresser drawers as storage?
Clothing and linens are the only items that movers recommend keeping stored in drawers during your move, saving you some space in your moving boxes. Clothing is soft and does not risk getting damaged while being transported.
If you are storing your items for any duration, it is recommended that any items in drawers be packed in boxes. Loose items may move around while they are in drawers, possibly causing damage to your furniture and items stored in drawers.
How do I protect glassware while moving?
Packing fragile items can be difficult, as they require extra care and attentiveness. There are special boxes made specifically for glassware that you can purchase, but you can still pack items safely without specialized boxes.
Layer the bottom of boxes with cushioning of some sort in order to protect glassware from impacts. If glass items are heavy and thick, wrap them carefully and place them on the bottom of the box – lighter glassware can be stored on top to avoid breaking the thinner glass.
Conclusion
We can conclude that moving boxes are one of the important basis of moving. Every move aims to ensure no record of loss or damage of items throughout the moving exercise; hence, moving boxes are essential. There is a variety of size for each item based on the type, nature, and size of household items.
Getting them shouldn't be a problem as you can source these boxes through different channels. This post had discussed different types of boxes and what they are meant for, places where you can source for free moving boxes, and as well as top platforms to buy quality moving boxes and get it delivered to your doorstep. Moving Feedback is committed to ensuring you get everything you need for your move and make your move stress-free and smooth.
Stay tuned for more informative posts on Moving Feedback!