Office Moving Checklist By Moving Experts
Moving an office from one location to another means that the smooth running of business may be affected in one way or the other. However, there would be minimal business disruption when there is adequate planning in place.
The important key here is planning, preparation, and communication. Even though relocating offices comes with different challenges, there are ways to go about it that will make it a seamless undertaking.
Just like any comprehensive process, office moves are best pulled off by proper planning that breaks the process into sections, phases, or parts. Be ready for a transformative effect on your large or small business when moving offices.
Moving to a new space to either grow your business, control your brand, or acquiring bigger space would present you with a lot of excitement after you have moved past the moving stress itself.
Everything you need to know when moving an office will be discussed here, and we also compiled an office checklist for your move to help simplify your transitioning. Continue reading to discover all.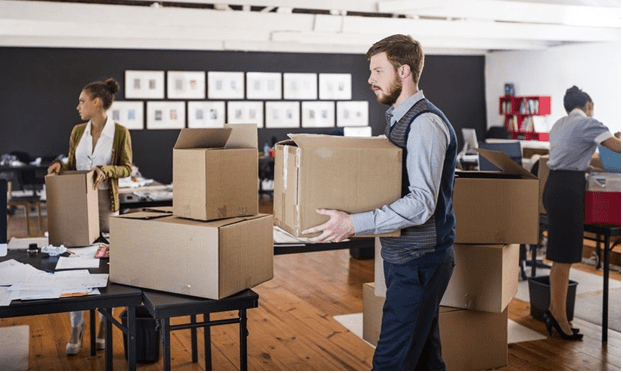 How to Plan an Office Move?
A company could lose a huge amount of money if they make a mistake while moving their office. This could emerge from lawsuits from employees on unfair, errors in paperwork, or downtime in production.
A company's success is determined by proper conduct of office relocation; hence, HR and management have to come together and plan for the move.
They can create a spreadsheet to serve as a guide throughout the whole office moving process right from planning to unpacking. Let's look at it stage by stage.
Stage one: Planning
This phase is very interesting; make use of everything that will make the office move run smoothly. This may include spreadsheets, documents, and moving checklists.
Add each task to the checklist, regardless of the size, as well as each step that leads to another, the teams and companies handling each task.
With this, your tasks are compiled to a small manageable size. Your planning documents will serve as a moving guide all through the office moving process.
You can also share the spreadsheet with everyone involved in the move using sharing software so they can be aware of the next step.
Setting Criteria
Before you commence your search, it is important to factor in your business requirements and set your priorities because there are no one-size-fits-all when moving offices.
You may be lost on where to start if you are new to office search, as it can seem like a tricky task to you. Among the vital criteria to note are the reasons behind the need for a new office, your budget, your move date as well as the preferences of your team.
Fortunately, Moving Feedback is here to help you in every step of the move from giving you advice on budget and also giving you a template to send your crew.
To determine how much your upcoming office move would cost, first itemize all you need as regards the move and set your criteria.
Have a Deadline
You will be able to get each task done efficiently when you set a deadline or deadlines. You would want to do everything as planned and not procrastinate when you set a deadline. Giving everyone in your team a deadline would motivate them to work as expected.
Stage two: Communication
Notifying your external and internal parties of your office move immediately your moving date is set is very important for them to prepare emotionally. Do the following:
Create a list of those you need to inform of the change of address
Create a list of those you need to inform of the change of address
Inform your current landlord and/or property manager, and remember to issue them official notice.
Communicate the moving date and the new office address to your team members
Make sure your employee list is updated
Ensure each team members are assigned and aware of their responsibilities in advance
Book your desired moving company
Inform your IT department on the relocation and discuss any required tech for the move
Inform your affiliates, local partners, as well as your suppliers of the upcoming office move, especially those who would be affected in one way or the other by the office move.
In addition to the list, the group deserves your change of address notice:
Clients and partners;
Any professional organizations (if you are a member)
Stationery services;
Banks and financial institutions
Foodservice companies;
Bottled water company;
Telephone company;
Service companies (for office gadgets)
Insurance companies;
Any accounts departments;
Internet service provider;
Any additional services being used by your company.
Stage three: Preparation
Office Space and Requirements
It is time for you to select one of the different office spaces you are vetting and considering for the relocation. Concentrate on every tiny detail that could later pose huge problems on the move.
Be sure to consider the affordability of the rent if you are going for a lease property. You can also consider if the landlord offers insurance, if the office space is enough to contain everybody and if it is extendable if needed in the future. There are also other factors to consider when choosing an office space.
You have to make sure the space you are moving into is ready to go to avoid disruption of your business activities due to the setting up of the new space.
There are several reasons why people relocate their offices, and there are always different objectives behind each business.
This also implies that the task involved in preparing your new office space is different in every office moving checklist.
This is therefore put into serious consideration when compiling the list of tasks for this part of the moving checklist.
Below are the most important things to consider:    
Figure out the new office headcount
Figure out the new office layout

Desks needed
Common areas
Equipment
Organization of various departments in the new building
Style/brand of your office
list usable furniture from the old office
Buy new furniture (if needed)
Although this list is generalized, however, it will give a perfect start to the planning of your office move.
Office Moving Checklist – what are involved?
Moving office to another location is a huge project that requires proper planning. The process can look tedious if, especially you have not handled a move before. Fortunately, you can break the process into steps and tasks.
Before the Move
Step 1: Planning Space and Furniture required for the move
Perform employee headcount and occupancy review
Check the layout of the current office and make sure existing drawings are up to date
Determine the alignment between business functions and departments to create your layout and office arrangement
Identify the right print, file and popular items needed in the new space
Compile and set priorities of office layout improvement opportunities
Draft many space layouts and mingle for reports
Make a comprehensive list of existing furniture as well as their conditions.
Note down the current unique ergonomic accommodations in the old office
Measure dimensions and general layout in the new office space
Aim for high-quality furniture
Check available furniture to weigh your options:

Sell/donate old furniture,
Buy refurbished options,
Buy new furniture,
Repurpose old furniture,
Reuse your existing furniture,
Come up with a comprehensive furniture plan for the new office,
Figure out lead time for furniture and timeframe for installation
Step 2: Technology
Technology is the most complicated and challenging, but important sections in this office moving checklist. You will ask – why?
The date must be kept. Your business could be greatly affected when you lose data, or you get hacked. Thus, your leadership and technology department must be fully ready for the move.
Although we are not technology experts, however, understanding what goes into moving an office from a technology point of view is very simple. Do the following:
Complete an evaluation of the whole IT building at the old office including equipment, power sources, cabling, servers, etc.
Make sure you back up important files and data before the move.
Create a plan for the new office location.
Step 3: Old Space Management
Have you ever had to create a list of damages made to a leased property after moving out? This step will show you how to do this for an office perfectly. Below are the things you need to check in your old office space:
Figure out and inventory the old office for damages, furniture, electricity, cables, etc.
Cancel utility services such as electricity, internet, etc.
Remove your company's branding and signage
Hire and arrange for a cleaning service
Return building passwords, keys, and so on to the landlord or new occupant.
This part of the office moving checklist is most likely one of the last tasks you do in the whole office moving process.
You don't want to hire a cleaning service for your old office space while you still have some items to be moved from there. Make sure you time these activities properly.
Step 4: Communication
In this step, you need to bring out your management skills to pass the message not destabilize the people involved.
Create an internal communication plan for staffs
Create an external communication plan for suppliers, customers, and other vendors.
Share new building parking procedures, rules, amenity, and security details
Create and distribute move instructions for staff, which must include packing instructions, FAQs, and so on. Highlight the need for employees to be off-site during the process to avoid injury and any other delays to the process. Make sure only assigned individuals are on-site during the relocation.
Announce timeline for network outage and a backup plan
Update every office advertising and collateral to bear new office address and information
Update vehicle registrations, phone numbers, and signage
Inform post office
You may throw an open house in the new office.
Locate and contact professional office movers to request a quote.
Step 5: Business Operations
This means the people and processes associated with controlling the relocation. This aspect of the move is always about the top officials at your organization, the HR as well as the company's developmental teams responsible for the move.
This part of the office moving checklist is important, as it will determine when and how your company will start running.
Below are the important tasks to add to your office moving checklist in this section:
Create a move committee
Set a timeframe for members and executives of each committee to individually move to the new office
Create a timeline for the move
Develop a new seating arrangement and layout chart
Come up with a protocol for relocating confidential and vital equipment, data, and so on.
On Moving Day
Step 6: The Logistic
Turn the lights on: You want to conduct your business in lit and warm environment. Make sure your new office space is perfect when it comes to utilities. Contact your utility companies to check your water or power to solve any problem that may occur in your new office space.
Set up your office: Arrange your new office based on the blueprint or the layout you drafted. Transition planning here will be much helpful if you partner with a moving company as most of them offer professional staging services.
Connect the internet, phone, and IT systems: These services may be added if you partner with a professional moving company. Else, contact your local provider to make sure your new office is connected.
Check through your old office and note any damage: This is an important step to see if you missed any important items that need to be relocated to the new office and also to check and report any damage that occurs during the office relocation.
Settling In
You have come to the end of the move. This is now the time to set up some things so you can start your business as quickly as possible.
Ensure all areas are properly demarcated for employees to see
Set up all systems and computers
Update the contact information on the company website to the new one
Make a new phone list
Share new phone lists and each department locations
Conduct a proper checking of the areas and report any damage to the movers if needed.
Ensure your insurance has been transferred
Make sure you owe no lease
Verify that the old premises receive all deposits
Collect and send back all keycards, passes, and keys for the old premises.
Give out new keys, passes, and keycards for the new office
Go through all invoices and payments
Schedule installations of new IT new systems.
Publish your change of address.
Set up a committee to arrange for an office-warming party.
Up the game by placing a welcome pack on the desk of each staff, including their name, job role, and welcome note in the pack. You can also add some treats to refresh them through a hectic day.
After the Move
Knowing how your employees feel about the just concluded office move after they've settled in is a very important thing but often overlooked. Ask for feedback to help maintain commitment and quality of service.
It will also help you in increasing the positives of an office relocation as well as figure out and solve any issues that may have arisen.
Conclusion
Moving an office is not a project to be overlooked; it should be taken very seriously. Completing an office move successfully is worth celebrating. We hope you found our office moving checklist helpful. Ensure your office has a useful office moving checklist to have a successful transitioning.
Do not forget that office moving companies can help you with the entire process, such as packing, loading, transporting, and unloading your moving truck at your new office. They can also handle your office staging, junk removal, and transition planning; hence, it all depends on your choice. Check movers on Moving Feedback to get started.