Moving Checklist For Your First Apartment
Nearly 10% of the population moves annually, with millions moving to apartments for the first time. Knowing what to expect can make the difference between a stressful and hassle-free move.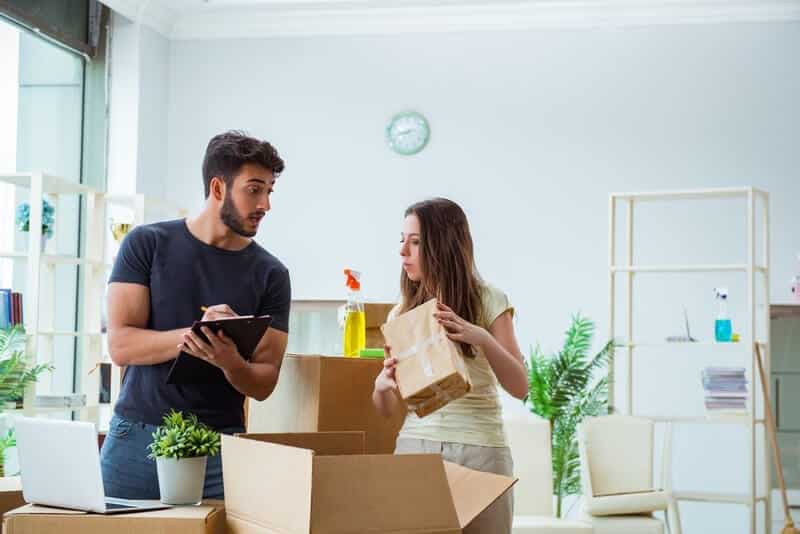 Moving into your first apartment can be made easier by hiring professional movers, creating needed items, and taking care of a few tasks pre-and post- move-in. By staying on top of the move and being prepared, you can avoid some of the most common mistakes first-time apartment renters make.
After a while of living with friends or family, your first apartment can feel like a breath of fresh air. You'll finally have space to do what you want when you want – but before you start celebrating, there's the small matter of actually moving in first. If you're feeling a little overwhelmed ahead of moving day, don't worry – we've got you covered with our checklist of top tips for first-time apartment renters.
1. Hire professional movers
This is one of the most important moving tips for first-time apartment renters. Professional movers know how to pack up, load, transport, and unload your belongings quickly and efficiently. With professional movers helping to take care of the heavy lifting, you can focus on more important things, like settling into your new place or crossing things off of your to-do list.
2. Create a list for everything
Making first apartment checklists helps keep us on track and ensures we don't forget anything. Making a moving checklist, a needed inventory list, and a first-day essentials list will help you stay organized and keep track of everything you need to do and bring with you on moving day.
A moving checklist should include all the big tasks you need to take care of ahead of time, like canceling utilities at your old place, transferring utilities to your new place, and changing your address.
Your needed-inventory list should cover all the items you don't yet have for your new apartment.
While you may be bringing your own clothes, towels, and sheets, don't forget about other first apartment essentials such as:
cookware
dishes
silverware
cleaning supplies
furniture
home decor
Last but not least, your first-day essentials list should include everything you'll need to get by the first night or two while you wait for ordered items to arrive and boxes to be unpacked.
Essential items typically include:
toiletries
a change of clothes
a phone charger
snacks
3. Do a pre-move-in cleaning
The last thing you want to do after a long day of moving is started scrubbing your new place from top to bottom. To avoid this, schedule a professional cleaning service for a day or two before you move into the new place. Getting a deep pre-move clean will ensure your new apartment is fully prepared to start unpacking in without any worries.
The most common cleaning services that should be done on a new apartment include:
Carpet Cleaning
Windows cleaning
Kitchen and bathroom scrubbing
Appliance cleaning
Vacuuming and dusting
4. Make any home improvements before moving in
With the empty space that a new apartment has, taking the time to make any necessary home improvements before you start filling it up with furniture and boxes can save you a lot of time, money, and frustration down the line.
The most common home improvements people make before moving into a new apartment include:
Patching holes in walls
Repainting
Installing new light fixtures
Hanging curtains or blinds
Once you start moving in furniture and boxes, it becomes much more difficult (and expensive) to make these kinds of changes, so be sure to do it before you start unpacking.
5. Set up your utilities before move-in day
This is one of the most important moving tips for first-time apartment renters. Nothing is worse than finally getting moved into your new place, only to realize that you don't have any heat, water, or electricity because you forgot to set up your utilities.
To avoid this nightmare scenario, be sure to schedule the installation or transfer of your utilities for a day or two before you actually move in. That way, you can be sure that everything will be up and running when needed.
6. Unpack the essentials first
After you've moved all your belongings into your new apartment, it can be tempting to leave everything in boxes until you have time to unpack it all. However, this will make settling into your new place more difficult.
To make things easier on yourself, start by unpacking the essentials first. This should include items from your first-day essentials list, as well as any other items you need to have easy access to on a daily basis. Once the essentials are unpacked, you can focus on unpacking the rest of your belongings at a more leisurely pace.
7. Get spare keys made
Once the movers have unloaded all your belongings, head out to a local hardware store and make copies of your keys. Having an extra set in a lockbox that is easily accessible to you will give you peace of mind in case you ever get locked out.
You should also consider giving a set of keys to a trusted neighbor or friend in case of an emergency.
8. Get smoke detectors installed and/or checked
The last thing you want is to move into a new apartment and have it catch fire a few days later. To avoid this, get smoke detectors installed in your new place as soon as possible.
If the apartment you're moving into already has smoke detectors, test them to ensure they're working properly. It's also a good idea to replace the batteries in all the detectors so that you know they're good to go.
9. Familiarize yourself with the rules and regulations of the new building
During the moving-in process, it's a good idea to take a few minutes to familiarize yourself with the building's rules and regulations. This can include things like quiet hours, where you can park your car, what kind of trash disposal is available, and any other important information you need to know about living in the building.
The last thing you want is to get on your new landlord's bad side by accidentally breaking one of the rules, so it's better to be safe than sorry.
10. Make your new place feel like home
One of the most important moving tips for first-time apartment renters is to make your new place feel like home as quickly as possible. The sooner you can do this, the easier it will be to adjust to living in a new place.
One way to make your new apartment feel like home is to personalize it with photos, paintings, and other items that are special to you. Adding some cozy throws and pillows to your furniture can also make it more comfortable. And finally, don't forget to add some plants to your new home – they'll help purify the air and make the place feel more alive.
Cheap Ways to Move Into a New Apartment
Saving money when moving into your first new apartment is a great way to have a bit extra for initial living costs and new furniture.
Here are a few tips on how to save money when making your move:
1. Get free moving boxes from local businesses
Many businesses have spare boxes they are happy to give away for free. Ask your local grocery, liquor, or department store to see if they have any extra boxes you can use for your move.
2. Have a garage sale
If you have any items you don't need or want to take to your new apartment, consider having a garage sale. This is a great way to get rid of unwanted items and make some extra cash for your move.
3. Ask friends and family for help
If you have friends or family members willing and able to help you with your move, take them up on their offer! Having an extra set of hands (or two) will make the moving process much easier and faster. Plus, it's a great way to save money on professional movers.
4. Use your own vehicle for moving
If you have a car, truck, or van, you can save money by using it to transport your belongings to your new apartment. This is especially helpful if you are only moving a short distance with a few items and want to avoid any risk of moving scams from disreputable movers in your area.
5. Get creative with your packing
Don't waste money on expensive packing supplies – get creative with what you have on hand. For example, use old newspapers or towels for packing material, and pack your belongings in suitcases, duffel bags, and other items you may already have.
6. Move during the off-peak season
The busiest (and most expensive) time to hire a national moving company is during the summer months and on weekends. If you can, try to schedule your move for a weekday during the off-peak moving months between September and March. These months see less demand and up to 30% off moving costs or truck rental fees.
Move Into Your First Apartment With Ease
Moving into your first apartment doesn't have to be a stressful experience. Following the tips outlined in this article can make the moving process much simpler and less overwhelming. Just remember to take your time, plan ahead, and stay organized, and you'll be ready to move into your new first apartment in no time.