How Much Does it Cost to Move a Mobile Home?
Moving a mobile home can be costly and challenging especially if you are doing this for the first time. Whenever the word "moving" is mentioned, everyone thinks about relocating one's belongings to another residence or home.
But in the case of moving a mobile home, you are relocating the entire mobile home to a new location; hence, a lot of costs are involved in a successful mobile home move. If care is not taken, some costs can be hidden and be overlooked during your estimate.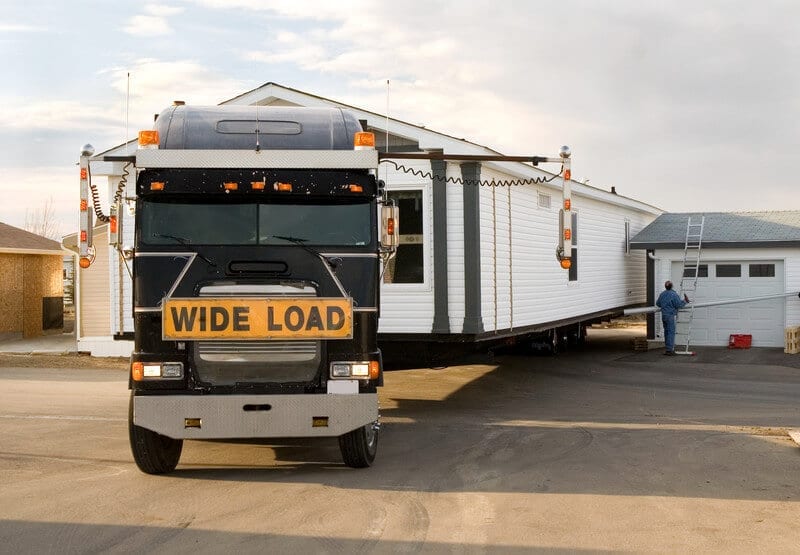 Cost of Moving a Mobile Home
There is a variety of cost factors needed to be put into consideration, and this will be looked into one after the other. Everyone wants to have an idea of an approximate estimate of moving a mobile home.
To give a general estimate, the cost is between  $1000 to $5000 for a short distance and $2000 to $6000 for a long-distance move.
Are you hiring professional long distance movers or do you want to use a DIY system? The costs of moving a mobile home are not limited to the following:
| | |
| --- | --- |
| Size | Cost |
| Single-wide | $1,000 to $8,000 |
| Double-wide | $2,000 to $16,000 |
| Triple-wide | $3,000 to $24,000 |
Average Cost of Moving a Mobile Home
Those who prefer the DIY approach and get the home ready themselves will spend about $5-$10 for each mile moved. If you are moving to a larger and wider home, the average cost will increase.
Taking the average of moving a double-wide home to $2,500 and between $2,600 and $3,500 for a triple-wide home on a maximum of 60 miles move.
You will spend more on heavier homes while lesser for lighter homes, and destinations that need a circuitous route will cause the price to increase due to an increase in the distance traveled.
Your total cost will almost double if you include disconnection, reconnection, and removal of skirting, as well as other services on the list of services to handle by your full-service moving company.
This will cost you between $3,000 and $5,000 to move a single-wide home, $4,000 and $10,000 for a double-wide home, and $10,000 and $14,000 or more for a triple-wide home based on the distance of the transport and several other factors.
The two options will also need the customer to pay for pilot cars, often about $1.50 and $1.65 for each mile, and there may be other fees for escorts based on the region, roads, and home's size.
Let's take a look at the typical cost of moving a mobile home based on the method of move.
Typical Cost of Moving Mobile Home
1. DIY Home Move
During a transport-only move, the prepared home is attached to a towing vehicle, transported to the new destination, and detached for around $700 and $1,000 for a single-wide unit traveling 60 miles, while double-wide costs about $2000 to $2,500 and triple-wide home costs between $2,600 and $3,500 based on the length and height of the unit, the location, distance, and local regulations.
These rates are charged by miles. Expect to pay less for shorter distances and more for longer moves.
2. Using a Professional Moving Company
Moving a mobile home with a full-service mover on about 60 miles that include disconnection, reconnection, and transportation will cost around $3,000 and $5,000 to move a single-wide home.
It will cost $4,000 and $10,000 to move a double-wide and $10,000 to 14,000 or more to move a triple-wide home based on the size and location.
Expect to pay more to move taller homes that have cathedral; or gable roofs since there may not be enough travel route, which usually costs more miles.
3. Towing Option
Moving companies often charge between $4 and $5.50 per mile to tow a vehicle and around $1.50 and $1.65 per mile for pilot cars based on distance and fuel price.
For instance, Riley's Transport in California will charge about $1,000 to move a single-wide home within the state at about 60 miles based on the size and location.
DIYers who opt for disconnection and reconnection of the home will require skirting tools, a plumber's wrench, and plumbing knowledge.
Contact the nearest utility company to ensure electricity is turned off. It is better to leave Mobile home moves to licensed moving companies.
There are many details, such as the right side of the tow vehicle, lead car permits, route selection based on shipment size, and hook-ups that must all be appropriately completed.
Transportation Cost of a Mobile Home
The transportation cost is a significant cost of moving a mobile home. This is based on a number of factors such as weight, size of the home, accessibility, and the distance involved in the movement.
They are as highlighted below:
1. Size of home
Mobile homes are of different sizes and it is one of the factors moving companies usually use to calculate their quotes. Both size and weight are calculated to arrive at the actual cost of moving a mobile home.
For instance, double-wide homes are more expensive to move than single-wide homes because the former requires more equipment and effort; hence, it may cost up to twice the amount of the latter.
Also, moving long mobile homes are costlier than shorter one because they are more difficult to maneuver during transportation than short mobile homes.
Moving a double-wide home is sometimes charged twice because each half needs to be transported separately by different trucks.
2. Property accessibility for moving
This is the ease of accessing your mobile home. This is also put into consideration after the size and weight factor. Is there any physical obstruction on the property? This is first inspected before coming up with a quote for moving your mobile. Take note of the following:
The nature of the driveway to your mobile home: If your driveway is paved and straight, you may have a lower quote than otherwise, because it will be easier to negotiate such a driveway during moving.
But if your driveway is muddy and rough with sharp turns and hills, it will be difficult to maneuver; hence, movers usually add extra cost.
Sharp driveways angles can be another issue when maneuvering a home. Most driveways typically connect to the main road at an angle of 90 degrees; if your location is different from this, there may be difficulty in moving it.
Physical obstruction: There are other physical considerations for determining the cost of moving your mobile home. Physical obstructions such as trees, utility poles, gates, fencing, and bridges flanges close to the driveway or road can make maneuvering difficult.
Based on the height of the home, low overhead lines can also serve as an obstruction to moving a mobile home. Some may be required to be removed before your home can be moved; hence, it constitutes additional expenses.
If your home is located close to sheds and a small building, they may be required to be removed so that maneuvering can be easier.
Underground structures: The location of your underground structures such as storage tanks, leach beds, drainage tiles, septic tanks, old wells, and other underneath structures must be clearly marked out before considering moving a mobile home to prevent them from damage caused by moving equipment and the weight of the home.
3. Distance
After considering size and weight, as well as physical obstruction, the distance involved from your current location to where the homes will also be moved to determine how much a moving company will charge you.
A variety of factors are put into consideration to calculate how much you will pay to move your home. The mileage rates are of two categories;
under 100 miles, and
100 miles and above
Based on the mover, the moving companies may calculate your rates, say between $6/mile to $16/mile or even higher, based on the size, weight, and type of the home. So, it depends if your distance is under or over 100 miles.
4. Additional Costs
Additional costs worthy of consideration when moving your mobile home include road conditions, unforeseen obstructions on the route, utility facilities such as the internet, cables, phone lines, and others that must be disconnected before the moving date.
Another extra cost is the cost of installation of the home when it finally arrives at the new location. This is also associated with the cost of seeking permission to install your home, the setting of the foundation, and much more.
5 Tips to Lower the Cost of Moving a Mobile Home
1. Obtain Quotes from a Minimum of Three Mobile Home Specialized Movers
It is a nice move to contact a minimum of three companies so you can make quotes comparisons. You will be asked several questions by moving companies to determine if their trucks are perfect for you.
Take note of the following to get accurate quotes for your move:
You will be required to give the origin and destination addresses to obtain the most accurate price. The moving company will need to find a route between the locations that can accommodate the size of the load. Some highways have weight restrictions, and residential roads cannot always be large enough to contain the size of a mobile home.
A reputable company will come to your house for an assessment of your mobile home, which includes taking measurements and inspecting the foundation. The most important factor in relocating a mobile home is the foundation, as well as the absence of wheels. For instance, moving from a foundation made of a block is more expensive than a home placed on a slab.
The weight of the trailer will also be a factor for price determination, and the company needs to be sure they have the relevant equipment.
Additional payment will be required if escort cars are required to guide the movement.
After the moving company completes its quote, find out if you will be paying a ballpark value or a flat rate price.
2. Difficulty Level of Trips Affects the Cost
The trailer is placed on a large flatbed for moving by the movers. The limit of traveling to major highways gives them enough space.
Moving a mobile home across roads that are full of curves and twists and turns is not possible, even no matter how short the distance between the two locations is.
Stick to your moving budget, avoid going with the first moving offer you get, and you will save some money.
Make enough comparisons and always negotiate or request special deals or discounts you can be eligible for.
Some companies discounts for:
Active military members and veterans
Senior citizens
Off-season moving
AAA members
College students
Same day payment
Low-income pricing
3. Check the Company's Moving Background
Go with a moving company that shows their license number as well as proof of insurance to provide coverage for any damage. They are also expected to provide moving permits and standard references when requested.
Moving companies usually show customers' reviews on their websites, but you should not rely only on that. Check other websites to discover real and un-tailored reviews. You can find honest reviews on websites like Yelp.
In some cases, customers will leave reviews on how much they spend on the whole move, so you can clearly understand how much it may also cost you.
4. Greatly Prepare your Mobile Home for the Move
Before you start moving, there are many preparations you need to make for your mobile home. Your hired moving company will handle most of this preparation, but since you are relocating an entire home, there is more work to do to ensure that the whole contents are ready for the move.
The movers will lift the building above the level and higher enough to place the axles that will ensure safe and secure towing to your new location.
It would help if you properly secured and cover-up all windows and doors on the home so that the front screen door will not be left swinging open on the new state. You may be charged extra fees for the cancellation of your utilities.
Some mobile homes are directly connected to utility and power lines by the utility provider, who may charge a certain amount to disconnect these lines from the home during the move.
Getting the home ready for a move can cost an average of $1,000, actually before the move.
5. Carefully and deeply get your Destination Location for Your Mobile Home after the Move
Immediately your mobile home gets to your destination safely. You still have a lot of work to do regarding home setup and ensuring it is placed perfectly in the new lot.
You will need a permit to haul your mobile home from one location to another. This should be handled by your mover before the move, though you may be charged for it.
Upon arrival at your new destination, the site must be ready. This may involve cutting down trees that may disturb the process, leveling the ground for better placement of the home, putting blocks below the home, and connecting it to the ground. In some cases, the groundskeeper will finish this task if you've made advance arrangements.
After placing the home, schedule a day for utility and power lines connection.
Factors that constitute the Cost of Moving a Mobile Home
Moving a mobile home costs from $1,000 to $20,000 or more based on the home's condition, size, and distance of the move.
If your move is less than 100 miles, you can often get it done by movers for less than $5,000. For long-distance moves, you can be charged about $6 to $15/hour for transport.
Your mobile home move will be affected by the following factors:
Double vs. single wide: The moving cost will be determined by the size of your manufactured home.
Vinyl vs. metal: The price of the move is also affected by the materials used to make your home, whether vinyl or metal siding.
Moving from/to a basement/crawl space: Is your mobile home built on a crawlspace or basement? Or are you looking to place your home on a lot with a basement or a crawl space? This will affect your overall cost.
Extra luxuries: Is there a shed, deck, air conditioner, or awning in your home? The mover will require this information, and they may increase the price. There will be a consideration for those extra in how your mobile home is moved.
Distance: This is one of the biggest factors that determine the cost of moving your mobile home. Are you moving your mobile home on a local distance or to another state? Determine the number of miles you will be traveling before you contact your movers.
Cost of a state permit (often around $15 to $100): Although the fee for a permit to move a mobile home might be small, you will have to budget for it.
Extra services: Do you need the lot cleaned by the movers after moving your mobile home or perform other services? Be sure those costs are budgeted for in your moving budget.
Condition of the home: The age and the condition of your manufactured home are also a factor in its moving cost. If there will be a need for the movers to secure your home more than normal, they may charge you more.
FAQ About Moving Home Moving Cost
What is the cost of moving a single-wide trailer?
Moving a single-wide trailer in a full-service move from moving the home within fifty miles to getting the permits to connect the utilities will cost customers around $5,000 – $8,000.
Expect to pay between $10,000 and $13,000 to move a double-wide mobile home on this same distance.
What is the cost to move a 14 by 70 mobile home?
Moving a mobile home can cost anywhere from $1,000 to $20,000 or more based on the home's condition, size, distance of the move, and more. If your mobile home move is less than 100 miles, you can often get movers to do it for $5,000 or less.
What is the cost of placing a foundation under a mobile home?
Generally, you can prepare around $2,500 per section to install an average home on your foundation regardless of its type, whether a concrete slab or a crawl space. That implies that you will pay around $2,500 for a single-wide while a double-wide will cost you about $5,000 to $8,000.
How do you get a mobile home ready to move?
Get your home ready for the move by keeping all doors and windows closed and secured. Cover them for more protection as this will keep them secure all through the transport process. You should bring out all your possessions or arrange to prevent them from shifting while on the move.
Can movers relocate mobile homes?
There are moving companies that has a policy that they do not perform a move for any house over 20 years old, while some companies may not have restrictions on age as long as the building is fit for transport. An inspection will be conducted on your home in its current and new locations, and this includes electric connectivity.
Can I place a mobile home at my house?
When you place a manufactured home on your land, you get to be a homeowner without spending excess as you would build a home. However, there are places you cannot place a manufactured home. During the installation of a manufactured home, you must follow federal laws, state laws, as well as local rules and regulations.
What is the cost of moving a mobile home ten miles?
Transport typically costs $5 to $10 per mile, based on the size and condition of the moving trailer. Moving short distance costs between $1,000 and $5,000 with no additional fee. Their overall cost is usually about $6,000 to $20,000, while you can pay beyond $30,000 for long-distance moves.
How long does moving a mobile home take?
The installation will take about 14 days and is more costly than temporary foundations. Get ready to pay from $6,000 to $15,000 for a standard double-wide.
What foundation is the best for a mobile home?
The most widely used foundation system for mobile homes is the pier and beam system. Anchors are driven into the ground when you use the pier and beam foundation to firmly hold your home down and protect it from weather elements, especially wind.
What does it cost to move a triple wide manufactured home?
Your cost will almost double when you hire your full-service mover to disconnect, reconnect, and remove skirting among other services, bringing your overall cost between $3,000 and $5,000 for a single-wide unit, a double-wide costs between $4,000 and $10,000, while triple wide costs $10,000 to $14,000 or more based on the distance of the move.
Is it safe to move a mobile home?
Moving a mobile home should be safe if you hire the right contractor to make sure the whole move is insured and ensure every safety measures are in place. Professional moving companies will make sure your household reaches its destination safely.
Can I perform a DIY for a mobile home move?
Maybe not, since most states prohibit it. Mobile home movers understand more about the process and how to get it done perfectly. The process is made easier when you get help from the right people.
Conclusion
The truth is that there are a lot of things involved in moving a mobile home; it is more than just sitting in a place and putting a call across to a mobile home transporter. Adequate planning is required to ensure that everything is well budgeted for a successful relocation.
This post has done justice to what and what must be calculated regarding size, weight, distance to be covered, and other additional costs of installation. The cost is different when you are moving to double-side homes, or you want to include installation in the bargain. Remember the cost is lower when you decide to do Do-It-Yourself than hire national moving companies. However, each of the methods has its associated advantages and disadvantages. This will be discussed extensively in our subsequent posts. Stay tuned to this page!