20 Best Things To Know Before Moving to NYC
Any resident of New York will tell you that New York City is the greatest city on the planet. They usually count on their nice food, better entertainment, and better everything than any other in the world.
You have to get used to their ways of life, especially if this is your first time visiting or if you are relocating from a smaller town or city.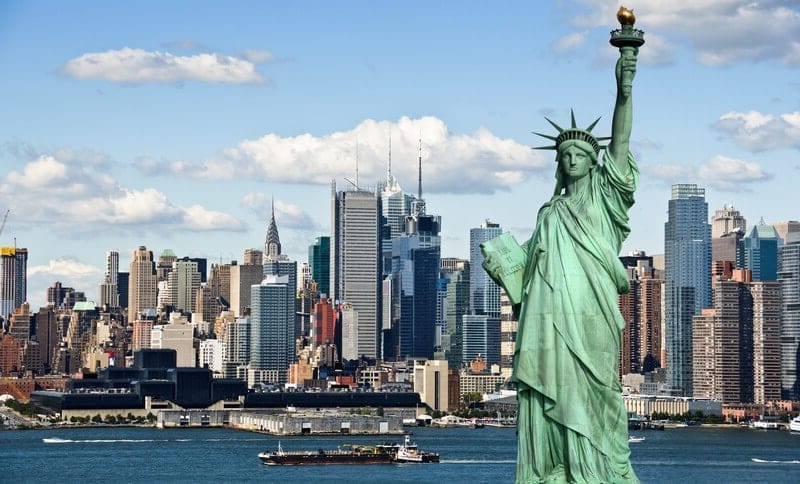 So, why do people consider moving to NYC?
This is because New York City is the land of opportunity and a lot of people move for college or career opportunities.
These opportunities can emerge from different fields like finance, art, research, politics, technology, fashion, entertainment, commerce, and so on.
But before you move to the City, there are some things you should expect.
Here are the top 20 things you must know about New York City before you move here, from the professionals – a native New Yorker.
The reason a lot of New Yorkers have roommates is that the cost of living in the City is crazy. It is not only on housing, but almost all your bills in New York City will be higher, including entertainment, groceries, alcohol, and every other thing.
It sometimes feels like everything in New York City is overpriced and a dollar doesn't amount to much unlike it is in other places.
New Yorkers pay huge rents than almost any part of the world, and the groceries, restaurants, and different other services are also costly. This is what New Yorkers have to cope with when hanging together at top-notch restaurants, shows, and events.
Some of what makes the city a huge option is the variety of options in cuisine, nightlife, and entertainment. If you don't take benefit of the weird, get ready to be considered as ordinary as pumpkin spice lattes. Be sure to go out of your living space and explore New York City and everything it has to offer.
3. The Living Spaces are Small
Some years ago, a couple from Pittsburgh searching for a home in NYC was amazed to discover that a dark, 1-bedroom apartment might cost twice the amount of their large 5,000 square foot home. Yes, apartment living in New York City can be tight, but you will adapt to it.
Storage unit rentals for extra items in your home are another option, although New Yorkers are popularly known to be creative with storage, storing some out-of-season items in an unused oven, for instance.
4. You may be required to pay a Broker's Fee to Acquire an Apartment
The rental market in New York is crazy. Before you can get an apartment lease, you usually are required to pay a broker's fee which of often 10% to 15% of the annual rent.
You can get no-fee apartments in the market, but get ready for really fierce competition.
One way to avoid broker's fee is to make use of a service or website that connect you with people looking for a roommate. While those moving from other parts of the country may find it odd to move in with a stranger, it is a very common practice in New York City.
5. Food Delivery is Common
NYC is home to different people from various cultures and backgrounds. So, that is why there are different types of restaurants, food, and dining to visit.
New York City is a place where you can easily receive delivery of food at your doorstep. If you are familiar with the lifestyle of the suburb, sold delivery is a possibility but can be restricted in terms of delivery services and restaurants.
Fortunately, in NYC, there are different food delivery services available like DoorDash, Seamless, and UberEATS, so you can order your dinner and have it delivered right at your door after a hectic day.
6. Some of the Highest Taxes in the Country are charged in NYC
There are three various income taxes paid by New Yorkers: the city income tax, the state income tax, and the Federal income tax. Based on your income, tax rates can be over 50%.
The sales tax in New York City is also on the high side, at 8.875%, even though property tax rates in NYC are often reasonable (as an owner).
7. You Don't Need a Car (But a Pair of Good Shoes)
New York City has been reputed as the most walkable city in the United States, and you will enter foot traffic on a sidewalk at any weekday stroll outside your home. Car traffic is common, street parking can be tough, and garage prices can rent you a studio apartment in another city.
Disposing of your car is a nice idea because when you consider the parking perspective, it is infuriating. You also will lose weight easily without trying, as you will be doing a lot of walking.
Lastly, get more comfortable shoes.
8. Knowing the Subway Map is Helpful
Obviously, New York is one of the few cities in the country where you can easily get around without a car. Walkscore.com ranks NYC as the most walkable city in the United States with a score of 88. There are taxis everywhere you turn to if you are willing to spend some cash.
The city's transit system is also vast and reasonably efficient. The subway system is the highlight here. It can get you confused at the initial stage, so we suggest you get the system map on your phone or get a hard copy of it to keep in your pocket.
9. Residents of New York are Nice (But Lack Patience)
New York residents are known to be rude. They are usually fighting for taxis, angling for a booking at the latest restaurant, or even rushing to submit paperwork for a rental home before another person.
Many residents of New York work in thriving jobs and sometimes they can see everything to be a competition. But New Yorkers are so proud of their city, and welcome people from any location around the globe to visit or become neighbors. It is a great destination and a very diverse place.
New Yorkers might be impatient, but they are generally helpful, decent, and honest. New Yorkers will even provide you with directions but pay attention because they might not be ready to repeat themselves.
There is no need for you to trek to the Jersey Shore before you can build a sandcastle if you are a resident in NYC. Instead, you can visit places like Rockaway Beach or Coney Island through the subway. These seem to be much populated but there are also other scenic options.
Places like Fort Tilden Beach are a bit difficult to reach but may be a worthy adventure. Or, travel to a farther place on Long Island to a place like Robert Moses States Park. You may even forget NYC for some hours.
11. You Might Decide to Pre-Game
If you are leaving Manhattan, know that there is a price to pay. Many of the bars and clubs you will be visiting have insane rents to cover and it is added in the drink prices. Expect $17 for a non-properly mixed drink. This is huge but it is familiar. Brooklyn and Queens are quite affordable and the vibes have the same strength as the ones in the Upper West Side. Just be prepared!
12. You don't want to check out the Tourist Attractions
NYC is known to have millions of tourists from within and outside the country, visiting all its popular landmarks and movie centers each year. While you may find tourist attractions exciting, immediately you live in New York City, you will figure out that these are not places you want to visit. They will not only be filled with the tourist population, but NYC has more to offer.
Many gems are waiting to be discovered in different neighborhoods all across the city where locals visit to enjoy. Also, the tourist crowded places won't completely represent the entire cultures, cuisine, fun, and lifestyles that can be enjoyed in New York City.
13. You might have to move Several Times to Complete It
In highly populated areas of Manhattan, you can discover a new neighborhood on each block. Most people who relocate to NYC discovered that they might like a different neighborhood than the one they first moved to.
A young woman says she's lived in 3 different areas in 5 years, and now just feels at home in the East Village. Moving can cause you much stress, but after you get it done the right way, your new location will feel more like home.
14. There are 5 Boroughs and below are Some Facts about Them
Brooklyn, Manhattan, the Bronx, Staten Island, and Queens. These are separate cities with different neighborhoods.
By area, Queens is the largest.
By population, Brooklyn is the largest.
By cost, Manhattan is costly.
The Bronx is where the Yankees play.
You will take a boat from Manhattan to Staten Island but you can also drive from Brooklyn, on the Verrazano-Narrows Bridge.
16. Exploring requires some Worthy Efforts
After a hectic week, you may not feel like getting around the streets or taking the subway system to see another part of the city. Just do it. It is one easy way to find out the layout of the city and you are assured to see something new and different each time you go out.
Look for your local renter's group. There is much pressure on homeowners to keep up with the ever-growing living standards across the boroughs. If you feel like you are obtaining a deal, maybe you are, and it is likely the worst nightmare of your landlord. They will make sure they legally extort money from you as much as possible.
Usually, they cross the line and it is always nice to be clear on where the line is. If you feel like your case is similar, there are lots of pro bono lawyers specialized in tenants' rights available to fight for you. It is a common struggle. Do not allow your rights to be snatched just because you want to avoid confrontations. This is New York; we are known to speak up.
18. Short-Term Leases are Great
The Big Apple is so great for one other reason: being able to customize your accommodation needs to your specifics.
Consider a short-term lease before you secure a permanent residence. It is a nice way to meet people and you will have the chance to scrutinize and shop around before you sign any contract.
Craigslist and a lot of social group pages make this possible. Try out a neighborhood before you pick one that matches your lifestyle and budget to settle in, or find out if you need to check out other parts of the city.
Act as a permanent resident and be sure to check out your local grocery stores before you sign.
19. You have so much to do, and you can't Complete It All
There is something everyone can do here, and regardless of your trial, you can't exhaust it all. Whether you are a sport, art, live entertainment, or food lover, everything is present in New York, and at a standard level.
For outdoor activities, Botanical Gardens and Central Parks provide a natural escape from the world of concrete, and mountains, fishing, beaches, and hiking are just a few distances away.
20. Your Phone is your Friend
Download an offline map of the subway for your smartphone and find it helpful. There are certain things worse than having to leave your seat in a crowded train to look through the window to see if you've missed your stop or not. Having something you can refer to is always nice, especially being a newcomer. Check New York Subway MTA Map and Route planer which is also compatible with Apple Watch.
Frequently Asked Questions
What are some ways to save on an apartment rental in New York City?
Cities such as NYC are known for having a very high cost of living. One of the options for lowering the expenses of monthly rent is to consider living with other people.
Rather than searching for studio or one-bedroom apartments, you may want to search for a room in two or three-bedroom units in one of the boroughs of the city. It is likely you will see savings of anywhere from $300 to $500, depending on the areas where you are willing to live.
How can I effectively downsize my possessions if I am moving to a smaller apartment?
Many people who come to New York City from other states find they have too many possessions for a small apartment or a room in a shared unit. Downsizing is essential if you want to smoothly transition to your new environment.
The best way to downsize is to start early. Begin a few weeks before your move by dividing all your clothes and such items into two piles. One pile is items you wore in the past year, and the other pile is items you have not touched in that time. Then do the same for any knick-knacks or electronics you have lying around.
The final part of downsizing involves your furniture. Think about what pieces could fit into a NYC apartment. If you are getting a studio or one bedroom, you may not need more than a couple of tables and chairs, a sofa, and a bed – if you even have room for that much.
How can I ensure the mover's van is able to park near my apartment building?
One of the issues with moving in New York City is that moving vans and U-Haul trucks are not easily parked. Although commercial vans have certain special privileges, like being able to double park in most areas of the city, you should check the signs and be aware of alternate side of the street parking as well as street cleaning. You might be able to schedule your move for a day that works better for parking.
You may also be able to find a paid parking spot within walking distance of your building. In some instances, you may have to apply for a parking permit for the larger moving van a few days ahead of time.
How can I ensure that my pet can live with me when I move to New York City?
Many apartment buildings in New York City have strict laws against having pets in your unit. It is imperative that you do not try to sneak a pet into your unit. If your landlord finds that you are going against the terms of your lease, you could be evicted.
It is much better to try and negotiate with your landlord when signing the lease. Inform them about your pet, explain that you have a small cat or dog who remains indoors, and say that you are willing to pay a deposit or cleaning fee.
Most landlords are flexible, provided you are upfront and willing to take on a greater financial burden.
How can I avoid paying high prices for ride share or taxis if I do not own a car in New York City?
One of the advantages about living in NYC is access to the subway and buses. Most lines run 24 hours a day, and it is very easy to use mobile apps to access routes from the places you visit the most.
If you travel to and from work and other locations each day, it may be helpful to purchase a monthly pass. It is often a lot cheaper, compared to buying a weekly pass, and it offers a lot of savings compared to paying full fare for each trip.
Conclusion
Similar to how important it is to be familiar with the city for those planning a move, it is also important to check out housing and prices, too.
Moving to New York? Look for, and hire a moving company in minutes with our reliable national moving companies.
To move on budget and stayed organized, check our affordable and best New York Movers.