What Should You Not Store In A Storage Unit?
You definitely cannot use storage units to store food, hazardous materials, firearms, cash or dead pets, but there are some prohibited items that are not obvious. Storage unit providers have thorough rules as regards what you can store in a storage unit. You can generally store items that are not listed among prohibited goods – but those items can vary based on the company.
If you are renting a self-storage for the first time, or you have been using it before, you may be wondering what items can't be stored in your self-storage unit and the reason.
Let's look into a list of some of the goods that you are prohibited from storing in your storage unit. This is not an ultimate list but does provide a good insight for reference's sake.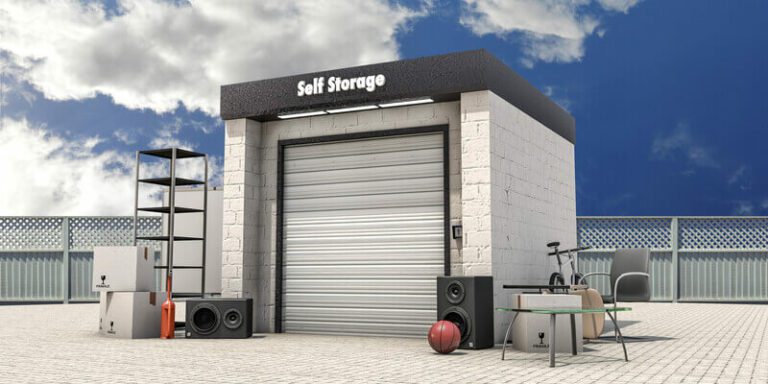 1. Food
Storage units usually prohibit the idea of storing perishable gods, such as poultry, eggs, meat, fish, milk, and raw fruits and vegetables. There are times that they also don't allow containers that were once used to keep food. If your items would bring in mildew, mold, or unwanted pests, you may not keep them in a self-storage unit.
2. Firearms
It is generally illegal to store firearms inside a storage unit. Apart from the existence of liability issues (not everyone is good with gun safety), but it brings different kinds of issues if your storage space is up for auction. Storage companies have to solve it out with the police and worry about the possibility of selling weapons to convicted felons. It is a bad situation for the storage facility.
3. Hazardous Materials
Self-storage providers do not allow storing of any dangerous substance you can think of. Check rules of your storage unit for clarity, but they are probably against storing of any of these items in a storage unit:  
Acid
Compressed gas
Fertilizer
Fireworks
Gasoline
Grease
Kerosene
Narcotics
Paint
Propane tanks
4. Fur Clothing
There are self-storage companies that have strict rules against fur. While it is an uncommon rule, you should contact your self-storage center to be sure. There are companies that prohibit fur clothing; while others request that you keep them in a climate-controlled storage unit (fur has the possibility of molting at high temperatures).
5. Living Things
Storage unit rules are against keeping living things in your storage unit. Whether it is a little plant or a zombie, whether living or dead, it is prohibited. You can make safe assumption that storing of any of these items inside a storage unit is illegal:
Animals
Ashes (human or animal)
Dead organisms
Flowers
People
Plants
6. Money
A lot of self-storage companies don't allow renters to store money in their storage unit. It is sufficient to destroy the spirit of meth kingpin, Walter White from Breaking Bad. Television criminals love to hide cash in storage units, but it is not a permitted option for the rest of us.
7. Stolen Property
You are not allowed to keep stolen property inside a storage unit. Whether you are a part-time thief who carts away your neighbor's garden tools or the Ocean's Eleven type with bank or casino vault, storage units are not your friends. We suggest you return the items.
8. Tires
Tires are so popularly prohibited that they are given a separate category. You can sometimes find a storage provider that allows storing of tires, but most facilities prohibit them for two reasons:
Disposal fees: Most states ask for a fee for tire disposal (it is expensive). If the storage center sells your belongings during a storage auction because you refuse to pay rent, the costs can increase. Blacklisting tires is the best way to solve the problem.
Fires: It is difficult to put out tire fires and they are not good for the environment. Allowing them in storage units is not worth the risk for companies.
9. Priceless and Irreplaceable Items
A storage unit seems like a perfect place for high school yearbooks and old school assignments, but not all self-storage companies allow goods that would bring you pain if you lose them. It may also feature how unlikely such items are to sell at a storage unit auction (as well as how angry you would be to lose valuable mementos) – or how hard it is to get insurance value to belongings you consider priceless.
At the same time, there are storage companies that take another approach and encourage renters to store these valuables. It can easily confuse you, but you can simply get answers to it.
We recommend that you reach out to your local storage unit company if you want to store any of the items here:
Baby toys
Jewelry
Legal documents
Wedding dresses
Baseball cards (and other sports cards)
Scrapbooks
Family heirlooms
Gifts
Yearbooks
Antiques
Awards and trophies
Baby clothes
Silverware
Medical bills
Photo albums
School assignments
Also, find a storage unit company with the best security. We recommend that you find a clean facility that has a gated exterior, individually-alarmed units, video surveillance, interior lighting, and a web page dedicated to security features.
Other Considerations
You can store the goods that contain the prohibited items on this list, as long as you can remove liquids from the equipment. For instance, an empty gasoline container can be kept in a storage unit. A drained (oil and gas) lawn mower can be stored over the winter.
Frequently Asked Questions
Can you live inside a storage unit?
No, you cannot live inside a storage unit. Self-storage providers will evacuate those who try to live or sleep inside their storage centers. If don't have a place to live, the United States Department of Housing and Urban Development can link you up with local resources via its Homelessness Assistance programs.
What happens if you leave items in a storage unit?
The company may sell your goods at a storage auction if you leave your items in a storage unit and refuse to pay your rent. Self-storage centers don't like to hold auctions (they also lose money and feel bad), so reach out to your site manager to talk about your options before it gets too late.
Can you store a car inside a storage unit?
Yes, you can store a car inside a storage unit. Car storage is one of the famous uses for storage units. Move.org analyzed over 2,500 quotes and discovered that the median monthly cost for car storage is roughly $250.
Do storage units come with outlets?
No, majority of storage units don't have outlets. However, there are companies (such as CubeSmart) that will install electric outlets for extra charge. Reach out to your local self-storage center to get further info.
What fits inside a small storage unit?
You can always fit the goods of one large closet or a small bedroom in a small storage space. Sizes differ by company, so you should reach out to your local self-storage facility or read the storage unit size guide on Move.org for further info.
Conclusion
It is very important not to forget that this list is only an overview and not a complete list of the goods you are prohibited from storing in your storage unit. If you think an item may be prohibited, your first instinct may be correct. But, when you are not sure, kindly ask your property manager.
Select a reputable self-storage company from our network of cheapest storage units. Not all storage facility works the same. All of their facilities come with top-notch security, clean storage units, as well as polite on-site staff.