What Is The Cost of Renting A Moving Truck Cross Country?
Using a truck rental cross country cost an average of $1,780 or more, depending a number of factors. Rental trucks are attractive to those looking for a DIY, cheap relocation experience. Definitely, there are lots of other options to pick from, such as full-service movers and moving containers.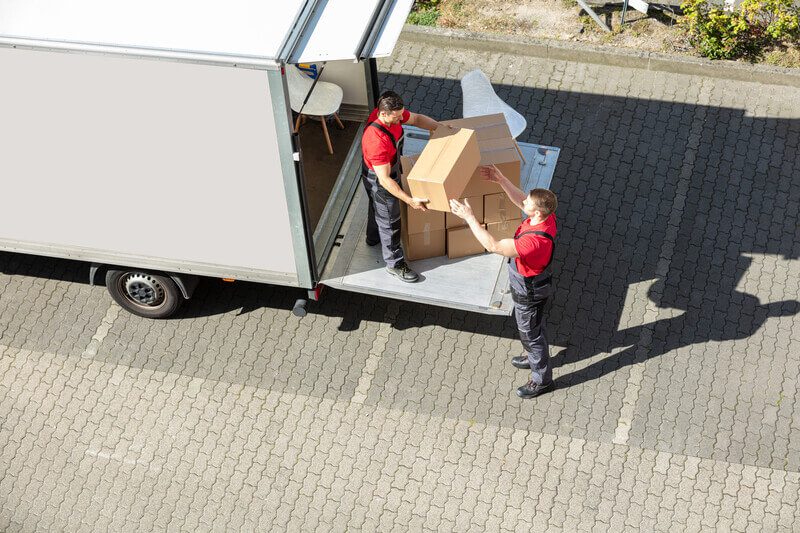 The average cost of a truck rental is approximately $1,780. These range from $130 for a small local move to $3,250 for a sizable interstate move. However, the actual amount depends on rental truck size and distance with other factors.
Your type of move generally determines your option. The cost of renting a truck is dependent on the size of the vehicle. Other variables are the time of year, number of rental days, and the mileage to be traveled.
We will give more details on the average costs if you choose to make use of our best truck rental companies.
Renting a Moving Truck for a Cross Country Move
One-way moving truck rental rates will vary depending on many factors: Distance of the move, customer demand, truck size, time of year (such as peak season), route popularity, and so on.
You can get a one-way moving truck rental quote online from any top one-way moving truck rental provider. Unlike renting a moving truck for a short distance move, a 1-way moving quote will include many miles and days.
Truck rental providers add these automatically depending on the distance of the move. Usually, the miles and days included in your quote will be enough to complete your trip. However, you can always add more days and miles for extra fee.
How much does Moving Cost Rental Cost?
Of the entire moving options you have, moving truck rental companies, such as Penske, U-Haul and Budget truck are the top in the moving industry. As far back as the 1940s, Americans have had their belongings loaded into huge vans, pickups, or big rigs to pursue their dreams in a great, new home. Read our comparison for moving truck rental providers below for more resources.
Companies
Penske
Uhaul
Budget
Enterprise
Ryder
Reviews
(4.40 of 5)
(4.17 of 5)
(3.57 of 5)
(4.79 of 5)
(4.86 of 5)
Read Reviews
Read Reviews
Read Reviews
Read Reviews
Read Reviews
Local Moves
$181 avg.
$133 avg.
$148 avg.
$157 avg.
N/A
Medium Distance
$330 avg.
$296 avg.
$277 avg.
$272 avg.
N/A
Long Distance
$1,280 avg.
$1,066 avg.
$1,048 avg.
$769 avg.
N/A
Truck Sizes
Cargo van, 12′, 16′, 22′, 26′
Pickup, Cargo van, 10′, 15′, 17′, 20′, 26′
Pickup, 12′, 16′, 26′
16′ cabover truck, 24′ box truck, 26′ box truck, and more
N/A
Gas Mileage
Up to 12 – 13 mpg
Up to 6 – 14 mpg
Up to 10 – 19 mpg
Up to 12 – 24 mpg (for shipment vans)
N/A
Locations
2,400+
21,000+
2,800+
460+ in US and Canada
N/A
Extra Costs of Moving Truck Rental
Together with the rates we've mentioned so far, you should also know of extra options, like insurance and furniture blanket rental, that may be included in your overall price.
Truck rental insurance: You are not mandated to buy insurance for your moving truck rental but it is a good consideration. It is so much important to understand that most auto insurance policies don't cover rented relocation trucks. Similar to a rental car, there are popularly four various insurance options available for your moving truck rental, but the most important is physical damage and liability. These rates also differ but you should generally prepare to spend between $30 and $40 daily for the two coverages.
Furniture padding: Having sufficient padding to cover your furniture from damage when moving is highly important. Fortunately, most rental truck centers will offer you the chance to rent furniture pads with your moving truck. Costs normally falls between $15 to $25 per dozen.
Load and unload assistance: When renting a truck, you importantly need to know that the company doesn't provide movers. So you and your friends will be doing the heavy lifting yourselves. You can save most of your time and money by hiring movers to perform the loading and unloading of cargo. The size of your moving truck, location, the amount of help required and access conditions will determine the cost of hiring movers. To put it in average, prepare to pay around $25 and $35 per hour for each mover helping you. Just know that it is worth the cost.
Moving Dolly: You can always rent a moving dolly with your moving truck rental for $10 to $15. If you choose to get moving assistance, a lot of movers will come with a moving dolly at no cost.
Fuel: Your cost of fuel should not be much for a short distance move but can be a huge cost for a one-way relocation (long distance). Use our rental truck fuel calculator for assistance in budgeting your fuel expense.
Things to remember before hiring a Moving Truck Rental
Perform a walk around the rental truck and take some photos of damaged parts like scratches before you rent the truck so that you don't get pinned for things that didn't happen while the truck is in your care.
It is totally important to book the truck size you need early
Don't get forced into purchasing more add-ons than necessary. Follow the budget strictly as planned
Don't mistake the rates advertised to be the exact cost you pay, but consider additional fees like insurance, supplies, mileage fees, tax, equipment and fuel costs to have a general picture of the expenses
Discover more about the fines you will have to pay for late truck delivery. This is one part that could catapult your bill.
Things to remember after hiring a Moving Truck Rental
Don't take your eyes off your rental moving truck when you take breaks to rest or have lunch
Make sure you've selected the locks for the moving truck yourself
Monitor the fuel levels and plan these stops before the move
Research on packing of a moving truck and do it efficiently so that your shipments are safe and you've made better use of the space.
FAQ
How can I get cheap truck rental in my area?
The best way to get a cheap moving truck rental in your area is to reach out to U-Haul. Being the largest truck rental company in the country, U-Haul has over 20,000 locations. Other options are Penske Truck Rental and Budget Truck Rental. Find out more about the distinctions in the guide of Moving Feedback on the most affordable moving truck providers.
What moving truck providers can I select from?
U-Haul, Budget Truck Rental, and Penske Truck Rental are the three largest moving truck providers you can choose from. You can also consider Enterprise Truck Rental and Home Depot for cheap truck rentals.
Is Budget Truck Rental similar to U-Haul?
Yes, Budget Truck Rental has similarities to companies like U-Haul. Budget Truck Rental is well-known for being the most affordable place to rent a moving truck. Its median price of $1,250 is about $30 lesser than other moving truck providers.
Where can I rent a small moving truck?
Small moving truck rental is accessible by reaching out to major moving truck rental providers like Penske Truck Rental, Budget Truck Rental, or U-Haul. Not all company has similar sizes, but the 10-ft truck from U-Haul is the smallest truck option.
What budget truck rental companies are the best?
The best budget truck rental providers include Penske Truck Rental, Budget Truck Rental, and U-Haul. Each company is largely available and offers competitive pricing.
Is a DIY move advisable than a professional moving company?
It depends on what your priorities are. A DIY move is less expensive than a professional moving company but a professional cross country movers is the most convenient option.
Do rental providers offer over vehicles apart from moving trucks?
Yes, most moving truck providers offer other vehicles apart from moving trucks. Smaller truck options such as pickup truck, cargo van, or van rental are available with companies like Budget Truck Rental, U-Haul, and Enterprise Truck Rental. However, usually, a cargo van, van, or pickup truck won't be spacious enough to haul all your shipments.
How to perform a cross-country move?
A cross-country move involves transporting all your goods from one part of the country to another. Your easiest option is to make use of one of the best state to state moving companies on Moving Feedback.
Conclusion
Moving truck rentals can be a much cheaper method to move when compared to full-service movers. You only have to be careful and ensure you don't go for advertised prices. There are always different steps to the general fare of moving truck rentals that can greatly make an overall cost completely different. This is why it is so important to know of the entire factors that add to the total amount you pay to rent a moving truck.
Now that you are aware of the costs you will pay, you can start to research a truck rental provider that suits your needs.