The Best Pet Shipping Companies of 2023
If you have to hire long distance movers and also move with your pet (whether furry, feathered, or scaly), you have many options for transporting them to your new home. You can choose to drive them yourself, make arrangements to fly them to your new home or hire a professional pet moving service to transport them for you.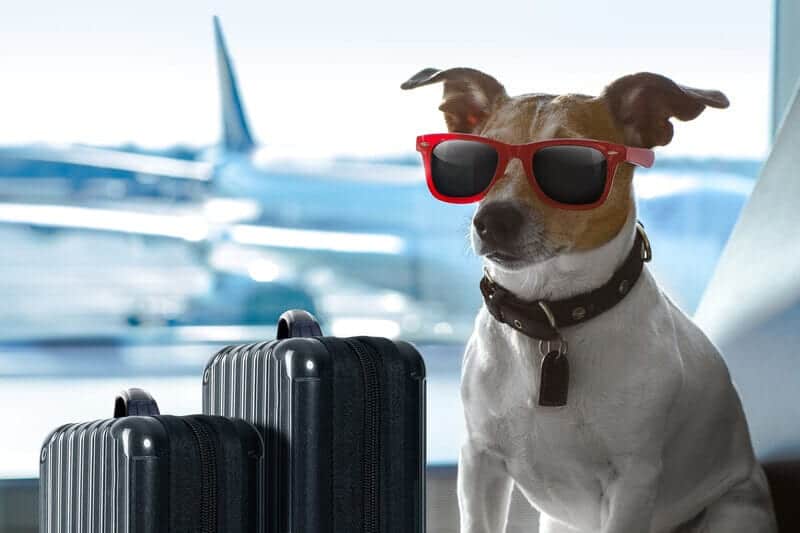 In some cases, when moving long-distance, shipping your pet with you just doesn't seem practical. Airline restrictions may not be friendly with you and your pet, you might be traveling in a rental moving truck that doesn't allow a pet, or you may need to make several stops on the way at hotels that don't allow a pet.
The solution here might be a pet transport service.
Just as the name implies, they handle moving your pet from one point to another. However, there are a number of them in the industry; hence, choosing the best one can be challenging. In our bid to help to make an informed decision, we've researched and come up with the best pet transport services for you.
Pet shipping services are different from one another. Some only transport cats and dogs, while others transport more exotic pets.
We've selected our IPATA-member pet transport services by considering factors like cost, safety record, customer reviews, and availability of overseas pet shipping options.
Even though membership is not necessary for many people, it can provide you peace of mind that the pet transport service sticks to the standard in caring for the wellbeing of your pet.
Airpets America — Best for Pet Comfort
Air Animal — Best communication
Happy Tails — Best for transporting multiple pets
Animals Away – Best overseas pet shipping service
Royal Paws – Best for ground shipping
Blue Collar Pet Transport – Best for tracking
Citizen Shipper – Best Marketplace
The 7 Best Pet Transportation Companies of 2023
When choosing a transport service for your pet, it is important to select one that is a member of the Independent Pet and Animal Transportation Association (IPATA), an organization that sets the quality and professional standards and ethics required in transporting animals and overseeing the performance of its members.
All the companies listed below are members of the IPATA and are all accredited by the United States Department of Agriculture (USDA).
Also, these organizations make sure that pet transporters satisfy animal safety requirements and don't defraud pet owners.
1. Airpets America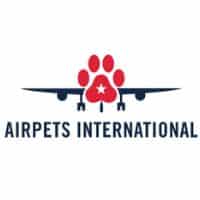 This company has been transporting animals for over 2 decades, and it is committed to safeguarding and satisfying your pet, regardless of which location you are moving to.
Airpets America is the only company on our list that transports most types of pets. Even though it can't transport fish or other aquatic animals, it can ship just any other animal you have as your pet.
The company even transports livestock as well as zoo animals. Airpets America has vet care on the employee if needed, and even provides ground shipping to and from the airport.
The company is a nice pick for your pet's comfort and peace of mind. While the company can be costly, its service delivery is, however, worth the money.
Pros
Grooming
Boarding
Military moving discounts
Cons
Difficult to reach by phone
2. Air Animal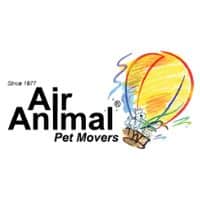 This company was founded by a veterinarian in 1977 and is an international pet shipping company that prioritizes the safety and well-being of your pets.
Air Animal combines this care with excellent customer service and a mobile app that allows you to manage the journey of your pet using your phone. Are you not sure of the kind of kennel retriever required by your gold? Is it confusing how to acquire the relevant health certificate for your cat for international shipping?
The company's website hooks you up with all this and other pieces of information.
Good customer service is one part of being an informative service provider, and Air Animal is excellent in this area. When you contact them on the phone, the company's customer service representatives are friendly and helpful all through the pet shipping process.
When you are moving your pet, you will always receive an alert of the progress, giving you peace of mind until you set your eye on your friend again.
Pros
Veterinarian founded
Frequent updates about your pet's status
Mobile app
3. Happy Tails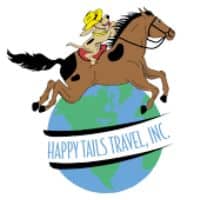 Do you have more pets in your home that you need to ship? Then this company is our recommended pet shippers for your move. While Happy Tail can transport only cats and dogs, it provides a discount to pet owners shipping a lot of pets at once.
With over two decades of experience, the company has an international logistics network, transporting to most countries across the globe.
They take care of every aspect of your pet's transport, including customs clearance and shipping to and from the airport. The company also provides discounts for military relocations and moves.
While it generally can take last-minute moves, there are extra fees for emergency shipping services. Happy Tails Travel is a cheap option to consider if you are looking to save money while shipping your entire furry friends.
Pros
Frequent updates about your pets' status
Discounts for moving several pets
Military moving discounts
4. Animals Away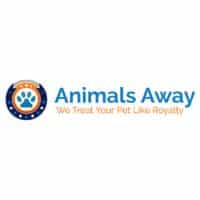 Although they specialize in shipping dogs, cats, and small pets, this company states that they can transport any type of pet to any location in the world.
Animal Away was founded in 1995 to revolutionize the pet transport industry. They've been on Nat Geo Wild, and continue to upgrade their offerings to give the best possible experience.
Pros
Ships all types of pets
Performs all international pet paperwork
Deliver door to door service in some areas
Cons
No discounts
No boarding services
No grooming services
5. Royal Paws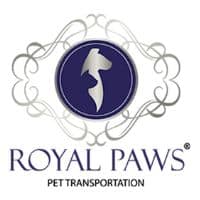 Although air transportation is safe, there are pet owners that prefer ground transportation for their pets. Royal Paws offers private, ground shipping all across the country for your dog and cat.
The services include door-to-door and completely climate-controlled services. Your pet will be walked at intervals (every 4 hours), and you can even transport your pet in your car.
The company transports all breeds and the entire process will be handled by a two-person team. Royal Paw is a nice pick for those in search for a private transportation service that offers direct care and ground transportation alone.
Pros
Transports all breeds
Ideal for ground shipping
Door-to-door shipping
Cons
Offers only ground transportation
No discounts
6. Blue Collar Pet Transport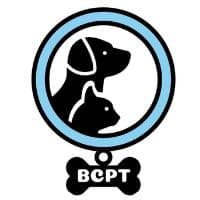 Blue Collar Pet Transport
We like how this company allows tracking of your pet starting from when it leaves your house to when it gets to your front door. Blue Collar is available across the United States and Canada with ground or air transportation highly certified by the USDA.
After booking your shipping, the customer service department will set up a tracking system for you so you can easily monitor your furry friend all through the journey.
Each pet handler has been properly screened and checked, so you should not worry. The company's website offers a user-friendly online pricing calculator that can assist you to estimate your pet's shipping cost.
You need to know that even though last-minute shipping is possible, there may be changes to availability all through the year.
Pros
Tracking system available
USDA certified shipping (air or ground)
Well-screened pet handlers
Cons
No discount
Availability may differ
7. Citizen Shipper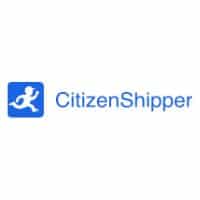 This is a website that allows pet owners to get multiple bids from professional pet transporters all around the country, so you can find the perfectly matching solution for your budget and needs.
The process starts immediately you make a listing that includes the details of your pet, such as breed, location, weight, and any special requirements for your pet, like crate anxiety.
Citizen Shipper then connects you to pre-screened pet shipping experts and let you go through various estimated quotes and specifics related to each option.
Pros
User-friendly website
Provides access to multiple bids
Pre-screened pet shippers
Cons
Not an actual pet shipper
Requires more time
The Following Table Displays the Best Pet Transportation Companies
| | | |
| --- | --- | --- |
| No. | The Best Pet Transportation Companies in the US | Website |
| 1 | Airpets America | www.airpetsinternational.com |
| 2 | Air Animal | www.airanimal.com |
| 3 | Happy Tails | www.happytailstravel.com |
| 4 | Animals Away | www.animalsaway.com |
| 5 | Royal Paws | www.royalpaws.com |
| 6 | Blue Collar Pet Transport | www.bluecollarpettransport.com |
| 7 | Citizen Shipper | www.citizenshipper.com |
How Pet Transport Works
Pet transport companies operate like travel agents for pets, and they take care of many of the toughest and time-consuming parts of the process including:
Registration and customs documentation
Flight reservation (no pet transport service is an airplane owner)
Travel kennel accommodation (each pet requires special kennels for transport)
Pet vaccinations for the destination state or country
For an additional charge, some pet shippers also offer ground transport, concierge services, and door-to-door delivery. While three of the companies listed on this list offer these shipping services, they, however, can be restricted in some states and regions.
How Much Does Pet Transportation Cost?
The cost of shipping pets is majorly based on the distance your pet is traveling. Traveling cross-country will possibly be less expensive than going to another country, but this also depends on the things you arrange for your furry friend.
Additional services could include custom crates, exercise options, or grooming. Prepare to pay an average of $700 and $2000 for each pet for professional pet shipping.
If you opt for a shared ride with Blue Collar, it cost $500 and you can get a 50% discount for any extra pet.
Private transportation begins at about $1,500 and each extra pet costs about $575.
Happy Tails charge for consulting fee ranging from $250 for ground shipping and $425 for air transport.
Air Animals offers a basic travel package that includes a concierge to reserve and coordinate transport on an airline, and it costs about $1,095. The most expensive of the package is the VIP, which includes pickup and delivery from your home to a commercial airline, and comprehensive health reviews.
This package begins at approximately $1,995. The international package begins at about $1,795 for the basic plan and up to $2,895 for the VIP package.
Airports America costs about $1,000 for domestic moves, while an overseas move will cost you beyond $2,000 (discounts are offered for military moves).
Conclusion
Pet shipping services can be highly useful when moving long-distance, whether you are relocating across the country or to another part of the world. Each service offers something unique, which includes military discounts, shipping of multiple and large exotic animals to another country, and tracking systems.
One more thing, make sure you prepare your pet shipping to make the whole process easier for you.
If you've worked with any of the pet transport companies listed above, we want you to share your experience. Use the comment section below, thanks.