12 Tips For Moving to Your First Apartment
One's first apartment is like a first relationship – a pretty big personal step that is exhilarating, exciting, and pretty terrifying. You probably have an inkling of how it feels to have your own apartment if you have already hunted for apartments, found your new place, and scheduled a date to move-in with your landlord.
There are few things more exciting than moving to your very first apartment! Relocating to a new place gives you the freedom to decorate and design a home that fully represents you whether you are signing a lease or closing on a purchase.
Be aware that relocating to a first apartment comes with a lot of responsibilities before packing up your things. Currently, you are enjoying different items jointly owned by your friends or parents and you cannot take them along with you. Kitchen items, bathroom, bedroom, and other items will be needed for your new apartment.
For you not to forget things and ensure you move all you need to take along, this post will share some useful tips that will make the task easier for you. Read our advice below to get helpful tips for your first apartment move, as well as a list of what you will need to make your place feel like home.
This guide is a step-by-step procedure to following for the first-ever apartment. Don't underrate any step but see the possibility of seeing the need to incorporate it in your plan. You will keep calm and organized while moving into your first apartment if you follow these tips: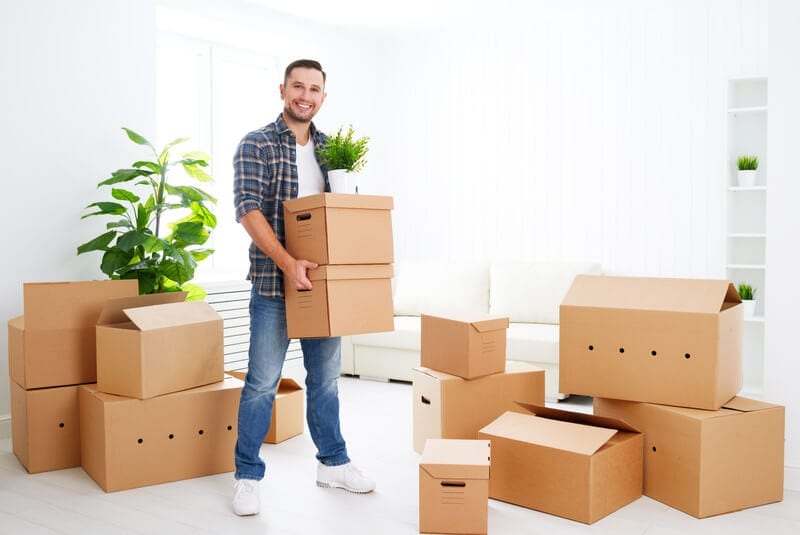 1. Ensure you know your Budget
It is important to know exactly how much space you need and more importantly, how much space you can afford since this is your first time moving out on your own. This information will help you budget right.
Budgeting for your first apartment can get a little tricky if you have not done it before. Planning upfront for application fees, security deposits, utility connection fees, and relocating costs are some of the costs associated with your move.
It is better to keep your living costs around 30% of your net income if you won't be sharing your new place and splitting the bills. This is a kind of rule of thumb.
Your net income is what you take home after all taxes have been deducted. You might feel comfortable paying as much as 40% if utilities are included. However, try as much as possible not to go over 50% of your income.
2. Add a Fresh Coat of Paint
After renting an apartment to move in, the next stage is to customize your apartment to your own. Decorate your first apartment by adding a fresh coat of paint to the walls. If it is a rental apartment, it is essential to ensure you ask your landlord for permission first.
The application of peel-able and removable wallpaper is another way to infuse personality and fun into your new home. It's typically approved by landlords since this wallpaper can be easily removed after you relocate.
3. Replace your Entrance Key Locks
Ensure you replace all the entrance key locks for security purposes. You never can tell, the previous tenant may have spare keys they forgot to drop. You can't imagine a stranger having access to your apartment as a result of your careless or nonchalant attitude to replace your key when you move-in.
4. Get an Extra Set of Key Locks
Remember to have an extra set of keys made for your apartment. You could find yourself locked out of your home if you fail to do this. Keeping a set with a trusted friend or family member in case of emergencies is a good idea.
You will need to call all utility service providers a few weeks before the relocation to arrange installation dates and times to fall after your relocation if you are purchasing your first apartment. Utilities include cable and internet, electricity, water and sewer, phone, security system, gas, satellite, and trash.
While some utility services (such as cable and internet) can wait until a week or two after the relocation, others will need to be set up on moving day or even the day before (such as water, electricity, and gas).
6. Spruce up your Entryway
Spruce up your entryway with wall hooks, baskets, organizational shelves, shoe racks, and/or umbrella stands to make a good first impression on friends and guests. You get a place to put your belongings while also making your apartment look neat and tidy with all of these entryway accessories.
7. Work Out your Mail Situation
Find out if your new apartment buildings have a community mailbox center where you pick up your mail. Or if your private apartment has its own mail slot in the door. Also, find out if a doorman store packs when you are away or if you will need to ask a neighbor to pick them up.
You may want to consider setting up a P.O Box if mail and packages are left outside your building. These types of mailboxes are placed inside of a post office and are safe and secure. Most post office locations also provide extended business hours and 24-hour access to your mail.
Ensure you take measurements of the rooms before relocating to your first apartment as you can figure out whether your existing furniture fits or not. Many people relocating to a first apartment will need to buy at least a few basic pieces of furniture. Try investing in a comfortable couch and bed if you are on a budget. You can find the rest at consignment stores or local donation shops.
9. Replace Smoke Detector Batteries
Replace all smoke detector batteries with new ones as soon as you move in. Not only is this a safe and smart thing to do, but it's also the only way to prevent your smoke detectors from constantly chirping and disturbing you.
Remember to inform your bank when relocating to your first apartment as soon as possible. Remember to update credit card information with your new billing address. Also, remember to inform friends and family about your relocation. Choose the date you wish to begin forwarding your mail to ensure that you receive your mail.
Read our post on 'How to Change your Address.'
11. Hire a Moving Company to Move Your Belongings
Hiring a national moving company to handle your move can be a daunting task if you are doing this for the first time. This step should be taken seriously, as you would need a guide to choose the best. Choosing a wrong mover to move you can turn your moving to your first apartment into a nightmare.
Some movers can frustrate all your efforts if care is not taken. Imagine that having followed all the recommended steps, a mover come up to disorganize yours on moving day by coming late or damaging your items during the process. There are many moving scams out there; hence, ensure you choose a reliable one.
Some of the reliable moving companies you can consider are listed below:
Allied Van Lines
Atlas Van Lines
Arpin Van Lines
Wheaton Worldwide Moving
Meet your Neighbors
You are certainly living in close quarters with others when you live in an apartment. Introduce yourself to the new neighbors after your relocation to make the experience more pleasant.
Your neighbors will greatly appreciate the gesture, and this will give you a sense of community and new friends. From here, you can make new friends who will help you in exploring the entire neighborhood.
12. Find out Trash Pickup Days
Ensure to ask neighbors for the details since trash and recycling pickup days vary from city to city. You can also call your city's sanitation department for more information on trash pickup days. You can as well gather this information from close neighbors or your landlord or agent.
First Apartment Checklist
The apartment checklist simply means those belongings you will need in your first apartment. We believe you probably don't own enough furniture and home essentials to fill your new home if you have been sharing an apartment with roommates or crashing with the parents.
There are a number of belongings you will need to add to your first apartment checklist. This ranges from a proper mattress, sofa to a shower curtain liner, and much more.
Fortunately, we are here to help. We know how time-consuming and stressful a first-time move can be, even if you are just relocating across the street. Our list of necessities you will need for your new home is outlined below:
Entryway
The first and last thing people will see in your new home is your apartment entryway. So keep it neat and tidy to guarantee a good first impression whether it's a small hallway or a grand foyer.
Below are a few items recommended for your entrance:
Wall hooks for hanging jackets, coats, and dog leashes
Console table and mirror
Umbrella stand or holder
Lamp
Shoe rack, Basket or other allocated place for shoe storage
Round foyer table (for large entryway)
Living Area and Den
The most important and generally most utilized places in your new home are your main living spaces. Ensure the space is comfortable and practical for your lifestyle as the chances are that you will be spending a lot of time here. You will need to ensure you have plenty of seating and good lighting if you are planning to entertain or have guests over.
Few items recommended for your living spaces are listed below:
Couch or sectional
Area rug
Additional lounge seating (chairs, stools, futon, etc.)
TV and TV stand
Coffee table or ottoman
Pillows
Lighting (lamps or standing lamp)
Pillows
Bookshelf
Picture frames
Candles
Drapery or blinds
Hanging hooks and tools
Art, mirrors, and décor
Side tables
Kitchen
The kitchen, just like your living spaces, is another important room in your home. You will need plenty of kitchen-wares and tools if you are planning to cook.
You will also need to have a set of tables and chairs if you are planning to entertain or eat dinner with your family.
Before wasting money on an excess number of plates, utensils, and kitchen equipment, ensure to evaluate your real kitchen needs.
Few items recommended for your kitchen are listed below:
Cutlery set (Butcher's knife, paring knife, utility knives, steak knives, and bread slicing knife)
Microwave
Cups and glassware
Colander
Dishes and various size plates
Oven mitts
Utensils and utensil tray
Lemon squeezer
Tupperware or Pyrex
Cooking sheets and baking sheets
Grater
Pots and pans (saucepan and large pot)
Utensils and utensil tray
Mixing bowls
Measuring cups and measuring spoons
Cereal bowls and soup bowls
Tea kettle
Oven
Salt & pepper shakers
Shelf liners
Dishtowels
Dishwashing soap
Toaster or toaster Pitcher
Hand-soap
Magnets
Pantry supplies
Trashcan and trash bags
Mixer
Aluminum foil
Coffee maker or Keurig machine
Plastic wrap/cling wrap
Blender and/or food processor
Placemats
Peeler for vegetables and fruits
Placemats
Canisters
Spice rack
Bedroom
Your private little sanctuary should be the master bedroom. Ensure you measure the room before investing in an expensive bed frame and accessories. Also, remember your closet! You may need to purchase certain tools to maximize your closet storage based on the size of the master bedroom.
Few items recommended for your bedroom are listed below:
Bed frame
Mattress and mattress pad
Pillows
Comforter
Duvet cover/duvet
TV
Blankets
Bed sheets
Clothing hangers
Nightstands/bedside dressers
Rug
Wastebasket
Drapery or blinds
Dresser with drawers to hold clothes
Art
Full-length mirror
Closet shelving
Shoe storage
Chair
Closet organizers
Bedside lamps
Trunk
Laundry hamper
Bathroom
Remember your bathroom! It may be a small part of your house, but it's an important one. Besides stocking the cabinets with cleaning supplies and toilet paper, you will also want to ensure you have plenty of towels for yourself and company.
Other items recommended for your bathroom are listed below:
Bath towels
Cosmetic organization trays and bags
Wastebasket
Cabinet storage shelving
Toilet paper
Bath mat
Bath caddy
Shower curtain and liner
Toilet paper
Cleaning supplies
Hand-soap
Toothbrush holder
Washcloths
Shower seat or stool
Hand towels
Canisters for holding miscellaneous things
Plunger
Vanity trays
Hamper
Sponge
Sea-grass baskets for holding towels
Toiletries
Shower mirror
Home Office
Boost your work productivity by cleaning and tidying your home office. Your office should feel professional and pleasant, even if the rest of your house is a mess. I also recommend making your work area as comfortable and practical as possible from your desk accessories to cozy seating.
Other items recommended for your home office are listed below:
Rug
Desk and desk chair
Wastebasket
Printer and scanner
Writing tools
Art
Lamp
Writing tools
Laptop and accessories
Books
Miscellaneous Belongings
There are many things you are going to need, many of which are unexpected when you are relocating to a first apartment. We have listed a few often-overlooked belongings you will likely need to help you prepare for your move. Many of these essentials can be found at large chain retailers, such as Target and Home Depot.
Other items recommended are listed below:
Vacuum
Chargers for your electronics
Laundry baskets
Extension cords
Laundry baskets
Mop
Additional hooks
Broom and dustpan
Sewing kit
First aid kit
Cleaning supplies
Folders for documents
Bins for storage
Baskets and bins for storage
Iron and ironing board
Iron
Surge protectors
Flashlights
Stools for closets and pantries
Light bulbs
Air filters
Tool kit
Batteries for smoke detectors
Light bulbs
Clocks
Now, you have all you need to move to your first apartment. Planning is the key to every successful move. If you want a smooth move, follow these steps religiously. Check the above checklist to mark the ones that are paramount to your move, but we have researched that most of the listed items will be required for your first-ever apartment. Congratulation! Let's have your view in the comment box!