Comprehensive Divorce Moving Out Checklist of 2023
Moving and divorce are the two most life's threatening experiences someone can have simultaneously, and these combined ordeals can wreak serious havoc on the life of the victim.
While in some states, moving out of your spouse's house is the first step to file a valid divorce, some people see it as a real signal to divorce.
Sometimes, moving is done in a violent and emotional experience; other times, it takes place rationally and calmly. Whichever way it is done, moving is a stressful task on its own, considering various stages you must pass through before you finally settle down in your new home. There is no doubt it can even be more emotional than normal when it comes to divorce.
Though some people see separation as a kind of sweet memory, some also see it as awful when packing their things away from the home they share together with their ex, which makes it more painful. Nobody prays for divorce.
It can easily become the end of the road in the victim's life physically, emotionally, and even financially. However, when an end to your marriage comes, it is essential to stay calmed and focused on your moving process, so you don't forget things that could aid your financial stability in the future.
If you allow your emotions to cloud your actions, you may miss out on vital documents that may be useful for you in the future. In order to avoid such, the right thing is to prepare and equip yourself with the required information on how to go about it.
Remember, if you would meet a Certified Divorce Financial Analyst (CDFA) or an attorney, some critical documents will be required before a valid divorce can be filed. Moving Feedback aims to use this post to highlight what should be included in your moving checklist as you battle your divorce.
What are those steps expected of you for a successive divorce move? Proceed to discover more…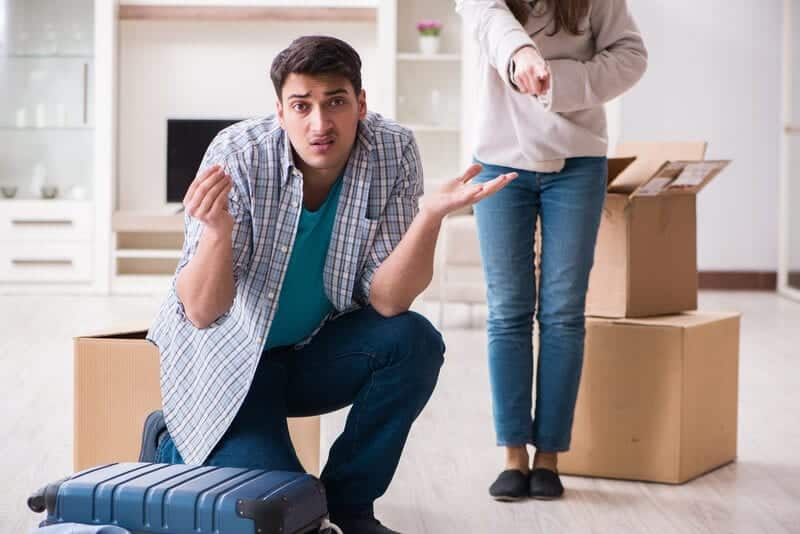 Guides to a Successful Divorce Move
This checklist is a guide to help you stay focused on getting out of the situation. Following your court order and counsel advice is important.
We will break it down starting from pursuing legal rights, searching for an apartment, moving company, and what must be included in your moving checklist.
Don't be overwhelmed with every stage of the process. You can achieve every goal with proper planning and approach. Below is a comprehensive divorce moving checklist:
Legal Rights should be Considered First
Marriage is designed to last forever, but when an unexpected occurs in a union, the obligation between the two partners may come to an end.
It is usually bonded with the legal contract; however, when one party ends it, the contractual agreement still binds them in some areas.
In the case of divorce, it is important to learn about your legal rights with an attorney or a family mediator to clear issues about who gets what prior to the moving process.
The law does not permit a spouse to just walk away without putting things right in terms of overall family welfare. The legal rights in divorce focus on the following:
Property Rights
The law looks into the legal right of property owned by an individual or property with joint names. Your partner cannot force you out of the property without legal settlements. Ensure you clear all issues about property ownership with your legal adviser before thinking of moving out of the home.
Financial Settlements
This aspect largely depends on a number of factors such as income and pension provisions, and as well as the length of the union, the age of the parties, and assets individually or jointly owned by the parties.
There are no fast rules with respect to your financial right when it comes to a divorce. Your settlement will be analyzed and calculated based on these factors. Approach your lawyer and discuss your preference out of numerous options available to you.
Children's Rights
The rights of the children are properly protected by the law rather than those of the parents. The children have the right to relate to both parents during a divorce.
As a parent, you have parental responsibility for the children, and this gives you an opportunity to have access to their information and make necessary decisions such as education and health on their behalf.
Moving out is a Criterion
After gathering all this legal right information, the next thing is to start preparing yourself to move. Just as it was mentioned earlier, moving out is one of the legal steps toward divorce.
Some states of the US only grant a divorce to the couple when they are no longer living together for a waiting period of not less than a few weeks to over a year.
It is advisable to check your state law or confirm from an attorney. If this is a case in your state, you need to secure a separate home as fast as possible.
Due to your present situation, you may be confused about where to get an apartment and moving company to handle your move as quickly as possible. Do not worry yourself; we will take you through a list of places to get the best apartment and mover for your relocation.
Move-out- Moving Checklist Divorce
The essence of divorce moving checklist is to make sure you don't forget anything during your emotional packing.
Many people are clouded with a rational emotion of divorce because they are not happy about the entire situation. No one plans for divorce; but once it happens, one has to move on with his or her life.
Below is the comprehensive checklist for your move:
Financial Documents
Financial documents are some of the important items first to arrange to ensure nothing is missing out to pursue your divorce rights. Certified Divorce Financial Analyst (CDFA) makes use of your financial documents to have an accurate idea of all your marital finances to help you follow up your divorce case.
Before any CDFA can take on your financial settlement and establish future financial stability with your spouse, he or she will request for all relevant documents and review them.
If you miss out any of the vital documents, you could miss out on your due share of important investments, assets, and accounts.
Above all, the following financial document should be included in your financial divorce checklist:
Financial Records (including bank statements and loan information)
Income Tax Returns
Employment Records
Pension Plan Information
Debt Records
Investment Account Statements
Retirement Savings Accounts
Social Security Statements
Wills and Trust Agreements
Children's Bank Accounts
There have been some cases where some spouses are too secretive about family or marital finances, and hoard detailed bank and income statements.
With this, it may be difficult to get all the required financial documents such as pay stubs, income taxes, and other relevant documents to pursue your divorce right.
Before the issues of divorce come up, use tricks such as health emergencies to collect all the needed documents once you know that a divorce is unavoidable.
The truth is that having all the listed financial documents handy are crucial to assisting your divorce attorney or CDFA handles your case perfectly.
Assets
During your stay with your spouse since the start of the union, it is believed that you will have some assets which are personal to you and you would not let go as you put an end to your marriage.
Understanding what belongs to who in the marriage before getting a divorce is essential. The entire documents required to back up your assets must be presented to your CDFA or divorce attorney to help him or her in the case.
Below checklist is important:
Personal Property (such as antiques, jewelry, collections, and artwork)
Vehicle Information
Information about Other Real Estate
Marital Home Information
It is worthy of mentioning that you know the specific assets personally owned in the home. Any misinformation may be dangerous and harm your case. Clearly identify the list of assets brought to the marriage and the ones acquired during the union.
Childcare Documents
Childcare planning has been studied to be one of the challenging factors of a divorce. Generally, childcare is the responsibility of the two parents, but when the issue of divorce comes up, the plans change.
The financial implication of childcare requires cooperation from both ends of the parents. In the case of divorce, drafting a potential plan for childcare is essential. Create a list of items that are useful to care for your kids.
Clearly decide on who will claim the kids as dependents on your taxes. Make decisions about custody, insurance expenses, and visitation. Don't forget the future of your children regarding their college expenses.
Make arrangements for how to settle their tuitions and other fees to keep them going even while the two of you are separated.
Have a written agreement about childcare and give the same to your attorney or CDFA for record purposes. Documents such as children's birth certificates, educational documents, and relevant documents must be arranged to avoid mix-ups.
Personal Documents
Apart from your financial document, your personal documents are also essential for the use of a financial planner. Include both your personal data and joint information with your spouse in your document package.
The following list is worthy of keeping:
Bank Accounts
Social Security numbers
Birthdates
The date of marriage
Social security numbers for you and your spouse
Birth dates for you and your spouse
Prenuptial or postnuptial agreements
Insurance policies
Information about previous marriages if applicable, including divorce decrees
Judgments and pleadings that involved either spouse
Miscellaneous
Divorce doesn't just happen. If your divorce is surrounded by extenuating circumstances such as abuse, adultery, kidnapping, substance abuse, bullying, mental illness, or instability, some vital proof and documentation will be needed to back up your claims.
This important documentation might help your attorney to build up the financial amount claimed on your behalf as well as help decision on children's custody. Any documentation that you know can help your case should be perfected as much as possible.
Updates on your Information
Though not all information is required to be taken to your CDFA or divorce attorney, some pieces of information only need to be updated. All documents with your spouse's name should be changed to prevent double tags on your personal belongings.
The following items need to be updated even prior to filing a divorce:
Wills
Life Insurance Policies
Bank Accounts
Powers of Attorney
Credit Card Accounts
Advance Healthcare Directives
And other related documents
Frequently Asked Questions About Divorce
How long does one have to wait to get a divorce?
There are many factors that affect the duration of time you need to wait for a divorce. The following are legal requirements which differ by state:
Residency requirements: This is the amount of time both or any of the parties must have been residing in the state. This time can vary from no time to a year.
Separation requirements: In most states, you and your partner are required to have been living separately for a specific amount of time before you may get a divorce. Separation requirements start from no time to 3 years.
Waiting periods: Some states require a specific amount of time to pass between suing for divorce and either arranging a court hearing or getting a final verdict. Waiting periods start from no time to three months.
Other requirements: A mediation of dispute in marriage may be required by some states, as well as parent education class, or a marriage counseling similar to how children are affected by divorce. Alongside other requirements, there are also factors that may affect the duration of time it takes, and it includes the time taken by your spouse to get the divorce papers. The level of a contest of your case, as well as the docket backlog of the court are also factors.
What happens if I don't want a Divorce?
Anyone can get a divorce regardless of how their spouse feels about it. You only need to file your petition for divorce in states that allow no-fault divorce. Although some states have laws that support separation period, however, divorce is obtainable after that period regardless of your spouse's agreement.
You can get a therapist to help you through your emotions if you don't want a divorce for you to find yourself struggling with its acceptance. It is very important for you to get yourself together in one piece all through the divorce process and not allow yourself to be played into making wrong choices by negative feelings.
You need to be able to make right and logical decisions during the divorce process by staying emotionally strong even when mourning the loss of marriage; you don't plan to let go.
How is a property shared?
The usual way is that property is shared equally between both parties. Some states give generalized statements and hand over the rest to the judge to decide. However, the majority of the states have laid down guidelines in which the judge must follow before making property division.
Some consideration centers mostly on how and the time the property was acquired, enabling each party to keep the property they've acquired before marriage, or gotten by inheritance or gift at the time of the marriage.
Property gotten during the marriage is generally considered as marital or community property, and it will be shared based on different factors as required by the property division laws in your state.
Is there any difference between a Legal Separation and a Divorce?
You are still married in a legal separation. However, the marriage in the case of a divorce is dissolved, and any legal bonds between the partners are broken by law. There are many reasons to prefer a legal separation over a divorce.
For instance, you remain on your spouse's health insurance plan in a legal separation. You also get to enjoy the social security benefits of your spouse by staying married for up to ten years to meet up with the requirements.
What does a no-fault divorce mean?
In the traditional way, the only method to get a divorce was to show evidence that your partner has done something that goes against the legal expectation of a married couple. This means that your spouse must be at fault in dissolving the union. The most popular reasons include spouse abuse, conviction as a criminal for felony, adultery, and insanity.
These reasons made it hard to get a divorce, and most time, money and effort were spent in order to prove the fault of the other party. A bill of no-fault divorce has been passed by the entire states and the District of Columbia, which allows one to get a divorce just because a party no longer wants the marriage.
What are the things to do to kick-start the divorce process?
You have to file a petition for divorce with the clerk at your local court. This can be done via a divorce attorney or just gets it done by a Pro Se, less the advantage of an attorney. Your spouse will be given a time-frame to give answers to the petition immediately your divorce petition is filed.
The court clerk will stamp the filed petition and assign a case number to it. The court will then schedule a date for mediation or hearing for temporary court orders once a case number has been assigned, and your spouse gives their response.
How much will it cost me in total before I can get a divorce?
The complexity of your divorce case will determine its cost, as well as if the cases are contested. A contested divorce is generally going to be expensive than a non-contested divorce case. This also means that an uncontested divorce case will be cheaper than a contested divorce case.
Alongside attorney fees, you will also be required to spend on court filling as well as other chargeable expenses during the divorce. If a divorce mediator is a requirement by you or state laws, then the payment responsibility will be on you and your spouse.
A divorce financial analyst may also be required if there are many assets to share, a business to evolve evaluated longing to be appraised. This will also cost you and your spouse some additional money.
How can I protect myself from an abusive husband all through a divorce process?
You have to file a restraining order against your spouse to protect yourself before, during, and after your divorce. Each state determines the type of assistance you can get. There are many domestic abuse resources and programs available in states that you can benefit from.
You can also get a support system for help all through and after the divorce process. Victims of abuse are more prone to danger after they are separated from their abuser should they have a clear action in place before you separate from your abuser.
Have somewhere to visit, and some way to help yourself and someone to contact if you feel in danger. You and your children will feel better and supported when you have a plan, a restraining order, as well as family and friends, to be with you before and after separating from your abuser.
Can I put an end to child support payment if my ex is denying me of seeing my children?
No. You could be charged to court if you stopped paying child support. Instead, you should see an attorney who will give you advice on the steps you can take to ensure you are granted visitation to your children and ensure that your right to see and perform your duties as a parent to your children remain intact.
Divorce is not a sweet experience one should pray for; but if it wants to occur, try as much as possible to prevent it through peace settlement. If all efforts prove abortive, the next step is to move on with your life. This post has shared the comprehensive divorce moving checklist to make your move out stress-free and to ensure you stay on top of the situation. Go through the list and follow it closely for a successful new life after your divorce. Stay tuned for more informative posts from this page!