Latest Simply Self Storage Review 2023
Bottom Line: Even though it may not have many locations, there are lots of reasons to consider Simply Self Storage if you live closer to one of its facilities.
Simply Self Storage is a self-storage management company that is privately owned and it offers a lot of storage options including climate-controlled, mini, boat, RV, vehicle, and long-term storage. Established in 2001, Simply Storage is headquartered in Orlando, FL, and operates in the U.S. and Puerto Rico. There are lots of companies out there that will render the services you need for you. One of the companies is Simply Self Storage.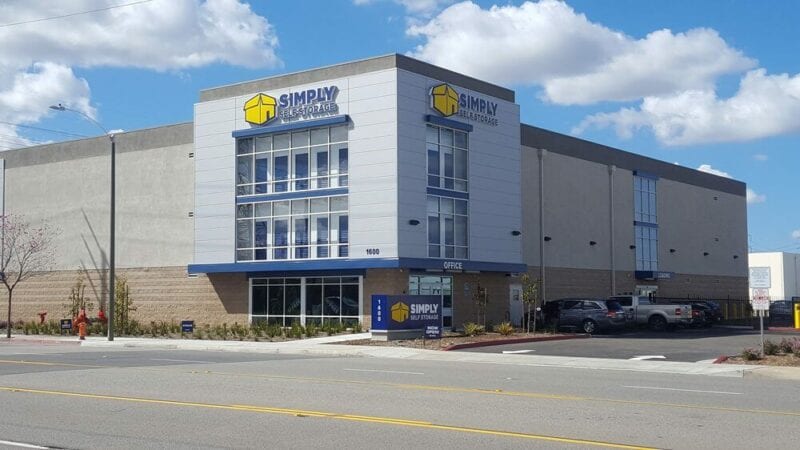 The company doesn't often make our list of the best storage unit companies, but has low prices and reported by customer reviews not to hold up. It has been gaining recognition in the storage industry and we are sure that you might have considered renting a storage unit from them.
Do you think Simply Self Storage is the right one for you? Let us help you with that decision.
What Type of Services does Simply Self-Storage offer?
Simply Self Storage knows that every customer needs to store various types of belongings; hence, they might require various types of storage services. They offer different kinds of temporary and long-term storage services and you can choose the services that are best for you.
1. Self-Storage Services
People can need storage services when their houses get filled with clutter or when they are moving. Simply Self Storage gives its customers indoor units and outdoor units that feature access. You can rent from their mini storage units or large units from Simply Self Storage. You can go for a monthly rental of their units. They also provide standard and climate-controlled units for their customers.
2. Business Storage
Simply Self Storage provides commercial storage options to business owners if they need to store their business items like their equipment, inventory, files, papers, and so on. You will be paying a lower cost than that of commercial real estate when you decide to store your business-related items in a Simply Self Storage unit. That is what makes the company the best option for business storage. Together with this, business owners can rent out the unit for short-term and long-term storage.
3. Vehicle Storage
You must store your vehicles, such as boats, cars, RVs, and so on in a safe and secure facility when you won't use them for a long time. Simply Self Storage provides indoor and outdoor units of different sizes for your need to hold any type of vehicle. You have three options when you decide on vehicle storage, such as indoor storage, outdoor storage, as well as covered storage. They made sure that your vehicles maintain their best shape all through the storage duration and you can access them any time you want.
4. Wine Storage Units
Simply Self Storage offers small storage units specially made for wine. The units are 3 by 3 feet (normally 8 feet tall) and feature a humidifier and ducted cooling system to maintain the condition of your bottles. Rather than spending lots of money to make a wine cellar out of your basement, you can store your wine in a specialized wine storage unit.
Pros
Low prices
On-site manager
Pest control
Wine storage units
Cons
Only 200+ locations
Below-average reviews
What are the Amenities Offered by Simply Self Storage?
Simply Self Storage offers security and ease accessibility to complement their storage services. Some of the amenities include:
1. Climate-controlled units:
Simply Self Storage understands that harsh temperatures can ruin your belongings and they don't want to give you a bad storage experience. After considering this, they begin to provide climate-controlled units for their customers. The temperature and humidity levels within these units are regulated to make sure that your belongings are not exposed to harsh temperatures. It is always ideal to keep your items in climate-controlled storage units, because failure to do so, your belongings might begin to develop mold because of poor temperatures and extreme humidity.
2. Accessibility:
Even though the majority of the Simply Self Storage centers allow unrestricted access to their entire customers, some storage facilities only allow customers to access their units during work hours. You can ask about the gate hours as well as the accessibility before you choose whether to rent out a storage unit with Simply Self Storage.
3. Secure facilities:
Simply Self Storage has all its facilities fenced and electronic gates installed, featuring coded access. This makes sure that only authorized customers can access their units. All the facilities are being watched 24/7 and they are highly properly lit. There are also on-site managers in many of the centers who work to keep the facility safe. The safety of your belongings is so much important for the company and you can be sure that your belongings are safe when you store them in the Simply Self Storage center.
4. Moving supplies:
To make life convenient for you during the storage process, Simply Self Storage also enables you to buy top-quality moving and packing supplies from their locations at cheaper prices. They provide different supplies, such as bubble wraps, boxes, packing paper, tapes, locks, and so on. You might need some of these supplies when you are packing and moving your belongings into your storage units.
5. Truck rentals:
You will need some type of moving truck when you want to store your items in storage. Simply Self Storage is a store for all since you get your entire need at their facilities. Their facilities always have some moving trucks that you can put to use any time you need them. Simply Self Storage has gotten into a partnership with Budget Truck Rental which makes it possible for customers of Simply Self Storage to rent out Budget moving trucks for one-way moves at an affordable rate.
6. Pest control:
Simply Self Storage takes perfect care of its unit as regularly as needed to prevent bugs and rodents. The company is also against the use of cardboard boxes. While cheap cardboard boxes are attractive, mice and other critters can chew through them so easily. The last thing you want is to see teeth mark on the contents of your boxes. From regular spraying for pests to providing storage recommendations, Simply Self Storage protects you from pests.
What are the Sizes of Storage Units Available at Simply Self Storage Locations?
Simply Self Storage believes in assisting all its customers to locate the perfect size of storage units for themselves. Each person needs a different storage unit based on what and the number of items he/she needs to store. Simply Self Storage provides an extensive size guide to its customers that lets them know about the unique details of various units. Let us discuss the various sizes of storage units available with Simply Self Storage.
| | | | |
| --- | --- | --- | --- |
| Size | Floor Space | Storage Space | Used For |
| 3' X 3' X 8' Locker Units | 9 sq. ft. | 72 cu. ft. | Storing little, and smaller belongings that do not consume much space |
| 3' X 3' X 8' Wine Storage Units | 9 sq. ft. | 72 cu. ft. | To store wine bottles for aging. These nits  ou the additional space and climate-control technologies to keep your wine bottles in the right conditions. |
| 5' X 5' X 8' Storage Unit | 25 sq. ft. | 200 cu. ft. | Storing smaller belongings from one small room. |
| 5' X 10' X 8' Storage Unit | 50 sq. ft. | 400 cu. ft. | Storing all the items from a studio apartment or a small 1-bedroom apartment. |
| 5' X 15' X 8' Storage Unit | 75 sq. ft. | 600 cu. ft. | Storing all the belongings from a large 1-bedroom home. |
| 10' X 10' X 8' Storage Unit (drive up units of similar size are also available) | 100 sq. ft. | 800 cu. ft. | Storing all the items from a 1-bedroom home or a 2-bedroom apartment |
| 10' X 15' X 8' Storage Unit | 150 sq. ft. | 1,200 cu. ft. | Storing all the belongings from a 2-bedroom home or a three-bedroom apartment |
| 10' X 20' X 8' Storage Unit (Drive up units of similar size are also available) | 200 sq. ft. | 1,600 cu. ft. | Storing the entire items from a three the o  apartment. You can store trucks, boats, cars, etc., inside their drive-up units. |
| 10' X 25' X 8' Storage Unit | 250 sq. ft. | 2,000 cu. ft. | Storing the entire belongings from a large home with four bedrooms. You can also store items from a large garage in these storage units. |
| 10' X 30' X 8' Storage Unit | 300 sq. ft. | 2,400 sq. ft. | Storing all the items from a big four to five-bedroom house. |
Read How To Pick The Right Size of Storage Unit
How much is the Cost of Simply Self Storage?
Simply Self Storage costs around $160 per month or around $20 lesser than the industry average. We compared over 2,500 quotes and discovered that Simply Self Storage has a cheaper price that is usually around 15% cheaper than the industry average.
Prices start from about $90 for a small climate-controlled storage unit to roughly $320 for a standard unit. Monthly costs differ a lot due to online sales, so you should consult your local storage unit provider to figure out your price point.
Simply Self Storage Pricing
| | | |
| --- | --- | --- |
| Storage unit size | Standard storage unit | Climate-controlled storage unit |
| Small (5 x 5–5 x 10 ft.) | $110 | $90 |
| Medium (5 x 15–10 x 10 ft.) | $180 | $180 |
| Large (10 x 15–10 x 30 ft.) | $290 | $320 |
| Vehicle | $220 | NA |
Simply Self Storage Cost Factors
Simply Self charges on storage unit based on different factors:
Availability: Storage units are more expensive when there are just fewer of them available. On the contrary, a storage center with many empty units often costs less.
Climate control: The majority of storage unit providers charge climate-controlled units at 20 to 50 percent above standard storage units. However, you can usually get climate control at cheaper prices because of online sales.
Discounts: Simply Self Storage usually offers discounts that can reduce your price. While they may not be the same in every location, you likely will see deals that have a 30-days free rental.
Online sales: It is more expensive to enter a storage facility and book a unit than doing so on the internet. Our analysis of almost 150 Simply Self Storage rental quotes revealed to us that you could save $50 every month by booking online.
Taxes, fees, and insurance: Simply Self Storage charges a one-time admin fee of $24. You also must buy compulsory insurance (which starts at $10 per month). Add in taxes, and the cost goes up to about $50.
For more on storage unit cost, read How Much Does A Storage Unit Cost?
Simply Self Storage Insurance Offer?
The inclusion of insurance coverage by Simply Self Storage in its rent is a very good perk. You don't have to spend extra on buying a separate insurance policy. Simply Self Storage provides insurance to their renters under the Safeguard Program where the customers are covered up to $2,000. Some facilities might not carry the Safeguard Program with them, but they do give some different insurance options to their customers at cheaper costs. If you have any concerns as regards insurance options, you should reach out to your facility and gather all your answers.
What are the Advantages of Renting at Simply Self Storage?
1. Easy online booking: Simply Self Storage has simply made the online booking process easy and convenient. You only have to check their website and search for your nearest location. You can then pick the size of unit you want to rent and reserve it if it is available. The company gives you the Autopay system in which your rent amount will easily be deducted from your account every month and automatically. They also offer you many concessions if you finish the rental procedure online.
2. Discounts: As mentioned earlier, the company offers a huge discount for you if you make an online booking. Together with this, you also receive $30 off your rent from Simply Self Storage if you refer a customer. Moreover, the company also allows you to make use of a storage unit for free for the first 30 days under a particular promotional offer.
It is hard to understand the amount of space you will get in a certain unit without physically seeing a unit. You cannot assume the number of belongings you can fit in a unit considering the only dimension. Their size guides are different since they show a 3D diagram of every unit and give an explanation of its dimensions. Together with this, they also add the belongings that can be stored in a certain unit in the diagram for every unit.
Finally, they also give you comprehensive information about the number of room's worth of belongings that that can be stored in evnit.
3. Even tactless rental services: Simply Self Storage's contactless rental service makes sure that you don't have to deal with anyone all through the rental process physically. Keeping distance from people is a lot important during these pandemic times. You can book your move online easily and you will receive a code with which you can access the facility. You can load your storage unit, lock it and drive off. You don't have to come in contact or meet anyone at all.
4. Mini storage units: In some cases, you might want to rent a small unit because all you needs to sale the storage needs street Simply Self Storage offers are smaller than the 5 by 5 units and can be used to keep miscellaneous belongings from your house that you only need occasionally. You save cost by not paying for bigger units and you can make use of this money to rent a climate-controlled unit to keep your stored belongings in a perfect environment.
Things you should know about Simply Self Storage
1. Low prices (kind of): Simply Self Storage performs well where you want it to low rtootal prices. We comparator atooosttotalmply Self Storage quotes with over 2,000 quotes from its competitors, discovered that Simply Self Storage normally costs around $20 less every month than other storage unit providers. The price difference indicates an annual savings of around $250. Sadly, those prices are not always constant, which causes the next thing you need to know about the company: less-than-average customer reviews.
2. Limited availability: The unfortunate part about Simply Self Storage is that their facilities are not everywhere. Simply Storage will offer excellent services to customers, but it is not certain that you will find a facility closer to your house. If you are fortunate, there will be a nearby location to your house and then you can hire their services.
3. Vehicle storage units are not indicated: This implies that there is no clarity in showing which units are for holding vehicles and which ones are for storage of household belongings. Even though they indicated on their website that you will be given an indoor uncovered storage solution for your vehicles, they don't advertise their indoor units for storing vehicles. If you want a certain kind of storage for your cars, you will have to first contact the facility and ask about whether they can give the needed services.
4. Increase in the Rental Price: Long-term rentals will find this bad news since there is an increase in the rental prices per annum. Moreover, some of the hidden fees charged by the companies are not included in the prices advertised to the customers. Ensure that you thoroughly ask about the rental prices and hidden fees to avoid surprises in the long run.
Conclusion
We recommend Simply Self Storage majorly if you need the reliable choices with wine storage units provided by the company, they have the best package. Technically, Simply Self Storage also charges low prices, but we've seen a lot of customer complaints about the surprise fees to recommend it. Usually, you are likely better off working with one of our best storage unit providers.