Complete Guide to a Profitable Moving Sale
You are ready to move to your new apartment, and we know you are excited about it. Moving is associated with many activated such as planning, budgeting, packing, and much more, with a view to starting a new life somewhere else.
However, during packing, people usually come across some old household items which have been long used or abandoned, and you are no longer seeing the need to keep them or move them along with you. Yeah! I agree with you that you need to get rid of them. But do you know that you can make some cool cash from those items you seem not useful to you? Holding a moving sale in your compound before your move is a part of the moving exercise some people cannot do without.
You tend to get rid of old items and at the same time, save up some money to cater for other moving expenses on your budget list or foot the bill for new furniture for the new home. Moving sales is a win-win situation, but it requires technical know-how to hold a profitable one.
Moving Feedback is here to give you a practical guideline for a profitable moving sale. But before that, let's define what a moving sale is?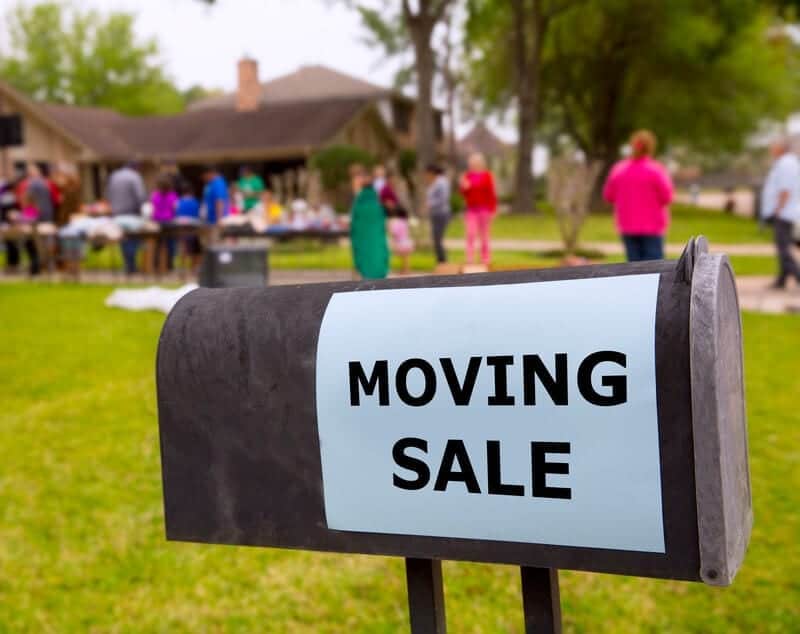 What is a Moving Sale?
A moving sale (also known as a garage sale, tag sale, yard sale, and another sort of names) can be defined as an informal event organized for the sale of old household items that are no longer used by the households or private individual where sellers may not need business permits or collect sales tax from sales precede.
It is a way of getting rid of unwanted items before relocating to another residence. In some jurisdictions, moving sales may require a permit based on the volume of sales involved.
The moving sale usually takes place in an exterior part of the seller's home such as a garage, carport, front yard, lawn section, or driveway. By having a moving sale, you tend to enjoy the following benefits:
Turn your old or unwanted stuff into cash
Making cash available for other moving expenses or new stuff for your new residence
Reduce the cost of moving by reducing the overall weight of moving
In the case where you want to put your property on sale, moving sale attracts potential buyers to your home.
Top 8 Tips for a Profitable Moving Sale
Studies have shown that many people hold moving sales just to clear out their old stuff and not for profit. Moving sale is more than just getting rid of unwanted items if it is well planned and guided. You can actually hold a profitable moving sale with the following tips:
1. Sort out your items
It is assumed that before one can think of moving sale, he or she might have decluttered his or her home. The first sort out all your items, divide them into three categories, namely; "Keep", "Sell", and "Trash". This is not the time to tag them with a price – one thing at a time. Your primary goal at this moment is sorting out your old stuff to get rid of them for a possible sale.
2. Make them appealing
After sorting out the items that would go for moving sale, it is essential that you make the buyer of the item appeal by cleaning each of them to add value to them. Some items might have been left untouched and used for a long time, carry out some cleaning to make it more appealing to your buyers.
3. Take inventory and organize your items
The next step is to take inventory of all items to be put for sale and organize them accordingly. How many clothing, electronics, toys, books, home appliances, furniture, sports equipment, garden tools, household decorations, are involved? Take inventory of them all and arrange them according to the category each of them belongs to. You can label them if possible. This will help you to have total control over the sale.
4. Name your price
After organizing those items to be sold, the next step is to start putting a price on each of them. It is advisable to do not put much value on your item and hike the stuff in the process. Remember, your goal is to get rid of the things and at the same time maximize profit for your move.
It is worthy of mentioning, that you have already used these items and they are at their second-hand value; hence, do a rough estimate of their salvage value to help you in putting the best price that sells the stuff faster.
If you cannot do this alone, employ the hands of friends or relatives who are experienced in doing this. Putting about $60 value on a pullover bought for $100 may probably not work out. This stage will determine whether you would have a successful moving sale or not. The key here is "don't overprice".
Another tip for naming price is to introduce bulk sale – tag complementary items together and put only one price. It is also essential to remember that people may not be carrying change when coming for your moving sale; hence, price all items at a whole dollar value.
5. Set a date
It is assumed that you have undergone the above processes and it is now the time to pick a date for your moving sale. While your moving sale day is largely dependent on your moving day, it is essential to put some factors into consideration.
Target the time when people mostly receive their paychecks so you can have a successful and profitable moving sale. Many people receive their paychecks at the end of the month; picking a date around this time to fall on weekends guarantees that people will show up for your garage sale and have enough cash to spend.
It is also important to ask your neighborhood if there will be a community yard sale soon. Don't forget to consider the weather forecast before setting a date; bad weather may keep your buyers away.
6. Putting on signposts in your neighborhood 
The advertisement is vital to your successful yard sale. If people don't know about your coming event, you may not see anyone. Moving sale marketing is as simple as putting on signposts in your neighborhood pointing to your house. Strategically place those signs to lead people off the main street and to finally lead the way to your gate.
Make it as simple as possible for someone who doesn't know your home before. They should easily locate it with the help of a series of signs connecting to each other. Based on the volume of sale, you can as well advertise your garage sale in the local newspaper, neighborhood social media group, and church bulletin
7. Set up the items as categorized and labeled
On the morning of your moving sale, stick to action by quickly setting set up the items as categorized and labeled before people start coming in. When the sale starts, expect negotiations as every individual will be looking for a deal from your yard sale. That is the purpose they have come, and you must achieve your goal of getting rid of your stuff as planned.
8. After the sale
After the event, if you still have some stuff leftover such as higher-dollar items, you can sell them online through social media sharing, eBay, Craigslist, or apps like LetGo and OfferUp.
If after the whole exercise, you are still left with other items with no much value to people (it is a normal thing after moving sale), request for pickup or truck as the case may be to dispose of the leftovers.
The following table displays the Top 8 Tips for a Profitable Moving Sale:
| | |
| --- | --- |
| No. | Top 8 Tips for a Profitable Moving Sale |
| 1 | Sort out your items |
| 2 | Make them appealing |
| 3 | Take inventory and organize your items |
| 4 | Name your price |
| 5 | Set a date |
| 6 | Putting on signposts in your neighborhood |
| 7 | Set up the items as categorized and labeled |
| 8 | After the sale |
How to Advertising a Garage Sale?
There is nothing in garage sale marketing to overthink. After all, it is just a moving sale. However, make sure you get some balloons and signs from the dollar store and indicate big arrows on them to show people the way to your house.
Make sure the route is straightforward that anyone could locate. Besides these, below are other helpful garage sale tips to advertise your garage sale:
Use Quality Photos to advertise your Garage Sale if you can
You need to advertise to have a successful garage sale. No one will come to what they know nothing about. Make use of many signs. This is one of the tasks your kids can help with if they like being crafty. Take your advertisement to every possible place.
Facebook and Craigslist are better places to start. You can also visit sites like Garage Sale Finder and Yard Sale Search to your advantage. They are already-made platforms that help you broadcast your garage sale to the neighborhood.
Be specific in your descriptions
Be specific in your ads and list all the available items for sale. This will enable you to get attractions from shoppers who have actual needs for your items. Try and include pictures. Make sure use words such as "our sale is ready a day before."
Go to local Facebook groups and post photos of everything that is up for sale. Many people will be in attendance because of the photo, as it is exactly what they need.
How to Price Garage Sale Items
Name your price:
This is one important thing to note on garage sale pricing and you must always remember it: avoid sentimental attachment to your item and overprice it during the sale. To get an objective opinion, bring a friend to the items to tell you the reasonable amount they would pay for the stuff.
Get the current value of items online through a quick search. Give reasonable pricing on items as you know they are not brand new. You may not be able to sell a sweater you bought for $100 at $80. You will get a swift deal when you price a $100 sweater for $30.
Below are some pricing suggestions you can start with if you don't know how to price garage sale stuff:
| | |
| --- | --- |
| Items | Suggested Price (Ranges) |
| Baby clothes | |
| – nicely used/good condition | $1 to $3 |
| –  harshly-worn items | Below $1 |
| Adult Clothes (if there's a tag on each item) | $3 to $5 |
| Shoes (based on the condition) | $3 to $7 |
| Coats (based on the condition) | $5 to $15 |
| Jewelry (based on the condition) | $.50 to $2 |
| Books | |
| – Hardcover | $1 to $2 |
| –  Paperback | $.25 to $.50 |
| Blu-ray Discs, DVDs, or CDs | $3 to $5 |
| Toys and Games | $1 to $3 |
| Home Décor | $3 to $5 |
| Furniture | |
| –  low-quality furniture | $10 to $30 |
| –  high-quality furniture | $30 to $100 |
Note: The above prices are just for an example and not a direct cost for the attached items. Your prices should be based on the condition of the item, but it is typically in the range above.
Make prices visible:
Use price tags or stickers to display prices of your items. You can also group items with similar prices together with a detailed pricing breakdown at the back. Colored stickers can also be used to indicate the cost of using color-coding.
You go like red for $50, green for $20, and so on, just make sure they are straightforward to avoid confusion. You will need bigger price tags for larger items. Don't make your buyers search for a tiny price tag on that large piano you are selling. Make the price tag or sticker big and attractive to them.
Package items:
You can easily sell DVDs at $1 each. But packing them like 4 for $5 will surely catch some people's attention. Check your environment to make a deal. If you are closer to your moving date and you really need to get these items sold, let buyers go home with bags filled with $5 or $10 flat-rate.
Don't inflate your prices with the expectation to bargain:
Give marketable pricing to your items. Don't set higher initial pricing and wait for your customers to beat it down. The majority of potential buyers will just walk away from such prices without even trying to beat it down – leaving you with one less sale.
How to have a Successful Garage Sale?
Below are some essential tips for garage sales day:
Make change available:
You have to make sure enough change is available to avoid losing out on a sale. Get enough small bills to make a change for your buyers.
Know how to haggle:
Everyone is looking for a deal. That is why people rushed down to your garage sale. You can allow the customers to negotiate if they want to, just make sure your pricing is good enough and stand by it. You are not donating your item to them, at least not yet.
Make it look good:
You have to make your items look good if you plan to sell them. follow these tips:
Clean off the dust from these items you are looking to sell as they have been collecting dust all these while.
Pump bicycle tires and jumping castle.
Get the mud away from your children's old soccer shoes.
Fix batteries into any items that need it so the buyers can see it is functional.
Make an extension cord available for customers in case they need to test any appliance that needs an outlet.
Also, place mirror closer clothing and other accessories.
Although it might sound silly, putting more effort can make a significant difference in your garage sale.
Position your item:
Wake up early on the sale day to do some setting up. Make sure your items for sale look nice. Items that could attract more are to be placed beside the street to inform people you have more than just kids' stuff and mugs to sell.
Keep every other item organized and nicely priced, and easily accessed. Make sure you have newspaper and grocery bags available at your checkout point. All these little things will make you sell fast.
Involve your family:
Convincing your teenage children to assist you on a garage sale scheduled on a Saturday morning will require more than just talking. You may need to cut them in on the gains. Strike a deal with your teenagers; if they pile up the items they no longer need for sale, you will let them keep the cash that comes from the sale.
That is just an indirect way of getting them to clean their room. But they may probably not get the logic. Have your younger kids stay on a lemonade stand as it may attract some customers.
Be safe:
Although this might sound funny, it is not. The majority of shoppers are not harmful, and they are just shopping for a nice deal. However, you are still inviting strangers to shop at your front door. So just be at alert all the time.
A wise move is to make sure all entries to your home are locked during the sale. Do not entertain any shopper using your toilet or drinking a cup of water. You can just keep a bowl of water outside and also show them the way to the nearest gas station.
Also, be cautious as you are dealing with cash. You can leave smaller bills closer to you in an apron, but larger bills should be kept inside by sending a family member for safety purposes.
Think of what to do with remaining items:
Online sale is the best option for your unsold items from the garage sale. You can either post those items on your local Facebook or Craigslist group, eBay, or share them on Swap, Letgo, Etsy, VarageSale, and OfferUp apps. thredUP and Poshmark are also the best places to sell clothing.
Always endeavor to add pictures of your stuff. People won't buy your jumping castle if it doesn't have a picture. Make findings on similar items before you assign price to your own so that you can have an accurate idea of the pricing.
Get a truck: everyone has unsold items after throwing a garage sale. You also will. If you must get rid of the items, ask a friend to borrow you their truck so you can transport the items to the donation center. You can also call any local thrift store or Goodwill to come for pick up after the garage sale if available in your location.
Frequently Asked Questions
Is there any difference between a Garage Sale and an Estate Sale?
This is usually the first question people ask. In general, a garage sale is performed by a homeowner to declutter their space, make a little additional cash, or just reduce their goods.
The majority of the item displayed at garage sale don't carry much sentimental value and are just displayed for their prospective cash value. Also, a garage sale is often done outside the home.
A successful estate sale is done by an individual or a family to sell off all the estate-related items. This time is mostly emotional to them. The sales are done inside the home. The number of items for sale is generally much and thus requires much labor force.
Also, the total value of stuff in an estate sale will usually be greater than the value of stuff in a garage sale. A great amount of time will be dedicated to determining the prices for items before they are placed for sale.
How much cash will i make from garage sale?
This question can also be the number one question and displace the previous one. The simple answer will be as much money as you we can. There are many variables that can affect the amount you make from a garage sale.
The item being sold is the first factor. Not all estate sales are loaded with belongings. You are at the liberty to publicizing your items to the mass, wide network of collectors, experts, resellers, and specialists.
What time is best for a garage sale?
You definitely know you can throw your garage sale at the time your community is throwing a general one if you live where this is being done, as you will have access to many shoppers. You can also check your Homeowner association for any garage sale tips as they might have some.
Each location has a different date for garage sales, some areas has their own every Friday and Saturday from 8 am. Most areas love to do this in the morning. Shoppers tend to reduce towards noon, so it is important you consider ending your garage sale at noon if you can.
Before you pick a date for your garage sale, consider having it in two days rather than just one so you can make more sales. More available shopping time equals more shoppers at your garage sale.
What item sells at a garage sale?
Know that not everything sells averagely at a garage sale. There are some common garage sales items that people prefer to buy than others. Generally, any item in good condition will sell well in a garage sale compared to items in poor condition.
Gadgets, baby and kids clothing, toys, all sell well in a garage sale, including kitchen items such as cookware, dishes, and so on. Kids' clothing sell well compared to adult clothing in a garage sale. A garage sale might not be necessary if you don't have many of the items that sell well. You can make good money from your sale when you have items that many people are demanding.
How do I get ready for my garage sale?
Remember that the main reason behind this garage sale is to declutter your home. Jump into decluttering task immediately you fix a date for your garage sale. This is the right time to toss your house from the bottom and bring out any item you no longer need.
Knowing that you might make some money from every item you dispose of from your home at the garage sale is a great source of motivation. It is better to have a nice plan in advance for your sale.
How much cash can one make at a garage sale?
This will be determined by the items you have, the pricing, and the shoppers, as well as your organizational aspect. This is based on many factors such as how you organize the sale, pricing, advertisement, and much more.
More people will branch and buy from well-displayed garage sale items. People may find it difficult to locate what they want to buy when you just throw everything on the table, making it look unattractive. People will want to hang around, check, and possibly buy when you display the items more like a store.
Wow… it is a successful sale. You now have the real picture of the volume of your belongings that are following you to your new apartment. You have succeeded in saving cash for yourself, reducing the cost of moving through reduced load weight usually charged by moving companies, and turn your scrap to cash.
You may wish to compensate whoever helped you in the event processes because of next time or even your coming moving day, they can be of help. Stay tuned for more informative from this page!