Complete Easy Auto Ship Review of 2023
Bottom line: Easy Auto Ship has less expensive prices for shipping, faster delivery, and highly helpful customer service than most auto shipping companies.
Need to transport your vehicle to your new home or schedule for delivery of a car you purchased online? We are here to introduce you to a company that scores high marks in auto shipping services reviews.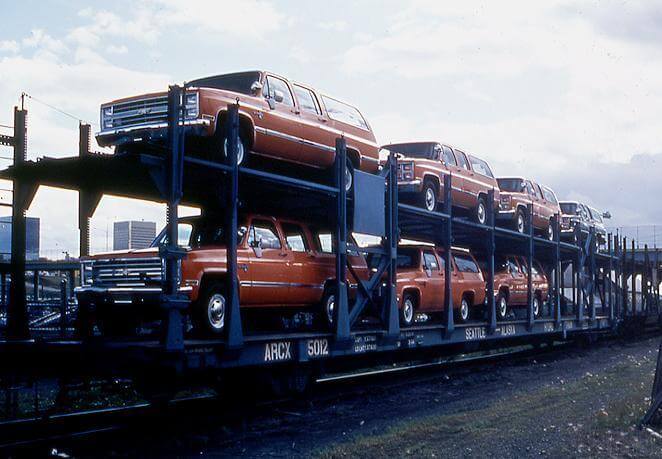 Easy Auto Ship provides vehicle transport services for cars, boats, trucks, heavy equipment as well as other vehicles. The company works as a broker to locate the ideal shipping service for customers at the most reasonable price. Easy Auto Ship specializes in auto shipping for dealerships, consumer vehicles, moving companies, importers, and exporters.
Easy Auto Ship arranges and monitors transporting vehicles all over the country and international vehicle shipping. Customers are often people who can't or don't want to drive their vehicle for long distances, while some purchase a car online and need it transported to their location. The company also provides services to vehicle enthusiasts, those who reside in two states, and heavy and equipment operations.
Shipping Services Available at Easy Auto-Ship
Easy Auto Ship is based in Youngstown, Ohio and it claims it is a 'full circle auto transport solution. The company is also a freight forwarding company that uses new technology.
Below are some of the services of Easy Auto Ship:
1. Vehicle moving:
They comply with all regulations from the federal government. Customers may include students, snowbirds, families, military members, and so on. The organization also ships motorcycles, RVs, boats, and golf carts.
2. Car delivery for online car buyers or dealers:
It is becoming more popular for consumers to buy a car online from another location. This is so common among collectors and other luxury vehicle enthusiasts. Vehicle dealers and rental agencies now often participate in automobile auctions all over the country and need several car shipping and other personalized services.
3. Heavy equipment transport:
The company has the knowledge, equipment, and licensing required to move large-sized machinery, commercial vehicles, and equipment. These projects may require expensive capital equipment and need a shipper that can safely and efficiently take care of the job.
4. International shipping:
They ship vehicles over the sea or through the air to given destinations according to FMC standards. They usually roll-on & roll-off" open shipping options, enclosed and container shipping, and can handle jobs for expedited shipping service.
Pros
Price guarantee
Servicing (door-to-door) all 50 states,
5-star review ratings
Offers a discounted price
Cons
Limited customer support
Insufficient claim process details on the website
Too many website popup ads
Door-to-Door Vehicle Shipping with Easy Auto-Ship
Easy Auto Ship renders door-to-door vehicle shipping services between different locations. The driver comes to your pickup location checks your car with you and then loads it onto the carrier trailer safely. You get a bill of lading to note the condition of each vehicle, and then it is checked over and over again at delivery.
There are times that the auto transporter can't access a home because of narrow streets or other barriers. In cases like this, you and the driver can agree to meet nearby to load or unload the car. Door-to-door service is easy, but you can save cost meeting the truck near the highway.
Transport Options with Easy Auto-Ship
Easy Auto Ship offers varieties of transportation options to satisfy the needs of almost anyone who requires their services. You may pay the expensive costs for these services as it typically involves long-distance:
Expedited shipping: It is important to schedule car transport at least 14 days in advance, but there can be emergencies. The company can get an auto carrier sooner.
Enclosed shipping: The driver loads your car onto an enclosed trailer, so they are not exposed to the weather or road elements. Customers who unique use, luxury, or other specialty vehicles may go for enclosed shipping.
RV Shipping: Easy Auto Ship has access to well-trained professional drivers who can easily ship any type of RV. Easy Auto Ship recommends transporting RVs through the fifth wheel.
Motorcycles: Easy Auto Ship schedules for enclosed transport for motorcycles. Bikes are also securely strapped down.
Inoperable vehicles: A lot of shipping companies will not consider shipping a faulty vehicle. The company partner with experienced drivers who can handle a vehicle that doesn't operate, even though the options are few.
What is the Cost of Easy Auto Ship?
Easy Auto Ship is one of the highly affordable vehicle shipping companies with a median cost of $840 per trip. The median cost for every 100 miles with the company is $120, even though shipping prices may change based on the time of year, route, car make, and model. Depending on our research on the industry, Easy Auto Ship has affordable rates for open and enclosed car shipping.
The price estimates of the company for open transport are revealed below:
| | | | |
| --- | --- | --- | --- |
| Distance | Base Price Per Mile | Example Distance | Example Price |
| 1-500 miles | $1.00 | 400 miles | $400 |
| 500+ miles | $0.75 | 900 miles | $675 |
| 1,000+ miles | $0.60 | 1,200 miles | $720 |
| 2,000+ miles | $0.50 | 2,400 miles | $1,200 |
| 2,500+ miles | $0.40 | 3,600 miles | $1,440 |
These prices are advertised on the website of Easy Auto Ship, but we wanted to find out for ourselves whether they were correct. We contacted the company in January 2021 and got the quotes below:
| | | | |
| --- | --- | --- | --- |
| Distance | Vehicle | Open or Enclosed | Quote |
| Chicago to Kansas | 2018 Toyota RAV4 | Open | $734 |
| LA to Houston | 2018 Toyota RAV4 | Open | $1,117 |
| LA to Houston | 2018 Toyota RAV4 | Enclosed | $1,724 |
| LA to Houston | 2018 BMW 7 Series | Enclosed | $1,590 |
We asked for the cost of shipping 3 cars on five separate routes from Easy Auto Ship. Since the price between open and enclosed shipping varies, we also requested prices for each option.
The average cost for all cars, routes, and types of shipping with Easy Auto Ship is around $840 – or $120 for every 100 miles. To explain that in context, transporting your car from Los Angeles, Ca to Denver, CO will cost around $900.
How Easy Auto Ship Pricing Works
Easy Auto Ship is one of the most affordable auto shipping companies in the industry. Its prices are lower than almost two-thirds of the shipping companies we've reviewed, with prices around 10 percent less than average.
Cheap prices for short and mid-range shipping
The difference between Easy Auto Ship and its competition is not much as regards move of multiple hundred miles, but the company is outstanding for short (150 miles) and mid-range (1,000 miles) journeys.
Prices for open shipping with Easy Auto-Ship
| | | |
| --- | --- | --- |
| Distance | Easy Auto-Ship | Industry average |
| 150 miles | $310 | $360 |
| 550 miles | $560 | $570 |
| 1,000 miles | $850 | $910 |
| 2,750 miles | $1,025 | $1,100 |
Much lower prices for enclosed shipping
Open shipping discounts for around 90 percent of all auto shipping, and the best reason – it is affordable. However, there are times when enclosed shipping will be your best option (when you are shipping antique, classic, or exotic cars). In cases like those, Easy Auto Ship has solid pricing for shipping of around 1,000 miles.
Shipping prices with Easy Auto Ship enclosed
| | | | |
| --- | --- | --- | --- |
| Distance | Easy Auto-Ship | Industry average | Industry Average Amt |
| All distances | $980 | $1,120 | $140 |
| 1,000 miles | $1,180 | $1,390 | $210 |
Cost Factors at Easy Auto Ship
Easy Auto Ship has some of the cheapest prices in the industry, but it still encounters the same challenges as other companies: unstable (and unpredictable) rates. Auto-shipping prices can vary every day based on many factors:
Distance: Transporting long-distance away is costly, but the cost per mile reduces
Type of shipping: Open shipping is cheaper than enclosed transport.
Car type and size: Larger vehicle attracts more expensive cost to ship.
Condition of the car: Operable cars are less expensive to transport than non-operable cars.
Time of year: Increased demand in January and the summer months' increases prices.
Type of shipping: Door-to-door shipping is more expensive than terminal-to-terminal transport.
Price of fuel: The higher the cost of fuel, the more expensive shipping will be.
Coverage Options with Easy Auto-Ship
Auto-shipping brokers are required to hire carriers that possess insurance; however, Easy Auto Ship makes things even better and provides you an extra $100,000 worth of coverage for free.
Additional insurance is a thing that usually distinguishes the best auto shipping companies from the rest. We like that the company makes use of its own money to ensure that your vehicle is properly covered if a problem arises with the carrier's coverage.
A Damage-Free Guarantee
We prefer Ship a Car Direct since it offers a damage-free guarantee. If your vehicle gets scratched or dinged, you will get reimbursed by the company for up to $500 on your insurance deductible.
For comparison, read Ship A Car Direct Reviews By Team of Experts
Customer Reviews & Feedback
Easy Auto Ship has a huge 4.5 of 5 customer rating on Google depending on over 1,200 reviews. Some of the complaints centered on delays in pickup or delivery, which is, sadly, a prevalent challenge in this business. A company representative gives a response to most of the complaints to find a resolution.
Easy Auto Ship is rated A+ rating with the BBB and is also accredited by the Better Business Bureau since 2014. The total customer rating of Easy Auto Shipping is 4.5 of 5 based on over 400 reviews. There have been overall 49 complaints filed against the company with the Better Business Bureau, which the company addresses. The table below reveals the categories of these complaints.
Reasons behind our Recommendation of Easy Auto-Ship
It is simple: the company has cheaper prices, expedited delivery, and a dedication to customer service that you find on the website and the phone.
Easy Auto Shio charges low prices: Easy Auto Ship is among the most affordable car transport companies we've discovered. The company has a median cost of $120 for every 100 miles which is around $20 cheaper than its competition. That is a $300 savings on an average auto shipping company for a journey of 1,500 miles.
Easy Auto Ship has quick delivery and it backs it up: Easy Auto Ship can almost usually transport your vehicle to its destination quicker than one other company. The farther your shipping distance, the quicker the transportation gets. The average delivery time of Easy Auto Ship is 3.5 days which is one day shorter than the industry average – and almost 4 times quicker than its lowest competitor.
Transport timelines (in days) of Easy Auto-Ship
| | | |
| --- | --- | --- |
| Distance | Easy Auto-Ship | Slowest competitor |
| 150 miles | 1 | 8 |
| 550 miles | 2 | 9 |
| 1,000 miles | 4 | 10 |
| 2,750 miles | 7 | 17 |
However, what if the shipping takes longer than planned because something goes wrong? You will be paid by Easy Auto Ship to rent a vehicle if your car doesn't get delivered in two weeks.
Easy Auto Ship gives you the feeling of neighbors in a small town: Working with Easy Auto Ship is not as easy as you may think, but it is still very much easy. Easy Auto Ship customer service representatives eradicate the stress out of vehicle transport. We disturbed them with questions we already have answers to and were captivated by their honesty. They never tried to avoid or pull some dishonest stunt so that we'd hire them.
That is something difficult to come by with every company. We are as well impressed with the small-town feel of the company. Every time we reached out to Easy Auto Ship, we could see the full name and picture of the representative helping us, and the person sounded honored to talk to us.
Is Easy Auto Ship Legitimate?
Easy Auto Ship is a brokerage company that can schedule transporting for vehicles of almost any type, whether on a domestic or international route. It offers instant online quotes and customer service 24/7. Easy Auto Ship lists its USDOT number and MC Docket number on its website, which you can easily run with the United States FMCSA. If you are collecting prices from several companies for vehicle transport, try obtaining one from Easy Auto Ship.