Do I Need Storage Unit Insurance?
Self-storage units can be a great opportunity to prevent clutter from your home. And when you have the right insurance coverage, you have the best chance to protect your off-site belongings financially. You could gain from purchasing a separate storage unit policy if you don't have the insurance already, or if the belongings you are storing are above 10% of the limit of your current policy.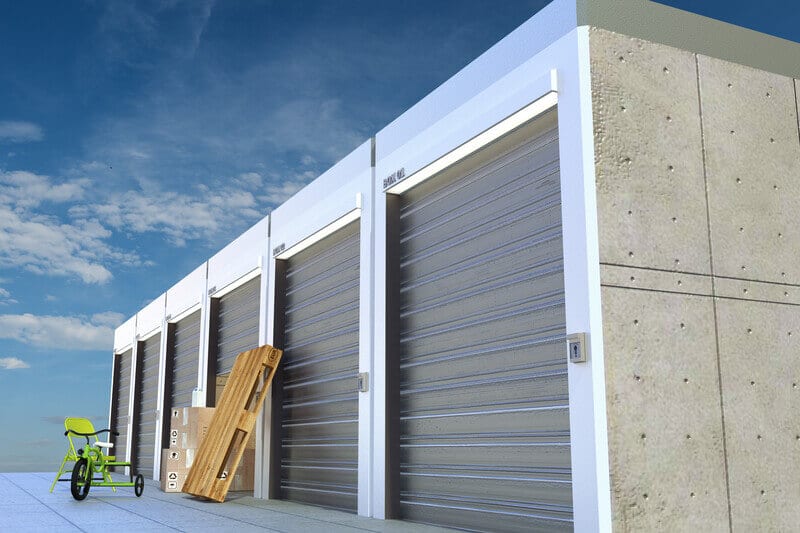 Storage unit insurance could be a lot worthwhile if you currently have renters insurance since the limits of these policies are often lower than homeowners' insurance policies.
When looking into storage unit insurance, there are a lot of aspects to navigate.
Do I need storage insurance for my unit?
What are the things covered by storage insurance?
Is it added to my storage unit or do I need to personally shop for it?
This article will provide an answer to those questions and guide you through all you need to know about storage insurance, which includes the Neighbor's Renter Guarantee which provides coverage at no extra cost.
How Storage Insurance Works
When it is about protecting your belongings stored away in a unit, storage insurance is what will provide coverage if anything happens to your belongings regardless of where you might be. It may be a requirement by some storage facilities to book a unit and they may or may not offer insurance coverage for storage that you can go for if you don't have coverage already, but this offer is not guaranteed by all storage companies.
If you are a homeowner, coverage might be provided by your homeowner's insurance or even if you are a renter, your renter's policy might save the day. Usually. Your current coverage may cover the content you store in a storage unit.
What is covered in Storage Unit Insurance?
Storage unit insurance coverage differs from location to location. So, it is important to get details. Most insurance policies often cover your items against different kinds of loss or damage, including:
Explosion
Fire or lightning
Riot or civil commotion
Smoke
Theft
Vandalism
Windstorm or hail
What is not covered?
Standard insurance policies don't normally cover items in the event of floods, mudslides, or earthquakes. Try buying extra insurance for natural disasters if you live in a place where these things will possibly happen.
What are my Options as Regards the Storage Unit?
Nearly all storage unit providers ask you to ensure your items. Your options differ from one company to another but normally come down to three options:
1. The Insurance of the Storage Unit
Many of the storage unit companies we contacted offer in-house insurance. That implies that you pay the storage provider to keep your items and insure them. The majority of storage centers may value your coverage at $10,000 for $10 monthly, you can usually add to the coverage limits by paying an increased fee every month.
2. Your Insurance
A lot of storage unit providers allow you to make use of your own homeowner's insurance or renters insurance. Just know that you will need to show evidence of insurance (you can have your insurance agent send you a copy if you are unable to find it). While stored items are often covered by your insurance, the coverage limit can, in some cases, be lesser than it is for items at your home. For instance, your homeowner's insurance may give a coverage worth $20,000 for belongings at your home, but just $2,000 if you decide to leave them at a storage facility. Consult your insurance agent for further info.
3. A Third Party's Insurance
In some cases, a storage unit facility can link you up with a third party for your storage coverage needs. You should often see this just when the self-storage facility doesn't offer an option for in-house insurance.
What is the Cost of Storage Unit Insurance?
Storage unit insurance can cost from $9 – $38 every month for $10,000 of coverage, based on your provider. While this number might appear low compared to the number of personal belongings coverage in a typical renters or homeowner's policy, don't forget that you won't be required to insure all your belongings. You only need coverage for belongings in storage.
Self-Storage Insurance Companies' Rates
The two biggest companies that offer self-storage insurance include SafeStor and MiniCo.
SafeStor offers self-storage facilities to customers and works with them directly. SafeStor offers 3 policy limits with the highest coverage of $15,000 for $24 every month and a deductible of $100. Its coverage doesn't include costly items like jewelry. There are no deductibles with MiniCo, but its policies are costly.
MiniCo offers over 24 plans to customers, with $75,000 as its highest policy limit which goes for $240 per month. Similar to SafeStor, MiniCo doesn't cover certain items. When we make a comparison of the self-storage insurance rates of these two largest self-storage providers, we discovered that SafeStor is less expensive than its main competitor even with its limited coverage options. But regardless of the provider, you purchase the coverage from, you can access the entire policy instead of just the 10% limit charged by most homeowners and renters insurance policies.
Comparison of the Rates of the top Self-Storage Insurance Providers
| | | |
| --- | --- | --- |
| SafeStor | MiniCo | MiniCo |
| $6 per month | $16/ per month | $4,000 |
| $8/ per month | $38/ per month | $10,000 |
| $24/ per month | $54/ per month | $15,000 |
| N/A | $87/ per month | $25,000 |
| N/A | $175/ per month | $50,000 |
| N/A | $240/ per month | $50,000 |
This implies that you can get more efficient coverage than your current homeowners or renters' policy with a cheaper policy. A regular renters' insurance policy provides a coverage worth $25,000 of personal belongings protection, or $1,500 of coverage for belongings in storage. If you sum a $4,000 storage unit plan, you could improve your coverage by 160% for a cheaper cost. Also, this money would all be used to cover your belongings.
Rates for Insuring Storage Units via Homeowners or Renters' Insurance
If you decide to protect your storage unit through the contract of your normal renters or homeowners' insurance policy, the price will base on the total cost of the policy. Don't forget, however, that usually, homeowners' and renters' insurance policies cover only stored items for about 10 percent of the overall coverage limit of the policy.
For instance, if 10% of your $25,000 coverage ($2,500 in coverage) would not be enough protection, you will be required to pay more for comprehensive coverage.
A reasonably cheap option for insuring your belongings in storage is taking the total limit of your policy up to protect more of your belongings. Depending on the median cost of renters' insurance, increasing your personal belongings coverage from $15,000 to $25,000 (increasing to $2,500 from $1,500 of coverage) might set you back with $20 per annum in NYC. Also, as there is a decline in the total coverage of your homeowners' insurance, every extra dollar amount is lower than the last.
Ways to Store and Best Insure your Off-Site Items Safely
Choose your self-storage facility properly. The storage center you opt for can affect the safety of your items. To select wisely:
Find a secure facility: At the lowest, ensure there is fencing that keeps the whole property safe and with controlled access. Normally, the storage building should ensure that onsite security apparatus like 24-hour video surveillance, coded security pads, and cameras are available. In addition, find the procedures of the facilities in situations like fire and flood.
Search for a unit with climate control: Excessively high or low temperatures and dampness can lead to damage to appliances and furniture. Ensure that water rising from rain or snow is not able to get into the storage.
Go for a storage company that offers insurance: If your homeowners or renters don't provide off-site coverage, you may want to go for one of the coverage options of the storage provider. Remember that any facility should also carry its insurance to cover loss or damages to the belongings or injuries that happen on the facility.
Confirm that the facility is properly cleaned and maintained: If a storage company is not cleaned routinely and vigorously, there is a great chance no one is watching out for bugs and rodent infestations. Check that there is a permanent trustworthy pest extermination contract in the facility before you leave your items in their care.
Read What to Consider When Choosing a Long Term Storage Unit
What to do before you store your Items
Take steps to ensure your items appropriately before you store them.
Ask your insurance expert about off-site coverage: Coverage to personal belongings stored off-site, such as those in a storage center is included in some standard renters' or homeowners' insurance policies. Theft and damage from tornadoes, fires, and other perils mentioned in the policy are included in off-site coverage. However, it doesn't provide coverage for damage caused by earthquakes, flooding, mold, and mildew, poor maintenance, or vermin. And find out the coverage limits in case you need to buy extra coverage.
Look into special insurance or storage for valuable items: If you plan to store expensive items like art, jewelry, antiques, or furs, there may be a money limitation under your renters' or homeowners' insurance policy for theft. Ask your insurance agent about including a floater in your policy so you can completely cover these belongings. There are also specialized storage centers that these items, as they usually need to be protected, retain temperature and humidity levels. Small belongings like jewelry will not cost more to insure if they are stored in a bank safe deposit box. Remember that items in a safe deposit box are not covered by the bank as regards insurance.
Make an inventory of items to be stored off-site in storage: Add the belongings you are moving to the storage unit on your inventory list so that you can monitor your items and ensure you have the right number of insurance to cover them.
What else do I need to know about Storage Unit Insurance?
The best storage centers protect your belongings so safely that you don't have to file an insurance claim. Watch out for a storage unit provider that prioritizes safety. You can check the cheapest storage units for a good start. The insurance information institute also provides a checklist to assist you to to locate a safe storage facility.
Basic security: Theft can be a major concern for those renting storage unit. Find a storage unit company that has fencing and an electronic gate pad at the entrance. Ask the manager of the facility whether they come from any units with surveillance cameras. It can be so much easy to file an insurance claim if you have video evidence of what happened.
Climate control: Not everyone needs a unit that comes with heating and air conditioning features, but harsh temperatures can damage items like appliances and furniture. Climate-controlled units remove this from your list of things to worry about.
In-house insurance: It is a great sign if a storage unit provider takes your insurance and sells its policy. Stay away from companies that make you skip the process to ensure your items.
Cleanliness: Security is likely not the best at a company that doesn't even clean up its facility. If a storage unit company resembles a dive, it is likely perfect to search for another option. Dirty facilities probably are infested with bugs and pests that on clothes cardboard.
Do I Need Coverage for My Storage Unit?
Yes, many storage unit providers need insurance to rent a storage unit. However, there are unusual exceptions. For instance, Public Storage informed us insurance requirements differ based on the certain unit you rent. But most often, you must have insurance to rent a storage unit.
Insurance Requirements by Storage Unit Provider
| | |
| --- | --- |
| Company | Insurance required |
| CubeSmart | Yes |
| iStorage | Yes |
| Life Storage | Yes |
| Simply Self Storage | Yes |
| Extra Space Storage | Yes |
| Public Storage | Sometimes |
| U-Haul Self Storage | Yes |
Conclusion
You want to be certain of the safety of your belongings through coverage; whether you are moving or have seen a covered natural disaster before, regardless of where your items are kept. Just because there is a facility with security cameras and personnel on-site doesn't imply that theft and damage happen to your items. Insuring your belongings is so much important because of unpredicted events.
We hoped this article guides you to make an informed decision. Happy moving!